Height: 179 cm or 5 ft 10.5 in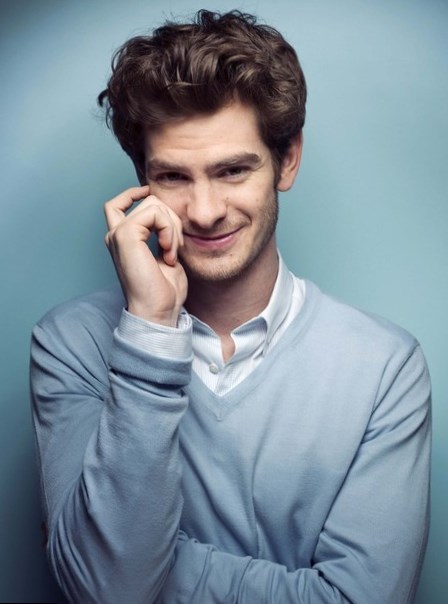 Weight: 74 kg or 163 pounds
Date of Birth: 20 August, 1983 (age 34)
Andrew Russell Garfield – is a British and American actor. He was born on 20 August, 1983 in Los Angeles, USA. He studied in Priory Preparatory School in Banstead.
Later he attended City of London Freemen's School, near Ashtead. After school he entered University of London, in Central School of Speech and Drama and graduated in 2004. Now Andrew lives in Surrey, England.
Andrew Garfield has dark brown hair and dark brown eyes. He has jewish religion.
Garfield is best known for Social Network movie, which was released in 2010. He played a role of Eduardo Saverin, Facebook's co-founder. He won three awards for this film, and was nominated on 25 awards.
Other movies, that made him famous, were The Amazing Spider-Man and The Amazing Spider-Man-2, where he played a role of Peter Parker. Garfield was nominated on 5 awards for first part and on 1 award for second one – Teen Choice Award for Choice Movie Actor: Sci-Fi/Fantasy.

Garfield's first movie role was in 2007 in a film Lions for Lambs, where he played a role of Todd Hayes. His debut on TV was in 2005 in a series called Swinging.
In 2010 he played a role of Tommy D. in a movie Never Let Me Go. Andrew was nominated on 4 awards for this movie, he won two of them – Hollywood Film Festival Award for Breakthrough Actor and Saturn Award for Best Supporting Actor.
In 2014 Andrew played in a film 99 Homes. Garfield was also a producer of this movie. Now he takes part in a set of Silence, historic drama. Film is directed by Martin Scorsese.
Garfield also played some roles in TV Shows. In 2005 he appeared in 5 episodes of Sugar Rush series. In 2006 he appeared in Simon Schama's Power of Art: Caravaggio in one episode, where he was a boy with fruit. In 2007 Andrew took part in two episodes of Doctor Who, he played a role of Frank. In 2009 he acted in 3 episodes of Red Riding series, his role was Eddie Dunford.
In June 2011 Garfield started dating with Emma Stone. They met each other during the filming of The Amazing Spider-Man.
Andrew's favorite food is sunday roast, burgers and bulgori. Meryl Streep is his favorite actress. His favorite films are The Karate Kid (1984), Teen Wolf (1985) and The Goonies (1985). Arcade Fire is his favorite band. Garfield's favorite books are The Catcher in the Rye (J. D. Salinger) and Never Let Me Go (Kazuo Ishiguro). His favorite restaurant is Golden State Foods.

Facts about Garfield:
When he was 16 years old, Andrew started thinking about acting career. He wanted to study business before going into acting. His older brother is a doctor. In 2007 Variety Magazine named him one of Top 10 actors to watch. In December 2009 Garfield appeared in Vogue's issue.
In 2013 Andrew supported the legalization of same-sex marriages. He said, that all people are equal and must have the same rights.
Andrew Garfield & Emma Stone 'Spider-Man's Junk' Australian Tv Interview