Date of Birth: 17 October, 1972 (Age: 45)
Height: 173 cm (5 ft 8 in)
Weight: 68 kg (150 pounds)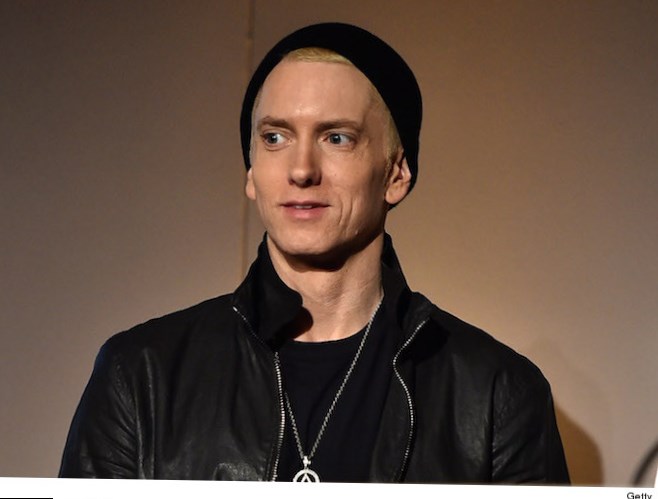 Eminem body measurements:
Cheast Size: 109 cm (43 in)
Biceps: 38 cm (15 in)
Hips: 86 cm (34 in)
Shoe Size: 10 (US)
Eye color: Blue
Hair Color: Dark Brown
It is not easy to believe that the most famous "white" rapper Eminem will be 43 this autumn! Born on October, 17, he has got all characteristics o f the "pure Libra". Even his appearance and the body built demonstrate it. Slim (150 pounds or 68 kg at the height of 5 ft 8 in (173 cm) or and attractive looking, Marshall Bruce Mathers III (the real name of Eminem) moves all the time.
The extremely great popularity of Eminem was not a "gift". To reach a today's result of over 630 million views (!) of only Not Afraid in Youtube, 15 Grammy Awards, the Global Icon Award and MTV Europe Music Awards this guy worked hard at his own style, he wrote thousands of texts which are called the Rhythmic American Poetry ( RAP). He had to prove that this field of music is open to "white" people as well. Eminem broke the boundaries between black and white rap musicians.
Eminem childhood can't be called "happy". The home life was not stable. The future star's father and mother were fighting often.They were a band Daddy Warbucks, so that both spent more time to their music than to their children. The family was never wealthy. They lived in Missouri and Michigan, in Detroit. Most of his neighbours were African-Americans – white people in the neighbourhood were " not in favour". Eminem was often beaten.
Despite these troubles the guy always stayed happy, he loved storytelling and fell in love with rap when he was 9 only. However, his poor grades caused the teen staying in 9th form for 3 years. The future star could not spend too much attention and time to his studies – he took several jobs and helped his mother.
Being 14 only Marshall Bruce Mathers III and Mike Ruby (Eminem' s friend of that time) started rapping seriously and even gave their group "M&M" name. The abbreviation standed for Marshall and Mike. Later "M&M" transformed into "Eminem".
Although his debut album Infinite gave Eminem just a little money, it was not yet enough even to live in a good district. He rented the apartment in a criminal area and even was robbed many times. In 1990s Eminem, to earn for living also worked as a cook and washed dishes at the restaurant (Gilbert's Lodge). His future video on the song Guts Over Fear shows how the guy washing dishes is sick and tired of such a dull and hard job. In 1997 he was fired from the restaurant and dived himself completely into music and rap.
The result of his work – Slim Shady EP, released in 1999, was certified as a triple platinum album. The songs from the album have been still popular among Eminem's fans throughout the world. His compositions Mommy, Just The Two Of Us, Murder, Murder and others have been the well-knows hits.
The "white rapper" started to earn money the way he was dreaming about for so much. He has been doing it still. Although the "mature" (42 years) performer can let himself buying almost everything he wants, he has got an open heart and a very sincere nature. The proof of it is the songs – When I'm Gone ( he devoted it to his daughter), Shake That, Fack, Sing For The Moment and others are popular and listened even by rock musicians.
Eminem is alone now. In 2006 he divorced with Kimberly Anne Scott – his wife and the mother of his daughter. They were together since 1987, when the runaway from home girl was allowed to stay in the house of Eminem's parents. Today they are not together, both helping their daughter. This year Hailie Jade Scott-Mathers is 20. Besides Hailie Jade Eminem adopted 2 cuties – Whitney And Alaina.
The popular rapper was a drug addict. As he confirmed himself vicodin almost killed him, so that he stopped taking any kind of medicines which may cause serious addiction problems. Today the famous guy tells much how awful is to be an addict.
The breathtaking songs of Eminem – Lose Yourself, Cleanin' Out My Closet, The Real Slim Shady, Love the Way You Lie and hundreds of others have been repeated today by heart by the fans of the Number 1 white rapper.
Eminem Interview On The Jonathan Ross Show