Weight: 54 kg
Date of Birth: January 6, 1986 (Age: 32)
A beautiful Russian model and actress Iryna Shayk is popular over the world now. Either her attractive body and sexy photos, or her private life with one of the most well-known football players Cristiano Ronaldo  made her famous.
Her real name is Irina Valeryevna Shaykhlislamova. She was born January 6, 1986 in Yemanzhelinsk, Russia in the family of a music teacher and a coal miner. She enrolled on music school at the age of 6 and has been studying there for 7 years playing the piano and singing in a choir. Her father died when she was 14 of pneumonia complications and her mother had to work twice more to overcome lack of money.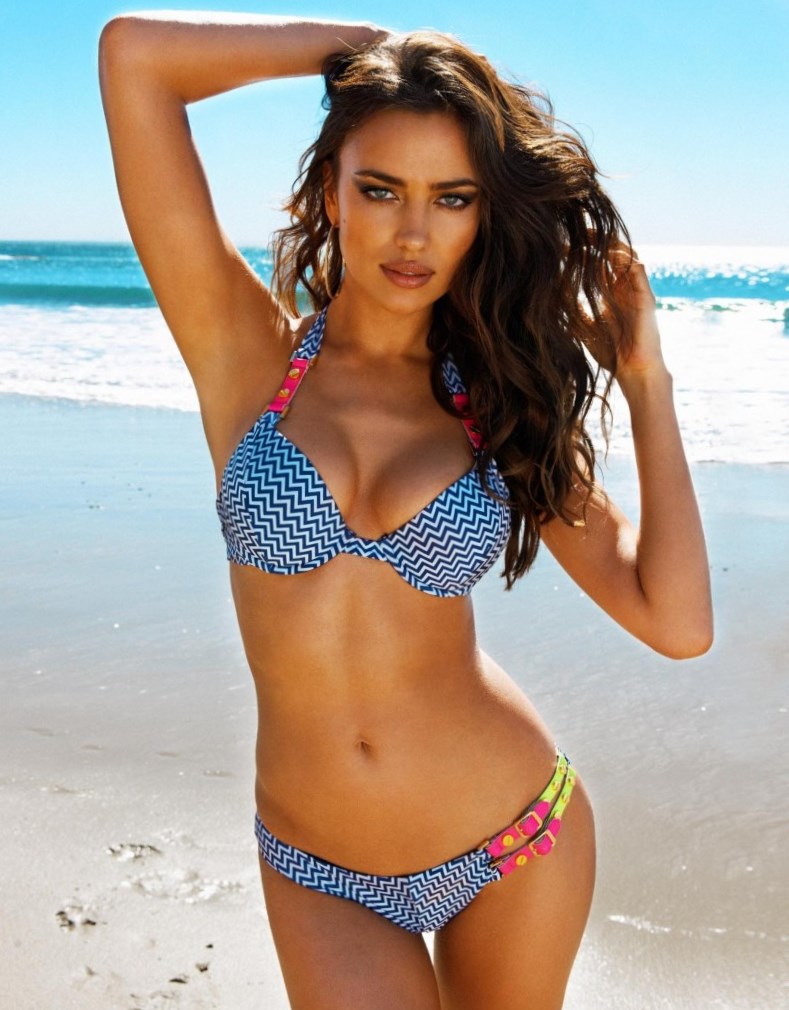 She failed to enter university to study marketing and went to a beauty school together with her sister being noticed there by a local model agent. She took part in the contest "Miss Chelyabinsk 2004" and luckily she won it. It was her breakthrough when Iryna became the face of Intimissimi in 2007, and debuted in the Sports Illustrated Swimsuit Issue.
Since then she has had modelling contracts with numerous famous brands including Beach Bunny Swimwear, Lacoste, Victoria's Secret catalog, the Armani, Luli Fama, La Clover, Avon, Givenchy and many others. She appeared both inside and on the covers of the most read magazines in the world such as Annabelle , Jalouse, Bolero, Woman, Paris Capital, Elle, Twelv, Cosmopolitan, GQ, Glamour, Vogue etc. She did the runways for world famous designers during annual fashion weeks.
Being ranked first by "50 Hottest Russian Women" list of Complex magazine, later Glamour awarded her "Best International Model of 2010". She was given the14th place in the "Top 20 Sexiest Models" list on site models.com and 2011 was voted "Sexiest Woman In The World" in the magazine Periodika of Hungary.
Apart from incomparable model career Shayk appeared on TV in a fashion show 'Ready to wear – Autumn/Winter 2005′ and 2014 Shayk took up acting and appeared in film Hercules.
Her Net Worth is estimated at $4 million, but as many celebrities she turned to charity. She helped a maternity hospital of her native city, rebuilt the children's ward in the local hospital and try to help sick children to recover.
Nowadays her private life is behind many locks as she is said to break up with Cristiano Ronaldo this year after 5 years of being one of the most sexiest couples in the world.
Iryna is known as one of the most attractive women in the world with her unique distinctive features including hourglass figure, big beautiful green eyes and natural good looks. She has not done any surgery, so her appearance deserves applause. To keep it fit she has to do great job under the guidance of a personal celebrity trainer Justin Gelband. So she always find an hour to relax and watch her favorite movies 'Match point' and 'The Game'.
Irina Shayk (Hercules) – Interview – Craig Ferguson