The celebrity status obliges to keep one's body fit and slim so as to correspond to the expectations of the fans and followers. Many celebrities do a great job in pursuit of an excellent body shape because it is no wonder that all of them are the example to follow for the millions of people. One of the stars who did an overwhelming job with her body was Jessica Simpson.
Jessica Simpson is an American, singer, actress and a former MTV reality show super star. The story of Jessica's weight loss began when she had two back-to-back pregnancies and had her wedding ahead. When she gave birth to her first baby she gained a lot of extra weight, though it was expected. Second pregnancy only aggravated the situation. All in all the star gained 70 extra pounds but Jessica was no coward. There were several factors which permitted her lost her weight in order to fulfill the desired goal. The goals were rather different but at the same time important. As all the celebrities she wanted to have the excellent body shape, wished to look good to the eye of her husband and of course the forthcoming wedding, on July 5, 2014, kept her on the alert. So what did she do and what helped her to achieve the success?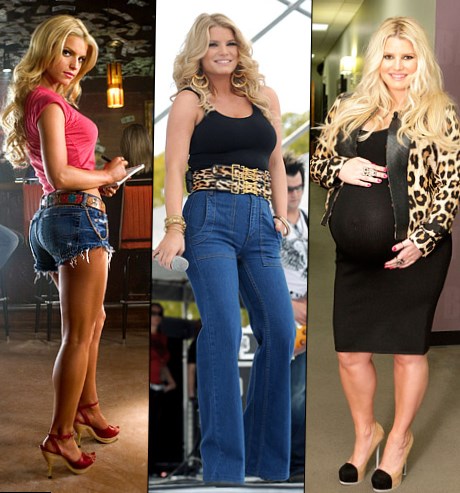 She was working hard at the gym and did a lot of household duties and was greatly supported by her husband but not only, Jessica Simpson used the service of Weight Watchers – an international company that is located in the USA and provides various services and products that help to lose weight, besides Simpson is a face of the brand. The contract was signed after the first pregnancy, and the star fulfilled her duties in a good manner, having lost 60 pounds. But it was thought that the contract would be canceled because of her second pregnancy due to the hesitations of possible extra weight gain. However that was only rumors.
Jessica Simpson photo Before & After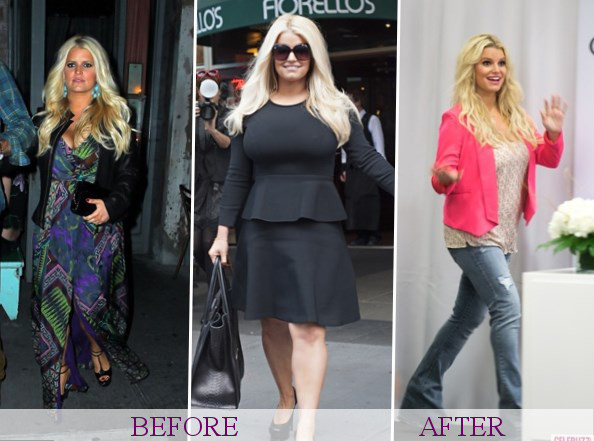 Speaking about Jessica's fiancé, Eric Johnson, he greatly supported her morally. Eric let her know, that she is perfect for him in any shape. The hard job at the gym is not the only secret of a purposeful star. One of the tricks she used in order to lose the weight was usual walks around the neighborhood. They say she liked to take her kids and Eric with her, they could walk around for hours.
In addition she visited body trainer Harley Pasternak for 45 minutes, three times per week. Having active contract with Weight Watchers she controlled her weight in a serious way. All the activities she did brought her unspeakable feelings and pleasure.
As a result Jessica achieved all her goals. She had got a perfect body, fulfilled her contract obligations, looked perfect at her wedding and for sure was ready for new projects and activities.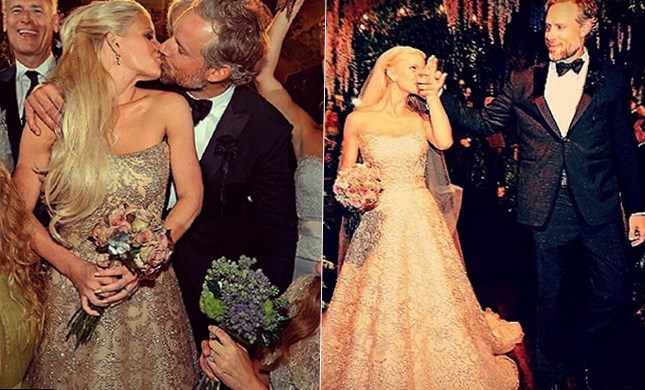 She has lost her weight due to several important facts. Jessica Simpson had great personal will power, support of a professional trainer, love support of her husband and of course the necessity not to disappoint her admirers and followers. As a result she belongs to the list of Hollywood celebrities who did super job with their bodies in 2014.
Jessica Simpson On Married Life | TODAY