Dog Roxy (Boxer) – since 2013
Dog Bear (Boxer) – since 2013
In 2013 Jennifer Lopez added a new member to her family. The singer adopted a boxer puppy Bear.
In only one day Jennifer and Bear became an inseparable lovely couple. Wherever the singer went, the dog accompanied her.
In January 2013 Jennifer's boyfriend Casper Smart on his Facebook account announced a new addition in their house.
A little puppy probably was shocked as he didn't have much time to get used to the new surroundings. Jennifer took the puppy to Jimmy Kimmel's music studio. It was a long walk for a little doggy. There were a lot of pictures showing Jennifer holding Bear under the arm. They looked cute.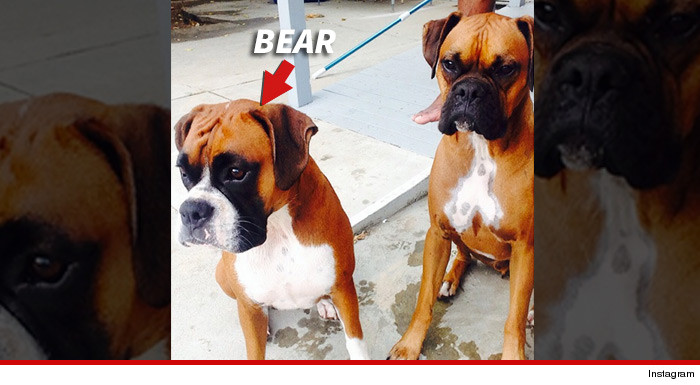 Sometime later the dog settled quite well in JLO's Hollywood mansion.
Only about a month later the family was expanded with one more little boxer puppy. It was named Roxy. Casper as well as Jennifer was totally happy.
As it was with Bear, Casper announced the surprise on his Twitter account.
Jennifer's children adore the dogs as well as their mom.
There is no doubt that the family is totally in love with their already grown up dogs. There are a lot of photos on the Internet to justify the issue.
In addition, Jennifer and Casper take much care of the dogs. They never forget of taking them a walk. The celeb couple is often noticed walking in the park or sitting on the bench while their dogs are walking.
Though, they look great together, not everything is so smooth. There was an accident involving Bear in December 2014. The point was that the dog attacked JLO's neighbor. For this reason JLO and Casper appeared in the court.
At that very moment Casper was at home. The man ran out of a house and apologized.  It was reported that was not the first dog's attack.
Luckily, the story had a happy ending.