Hollywood bea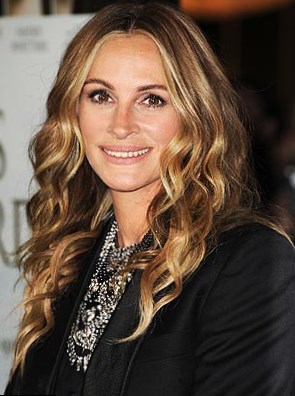 uty Julia Roberts with a beautiful smile prefers more serious roles and it seems to be that despite of a long career as an actress she still is ashamed when she goes on a red carpet. Her smile is considered to be her best accessory. Now Julia Roberts is one of the most top-paying actresses in Hollywood.
The long way to fame and popularity Julia Roberts started at the age of thirteen when she started working as a waitress in a small restaurant in Georgia. In 1987 she started attending drama courses in New York and the first roles of the future celebrity were not so popular and well known. But she was constantly offered the roles because of the bright appearance; she was the owner of wonderful wavy hair, slim figure and famous smile. But after the role of Vivian Ward in the film Pretty Woman Julia Roberts rose to fame overnight. This film was a traditional story about Cinderella that made the acress universally acclaimed.
Julia Roberts is not only a gifted actress but is also a woman whose style is followed by millions of women all over the globe. A romantic comedy Pretty Woman was released in 1990. Everyone who watched this film remembered a famous red dress, which Julia's character put on especially for visiting opera. It was a long dress with low neck and cutaway shoulders. It accentuated her slim figure greatly. But hardly there was a person who knew that this look lead off the vogue of red colour in women's dresses. From the beginning the film director wanted this dress to be black though the stylist insisted on the fact that it had to be bright and offered red colour.This dress became a prototype of evening dresses for the majority of Hollywood celebrities that they put on especially for red carpet events.
| | |
| --- | --- |
| | |
During 30 years of her career Julia Roberts could dramatically change her style. At the beginning of her career she prefered grunge style, wearing mini skirts and rocker boots. Now she is an elegant woman wearing almost always womanly dresses and high heels. Indeed all her looks covered all the basis.
Especially for the Academy Awards ceremony in 2001 she had chosen floor length dress by Valentino. It was her first Oscar and during the ceremony she looked amazing. It was a black dress with white stripe in the centre.

For the most important events Julia Roberts prefers laconic manner dresses in the style of 90th. She complements her look with the help of the most matching accessories.
In 2008 at Met Gala ceremony she appeared in a long and elegant dress decorated by sequins. The designer of this dress was Giorgio Armani.
Besides dresses Julia Roberts likes jackets. She wears them with dresses, jeans, costumes and trousers. During the first run of the film Eat, Pray, Love by Stella McCartney she was seen in a white three-piece suit. In order to make her look more bright she had chosen red high-heeled shoes. This time she decided not to choose a wide range of accessories. Even without them she looked stylish and amazing.
Julia Roberts is Ellen's Co-Host