Born in 1980 in family of celebrity attorney Robert Kardashian and Kris Houghton, Kim Kardashian, future reality series star, attended Los Angeles grade school in 1987 as a little braided cute girl. The Armenian-American beauty changed her haircut for a flippy bob before the freshman year at Marymount High School in 1995.
Years after, at the opening of Kardashian's first Dash boutique in 2006 Kim was like pure L.A. glam wearing her long layers with smudged  eyes.
Next year she changed it for some sexy curls before the premiere of reality show «Keeping Up With the Kardashians», which made her family world-famous.
At the Teen Choice Awards Kim has shown up with an updo plus amazing cranberry lip stain, attracting all the attention to herself.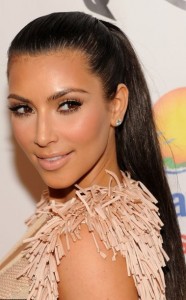 On Dancing with the Stars Kim has appeared with high pony tail that made her looks elder, but still beautiful.
Later in 2008 she suddenly have changer her look again, saying that she have been getting tired of her pony because it doesn't fit for sporting, so she choose «something fresh and bangs», as she told in the «People» magazine interview.
Next year was full of brave and unexpected experiments for L.A. girl. At the Monte Carlo Television Festival Kim Kardashian shocked public with a wild mane of waves.
Then Kim has went blond, of what she has blogged before the Teen Choice Awards ceremony. Rebecca Friedman, Kim's colorist, called the hue a caramel, which was really fitting to her smoky make-up. But later in 2009 Kardashian went back to her brunette hair for the premiere of «Whiteout» in L.A. Her new haircut was looking like inspired by early 40's. Next haircut change was really unexpected — Kim shown up at the benefit for the Trevor Project with brave honeyed pompadour, explaining it with her love for the two-tone vibes and experiments at all.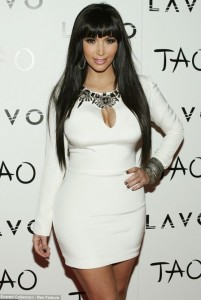 In 2010 Kim was more to make-up changes, than haircuts. But still she has got a lot of new refreshing looks due to her makeup artist Mario Dedivanovic. Mostly shocking Kardashian's make-up he created for the CEW Beauty Awards by sweeping the Eye M Glam highlighter by Cosmetics all over the Hot Mama blush from The Balm.
On 2012 New Year's Eve the reality star asked fans via Twitter: "I wanna a new hairstyle for tonight! Should I do bangs?". She used clip-in fringe to achieve her unique Cleopatra-like look.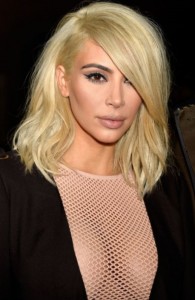 Later this year Kardashian has lightened up her dark brunette locks, changing color from her traditional dark brown to a more fashionable chocolate brown, as said her new hairstylist George Papanikolas.
After giving birth to her daughter North West in 2013, Kim went for a brand new look, getting blond again. She returned to her dark hair later in 2014 and kept it up to this year. Now Kim shocked her fans again, getting a beautiful platinum blond, which is getting popular among celebrities. It was such an unpredictable move, that a lot of magazines and blogs was describing their opinion for quite a long time, but still Kim Kardashian looks perfect and will distract us again a lot of times.