It frequently happens that children want to follow the example of their parents. The same happened with the daughter of Bruce Willis and Demi Moore, Rumer Willis. Now the woman is also an actress though she didn't achieve the same success as her parents. One can say that she is more popu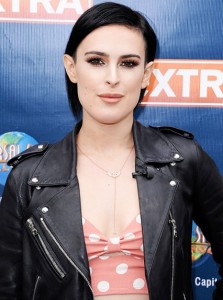 lar as the daughter of Bruce Willis, not as a gifted actress. Nevertheless Rumer likes the experiments with her hair style. Who knows maybe it is just one more attempt to draw attention?
One of the first works in the cinema was the role together with her mother in the film Striptease. After this debuting role Rumer started receiving propositions to screen in various projects such as Beverly Hills 90210, From Within Wild Cherry, The Diary of Preston Plummer, The Odd Way Home, Six Letter Word. Later she started her career as a model. In her interview she confessed that working as a model she feels like a princes.
Rumer Willis is known as the actress who likes to impress the audience. She frequently makes the experiments with her style and may be either a romantic beauty with wavy hair or a stunning woman with pink, blue or red hair.
Rumer's mother was one of the most beautiful women in Hollywood and in childhood she frequently was compared with mother. The girl is similar to her father more and everyone told that she was quite a clumsy girl.
Naturally Rumor is brunette but she changed her hair style so often that is even difficult to imagine what will be the next step. Till 2012 Rumer had red hair and frequently had her hair waved. Such a hair hue fits well to the colour of her eyes and complexion. Though this hair colour wasn't modern it ought to be mentioned that in such a look the actress looked more romantically. This look wasn't provoking but harmonious.
Later Rumer ventured upon a new step in her look and turned into brunette with long and blue locks. May be she just wanted to return her natural colour but it seemed to be boring for the lady and by adding blue locks she wanted to make her look more bright and attractive.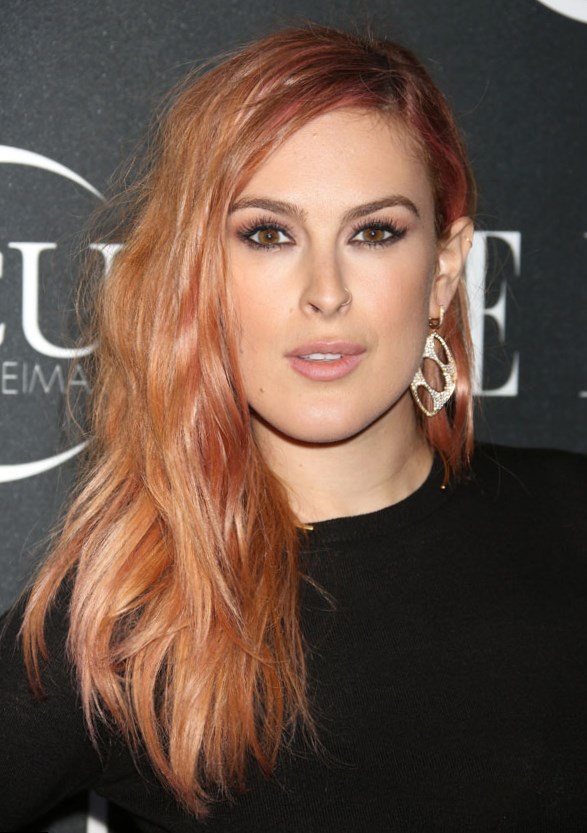 A year ago Rumer again impressed the audience by new hair colour and style. In her instagramm she shared a photo of her new look. That time it was angular blonde bob; her hair was long at the front and short at the back. Such dramatic length differences and sharp angles certainly fit Rumer. If to speak about her hair changes one must confess that such a hairstyle is one of the greatest changes in her look. Before this bob she had her hair pink and blonde with blue dip-dyed ends.
Now the actress actively takes part in the show Dancing with the Stars and one must confess that she changed greatly and looks more womanly and gently. She is not a clumsy girl any more, whom she was in childhood. Now she is a beautiful and pretty woman. It seems to be that an actress said good bye to her bright hair colours. Now she has short and dark hair, which during the show looked amazing in a deep side part. Her beautiful makeup completed her fabulous look.
Rumer Willis and Valentin Chmerkovskiy Talk 'DWTS'