Dog Poppy (Chihuahua-Pomeranian mix)
Dog Ruby (Chihuahua)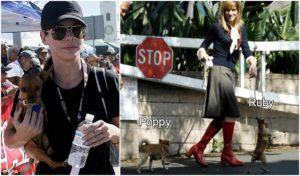 Babe (Chihuahua)
Sandra Bullock can be surely called a Hollywood hero.
You wonder why?
The reason is that Sandra didn't buy her dogs, she adopted them from the Californian pet shelter. Moreover, all her three dogs are with special needs.
The first dog Sandra owns is a half-Chihuahua Poppy. This little dog misses one leg. The dog lost the leg in an accident. Sandra adopted Poppy in September 2005.
The next member of her family is Chihuahua Ruby with only two legs. The dog was born with only two legs. It joined Sandra's family in November, 2016.
The third adopted puppy is also of Chihuahua breed. It's called Bebe.The poor cutie lacks one eye.
As you see from Sandra's choice, she prefers Chihuahuas. However, it seems that the actress choses the animals who can't take care of themselves in order to give them appropriate care and treatment.
Sandra is a great woman, because she saves these animals from death. The point is that such dogs with special needs are very difficult to find a home for. Thus, they are often put to sleep in the asylums. Sandra is very obsessed with this problem, so sh..e tries to flight with the painful question.
Sandra deserves admiration. She cares about her beloved dogs like a real mother. It's extremely important for the actress her dogs to feel safety all the time. That's why she wants them to be always with her. Even if she's away, Sanda makes sure there's someone to take care of her "kids".
Do you know why Sandra Bullock is so conscious about the dogs?
In 2008 Sandra and her pets got into an airplane accident. From that very moment the actress decided to protect animals and to make their lives safer.
The dogs, that can't move on their own, have special seats and vehicles. Even Sandra's car is equipment with special belts.
Bullock said that even though her pets have physical drawbacks, they are definitely perfect because they give her so much love that people can hardly give.
This woman is gorgeous in any way!