If you are a girl and you are from 13 to 60, for sure, you have heard her name. I mean Carrie Bradshaw, the famous journalist and a woman, who is crazy from shoes. In fact even the strong part of humanity knows this heroine, although the TV series and the movie are aimed for female audience.
The style of Carrie Bradshaw is not the last one in the list of reasons, why people like this film. Sarah Jessica Parker, the actress, who played Carrie so successfully, is often associated with Miss Bradshaw and we wait from her the same love to fashion, the love to flower prints and high heeled shoes.
The actress got tired in her attempts to explain, that she is not Carrie and her everyday look has nothing in common with bohemic journalist, who knows everything about sex.
So, what do we know about Sarah Jessica Parker and her style?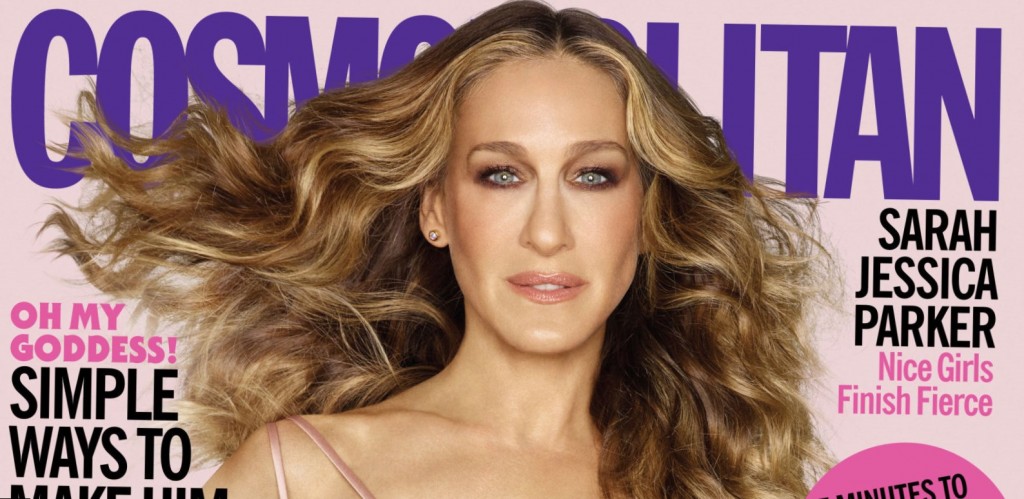 Sarah Jessica Parker Biography
Sarah Jessica Parker was born in 1965, on the 25th of March. Her mother, Barbara Forste, used to be a teacher and her father, Stephen Parker, was an entrepreneur. Both, they had 8 children. But unfortunately Sarah's parents got divorced and she was raised by her stepfather. From the very childhood Sarah was interested in dancing. She attended ballet school and started to earn money as a dancer from the earliest years. She debuted as the actress of the show on Broadway.
Later she appeared in various TV series and movies till her prominent role in Sex and the City.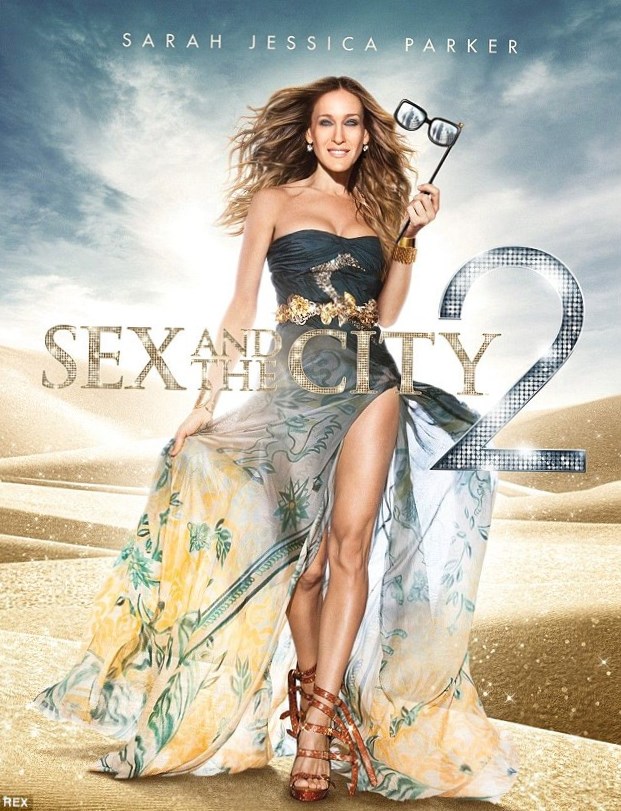 Sarah Jessica Parker Movies
The filmography of Sarah Jessica Parker includes more than 35 films and TV series. She became popular after the role of Rusty in the film "Footloose". The low-budget film of Herbert Ross appeared to be very successful and got two Oscar nominations.
The role of Shelly Stewart in the movie "First Wives Club" gave young Sarah an opportunity to share the screen time with such stars as Goldie Hawn, Diane Keaton and Ed Koch.
Later the young woman appeared in "Extreme Measures" and "Mars Attacks!" The young actress was noticed, but still she was far from the stardom.
In 1998 she got that very winning ticket, when she got the role in TV series "Sex and the City". At first Sarah was hesitating, whether to act as Carrie or not as the TV series seemed too outspoken for her. But then she agreed and had never regret about it. The role of Carrie brought her several Globe Awards and the title of fashion icon. Thus she got endorsement deals with Garnier and Gap. Besides Sarah Jessica Parker clothing line had seen the world. Her style is discussed and copied. Sarah Jessica Parker Sex and the City is called "Encyclopedia of Fashion". So, what is the style of Sarah Jessica Parker?
Sarah Jessica Parker Style
In fact, Sarah Jessica Parker style can be divided into two parts – before "Sex and the City" and after it. Young Sarah Jessica Parker liked casual style, jeans and dimensionless sweaters.
When the TV series got popular and girls all over the world started to copy the style of Carrie Bradshaw – including her hats, love to Manolo Blahnik shoes, bouffant skirts and multi-colored dresses, the actress tried her best to convince her fans that the style of her heroine is the result of the work of Patricia Field, the stylist of the show, not her choice. In her personal life Sarah preferred black and grey colors. She wore snickers and jeans and tried to retain the right to have her own style. Her favorite designer was Oscar de La Renta.
But then paparazzi caught glamorous "Carrie" without make up and without her favorite high heeled shoes. The fans got disappointed and Sarah had to adopt her own style to make it similar to Carrie's.
Now she is fond of luxurious lush dresses.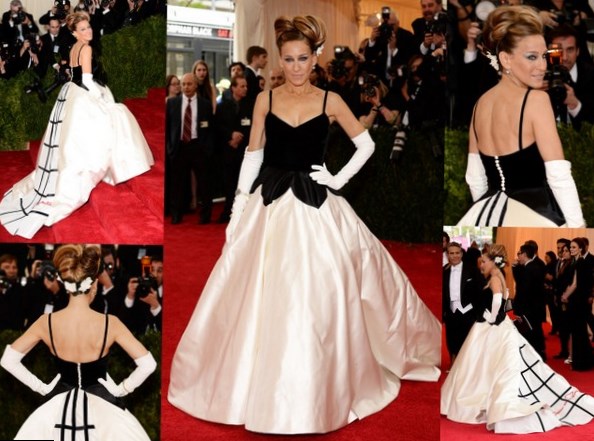 Thus, we can admire Sarah Jessica Parker in a spotted dress from Dior, when she visited the opening night of Sylvia on the 27th of October, 2015. She added a blazer and grey high heeled shoes to her dress.
Sarah Jessica Parker dresses that she put for various ceremonies and festivals is the tribute to the style of Carrie Bradshaw. The actress wasn't fond of dresses earlier, but now we admire her slim figure in luxurious dresses from time to time.
Thus, she attended the New York City Ballet Gala in a great tulle dress in Carrie's style. The dress from Zuhair Murad Couture made slim Sarah look godlike. You would never tell that the actress is 50 already.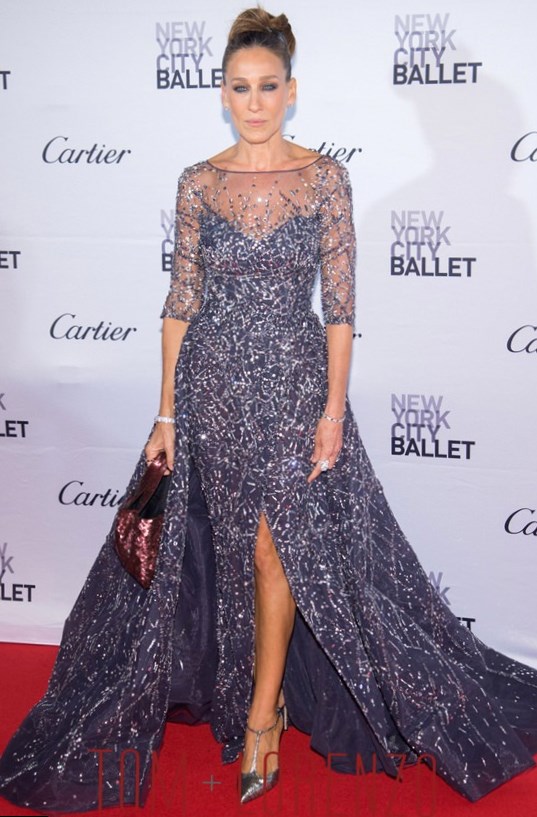 The love to dresses Sarah Jessica Parker took from Carrie. Really, dresses of all kinds – long and shirt, evening and casual, can make any woman attractive. Although this kind of fashion is quite expensive. Dresses can't be combined like skirts or trousers with blouses and sweaters. Thus, one skirt can serve as the basis for various fashion looks, but the dress must be changed the next day. Thus, the wardrobe, based on dresses, is the choice of a wealthy woman. But Sarah Jessica Parker fashion is based not only on dresses. At the "Show with David Letterman" she put on a dark green jumpsuit, high heeled shoes and a light green blazer.
Sarah Jessica Parker – Letterman
Sarah Jessica Parker Family Life
Sarah Jessica Parker is the woman of fashion. She is also the wife of an actor, Mathew Broderick. They have three children together, a son, James, and two daughters, Marion and Tabitha, that were born by a surrogate mother. Although not long ago the rumors about Sarah Jessica Parker divorce appeared, because her husband cheated her, they managed to solve their problems and kept their marriage.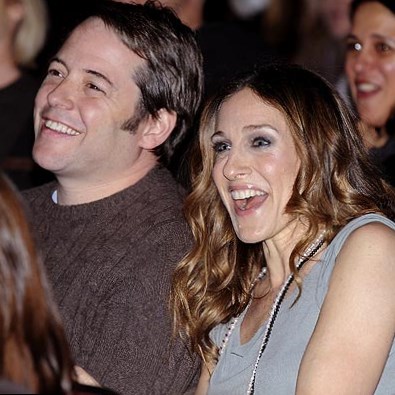 Sarah Jessica Parker is a great woman, who has fans worldwide!