Scarlett Johansson is a well known actress and singer. She was born on 22 November 1984 in New York in the family of an architect, and has 3 brothers and a sister. Her parents have Danish and Jewish roots.
Scarlett from childhood attended acting school of Lee Strasberg and received her first part in the movie at the age of 9 and at 11 had role in the film together with Sean Connery. Scarlett quickly became widely known and have received prestigious awards for her roles, it all thanks to her determination and love of cinema art.
In 2008 Johansson debuted as a vocalist in her first album "Anywhere I Lay My Head", which included cover versions of Tom Waits's songs and in 2009 released the album "Break Up", which she recorded with Pete Yorn.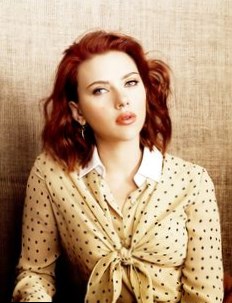 Scarlett Johansson was awarded a Star on the Hollywood Walk of Fame, the opening of the Star with the name of the actress was held in California on 2 May 2012.
Today Scarlet has become a style icon and role model because of her unique style, which combines sensuality and strictness and attracts many fans, forcing them to adopt her especial style in clothes and hairstyles.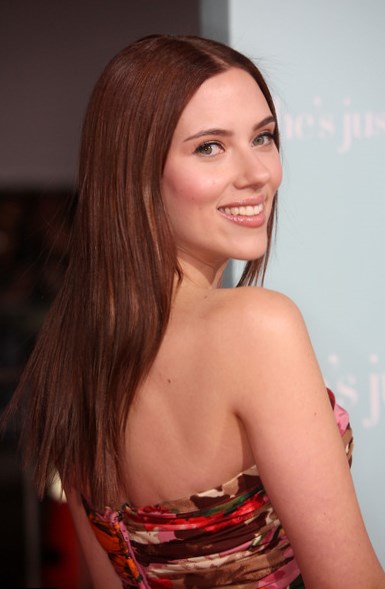 Without a doubt Scarlett Johansson is the person, which often granted the honour to be on the cover of the magazine, thanks to extremely stylish hairstyles on events and her personal charm that attracted the attention of photographers and journalists.
Scarlett is a true chameleon, she loves to experiment with different shades of blond and black. There are no taboos in colours of her hair and it helps her to look quite different during various appearances on the red carpet. Her fabulous hairstyles based on flowing and half-flowing hair, which gives her chance to demonstrate to the public free slightly curly or hard curly locks. Sometimes they tucked in a perfect, slightly disheveled hair or even in bohemian hairstyle.
From time to time we can see the actress with hairstyles in retro style or hair removed on the basis of netting, all these types of hairstyles are gracefully looked with elegant and modern outfits of Scarlett Johansson as at various special events and in everyday life.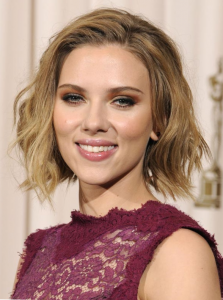 Although Scarlett is the epitome of high style, she has a quite passionate and not a standard type of face. She emphasizes it using layered haircuts with medium length of hair. Apparently inspired by the style of grunge, the actress a few times in her career appeared with short cropped curls and punk, informal hairstyles. The extremal hairstyles with medium length of hair and layered short haircuts are the most favorite and memorable type of hairstyle from Scarlett Johansson.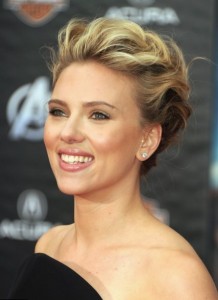 This time the owner of the luxurious hair Scarlett Johansson on the red carpet of the award Oscars 2015 appeared with a new hairstyle. It was very short haircut, may be Scarlett did it because she is a young mother and care for long locks requires a lot of time and effort.
Johansson cut short her gorgeous hair and shaved the both sides of them; also the actress painted part of the hair in a lighter shade and combed it back. Surely a new unusual and audacious hairstyle didn't spoil Scarlett, but impressed the audience with her beauty and impeccable choice of outfit.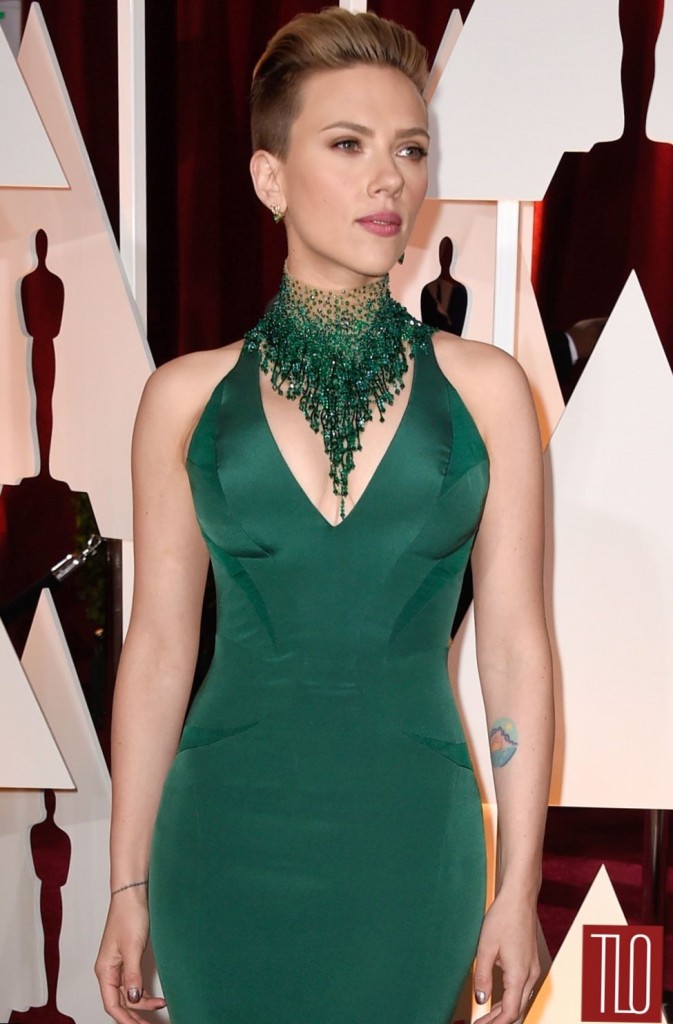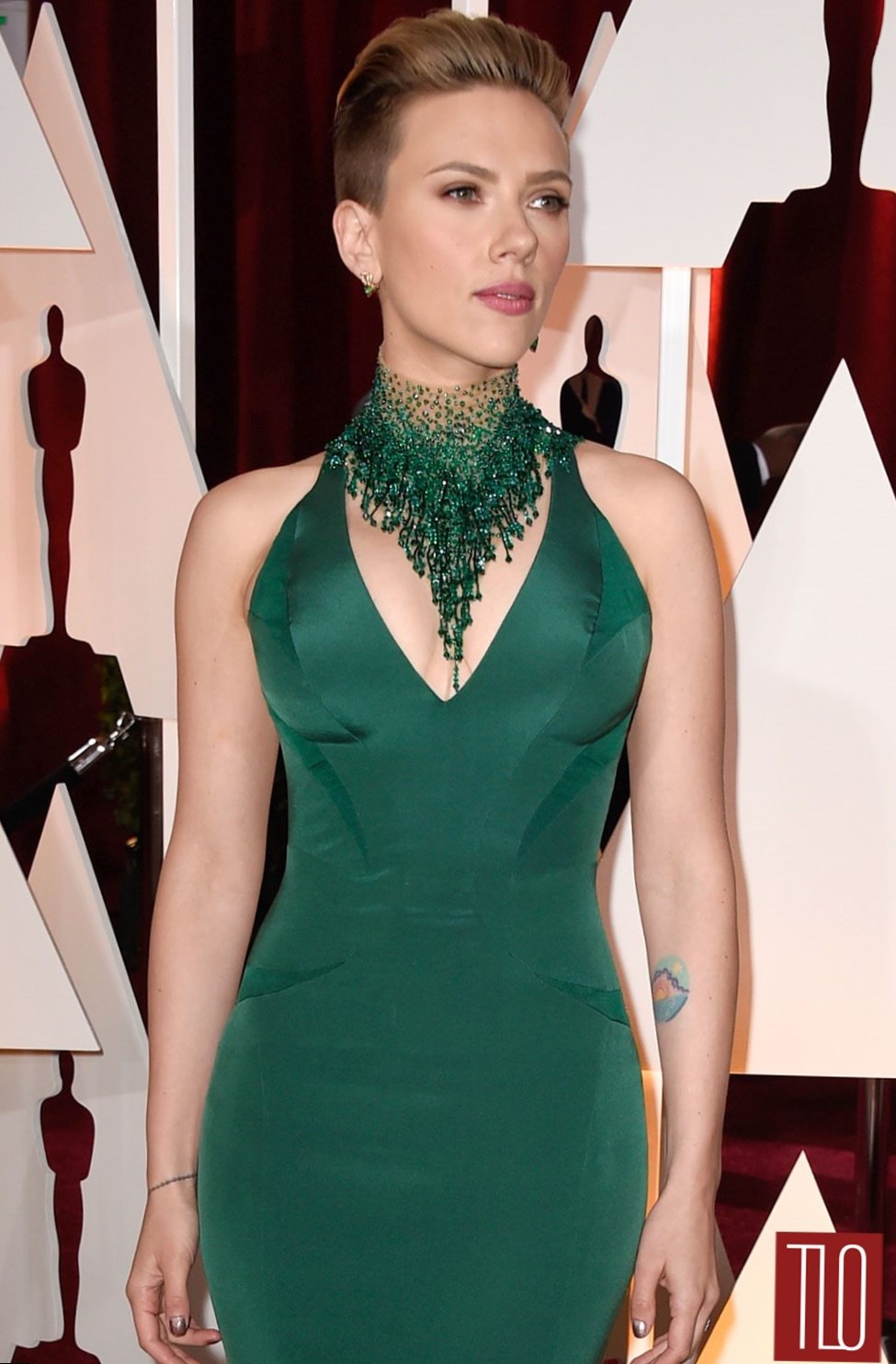 Here are some more Scarlett Johansson`s hairdos