We know him as Seth Cohen from the O. C. and as a husband of "Gossip Girl" Leighton Meester. Adam Brody is not just a talented actor; he is a stylish and handsome man. His bright shirts, khaki trousers and skinny jeans are copied by people of all ages worldwide. His style influenced the people and they started to copy it (or at least some elements of it). That's why Adam Brody style is worth to study and … to steal it – why not?
Adam Brody Biography
Adam Brody date of birth is the 15th of December, 1979. He was born in San Diego, CA in Jewish family. His mother, Valerie Siefman, devoted all her free time to three children – Adam has two twin brothers, Sean and Matt. His father, Mark Brody, worked as a lawyer. Adam visited Scripps Ranch High School, where he was a leader and an active pupil. At a very young age he got interested in acting and played supporting roles in some movies like "Gilmore Girls" and some others.
After the first success as an actor, Adam moved from his native city to Hollywood. His big break was in 2003, when he got the role of a teenager Seth Cohen in Fox TV series "The O. C.". That acting job made him popular and from 2003 to 2007 teenagers were crazy from Brody and his character. But then TV series "The O. C." was over and Adam Cohen was free again. He continued his acting career and enlarged the list of Adam Brody movies and TV shows. Adam took part in such films as Mr. and Mrs. Smith (Benjamin Danz), "In the Land of Women" (Carter Webb), "Jennifer's Body" (Nikolai) and many others. The latest Adam Brody movie was "Think Like a Man Too", where his partners at a film set were Nicole Austin and Michael Ealy.
The actor gained some extra kudos due to his great look and vivid style as well.
Adam Brody Looks and Style
Adam Brody likes to discuss his style in the interviews. The actor seems to be very interested in buying clothes and trying to create unusual combinations. The actor tells, he is fond of vintage things, and he can spend many hours, searching for them in various shops and boutiques. His favorite clothing shop is American Rag in New York. Adam adds that buying vintage things always takes a lot of time from him, because they are very hard to combine. That's why he gets new things very often too as "he is very lazy".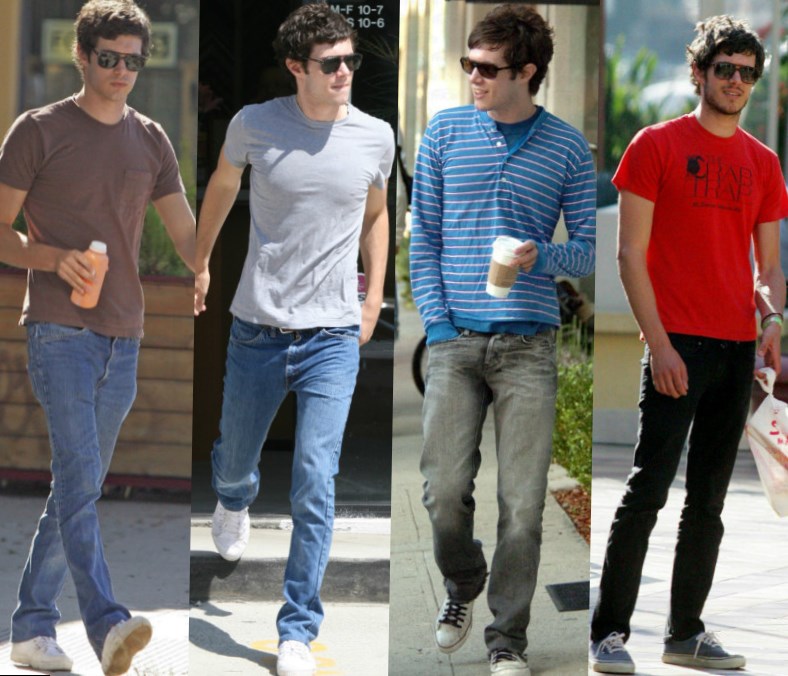 Adam Brody mentions that he is fond of narrow things; very often he chooses such skinny jeans and he admires such things.
He hates starchy clothes and prefers free casual style with hoodies and snickers. The favorite thing of an actor, that he takes with him all the time, wherever he goes, is a warm leather jacket. His favorite brands are Marni, Levi's and some others.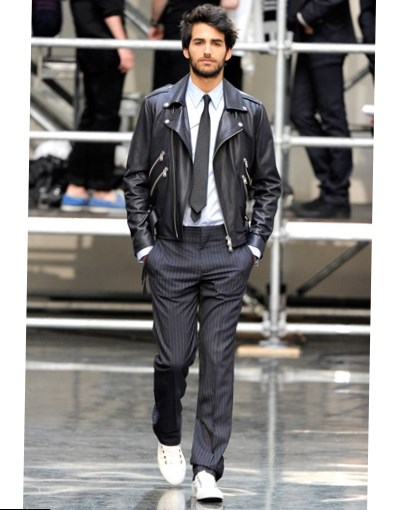 Here are several the most interesting looks of Adam Brody.
The style of Adam Brody in 2013 was peculiar for all elegant bachelors in Hollywood. Let's remember his look at Lovelace Los Angeles Premiere that very year. The actor had free hair style. He wore bright marsala shirt and skinny classical trousers. He put on a light brown hat to look more elegant, probably.

In 2014 paparazzi caught Adam and his wife Leighton just several days after their marriage during their walk in New York. Elegant bachelor turned out to be a good family man. He looked too casual, like a person, who had just waked up. He had his favorite black leather jacket,  blue T-shirt and jeans. The actor had also put on a stylish cap.


Of course, such a free and domestic style of a family man the actor wears, when he is on vacation. But when elegant Adam Brody visits film premieres or festivals, he puts on something free and elegant. Thus in June, 2014 Adam visited the 68th Annual Tony Awards together with his wife. He wore elegant classical dining jacket of black color, classical trousers and a snowy white shirt. The actor added light grey tie and black shoes of soft leather. He was godlike!

Adam Brody Personal Life
Adam Brody has to care about his style as he is a husband of extremely elegant and beautiful woman, an actress Leighton Meester, who played Blair Waldorf in "Gossip Girl". Adam Brody married his loved one in 2014. Adam Brody wedding was secret and the fans knew about the new status of their favorite actor after Leighton Meester's interview. They got married in Northern California.
The actors met at a film set. Both they took part in the movie "The Oranges" and probably, there they started dating. But the pair kept their relationship in secret and that's why the news about their wedding shook teenagers all over the world.
Earlier Adam Brody dating with an actress Rachel Bilson was discussed in press. They were together during 2 years but split in 2006.
Now the couple Leighton Meester – Adam Brody is one of the most elegant and most stylish in Hollywood. They suit each other. Their elegance was the reason, why both actors were named "fashion icons" for the new generation. So study their style and steal it!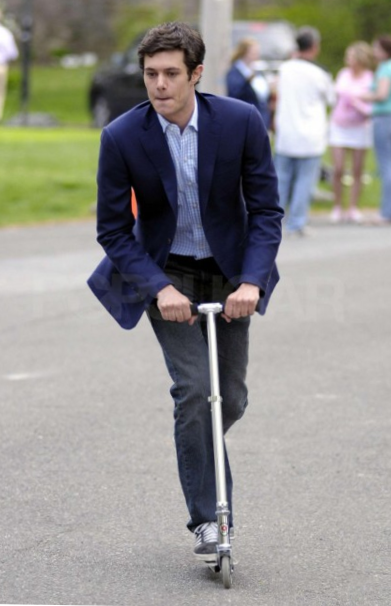 Adam Brody on The Queen Latifah Show