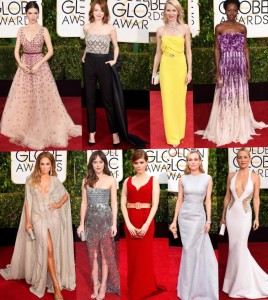 The most amazing and spectacular event in the world of TV industry – Golden Globe Awards ceremony is not only famous for its creative ideas of plot and scenery. Without any doubt it is a wonderful chance to see our favourite celebrities in their best looks on a Red Carpet catwalk. Among the best dresses of Golden Globes 2015 are the feminine fresh and chic looks of Naomi Watts, Kate Beckinsale, Julianne Moore, Anna Kendrick an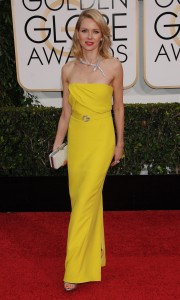 d Emily Blunt.
The optimistic and fresh strapless canary yellow Gucci dress chosen by Naomi Watts was a real stream of light of the award ceremony. The sleek simple bottom part of the dress showed the perfect silhouette of Naomi and the slightly structured tiny bodice opened the feminine neckline and made it looks so innocent and inviting. The dress was paired with a stunt Bvlgari serpent necklace and a tiny clutch.
The sweet and brilliant Elie Saab gown with a rich beaded bodice made wonderful Kate Beckinsale's look even more attractive. The dress of a warm lilac shade underlined the perfect posture of the actress and was paired with an elegant updo and matching stylish accessories.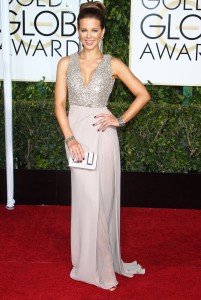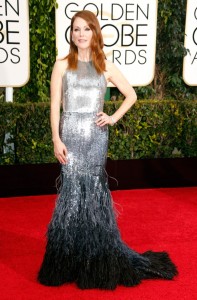 The outstandingly up-to-date haute couture Givenchy gown chosen by Julianne Moore was a real pleasure to admire. The actress looked absolutely perfect in cold steel shades made in shimmering sequin and soft feather. The glamorous gown matched the unique Julianne's complexion perfectly and the simple pure hairstyle was a real success.
Full of air and purity Monique Lhuillier romantic gown made Anna Kendrick to look like a princess from a fairy tale. The outlook was so fresh, innocent and feminine. The really up-to-date delicate shade of ice strawberry sorbet that was the main in a tulle gown was perfectly complemented by beaded embroidery of a tasty berry shade and formed a perfect silhouette.
The warm and feminine Michael Kors gown of an outstanding Grecian style design made of frosty white silk chosen by Emily Blunt looked really gorgeous. The stylish staple bodice matched the softly running skirt perfectly. The outlook was freshly completed by playful floral earrings.
         Video: Best & Worst Dressed Golden Globes 2015