Date of birth: May 16, 1905
Date of death: August 12, 1982 (Aged 77)
Full name: Henry Jaynes Fonda
Birthplace: Grand Island, Nebraska, USA
Height: 6' 1½" (187 cm)
Weight: 185 lbs (84 kg)
Hair color: Gray (originally Dark Brown)
Eye color: Blue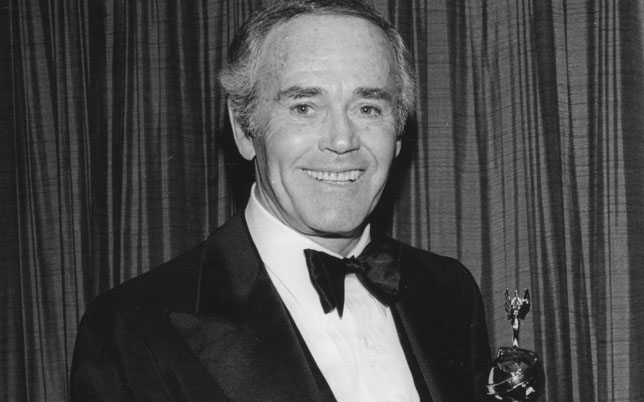 Henry Fonda is revered as one of the acting greats in America's history. The Academy Award, Golden Globe and Grammy Award winner made his name as an actor both in Hollywood and on Broadway and was also the patriarch of the Fonda performing arts family.
As a child growing up, Henry was quite shy, often avoiding girls but was quite active in activities such as swimming, running and skating. He was also a part of Boy Scouts of America eventually earning the Life Scout rank. He overcame his shyness eventually and began acting at age 20, when he was cast in a play titled You and I.
He won an Oscar for the 1981 film, On Golden Pond and earned nominations for The Grapes of Wrath (1940) and 12 Angry Men (1957), the latter which won him a BAFTA Award. He has also starred in other classics such as Once Upon A Time in the West (1968) and Mister Roberts (1955), coming after serving on the US Navy (1942-46) where he became junior lieutenant.
In his youth and middle ages, Henry was tall, handsome and charming and this made him popular among the womenfolk and often portrayed in his plays and films as the strong, heroic and justice-seeking man. His height was a marvel as he had already grown 6 feet by the time he was a high school senior. He did grow a chevron mustache to complete his cowboy look for the 1946 film, My Darling Clementine.
The public got a first whiff of the deterioration in his health when he collapsed on stage due to fatigue during an April 1974 Broadway piece of Clarence Darrow. He had a pacemaker set up in his heart to help with the arrhythmia he suffered due to prostate cancer and had to quit Broadway. He suffered a cardiac arrest and died in 1982.