Dog Little Dog (Fox terrier and Chihuahua mix) – 1988
Dog Remington (Border-collie)
Dog Bentley (golden Pomeranian) – 2003 (Hailey, Hilary's sister dog)
Dog Macy (black Pomeranian) – 2003
Dog Coco (Chihuahua) – 2005
Dog Lola (Chihuahua) – 2005 – 2013
Dog Button – 2005
Dog Jack (Yorkshire terrier) – 2006
Dog Dubois (Bermese Mountain Dog) – since 2009
Dog Frenchie Beau (French Bulldog) – died January 12, 2016
Dog Peaches (French Bulldog) – adopted in March 2016 (Frenchie Beau`s sister)
Cat Gloomy – 2006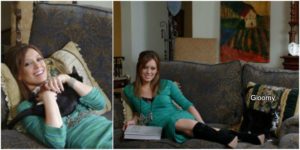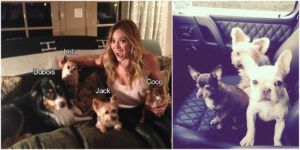 Hilary Duff loves animals. She had either dogs or cats living at her home.
First Hilary's dog appeared in 1988. It was a mix of a Fox terrier and Chihuahua named Little Dog. Hilary picked it up on the street. At the very beginning, Duff family shared everywhere the dog's photos, but no one came to take him back, so he stayed with Hilary and her family.
Hilary told when she was at home, most of the time she spent with the Little Dog. They played together, and he sleeps with the girl every night. Little Dog died in 2003 when he was already an old dog.
In 2003, Hilary Duff helped as a volunteer in a shelter to take care about the dogs. According to the actress, people shouldn't kill or harm animals, they must live as men. Hilary Duff called on people to help animals.
When the shelter had hard times and did not have enough money, Hilary Duff decided to use her fame and organized fundraising. She was selling her autographed posters, clothing, jewelry, toys, and she also held a charity auction and raffle. Hilary believes that animals teach people responsibility, kindness and respect. They awaken the good in people.
Hillary's father has a dog too. It is a Border-collie named Remington. Hillary told that her father found Remy at the ranch, he slept under the porch. Remy loves running, swimming and playing ball. He was the best and the actress really misses him.
In 2003, in the Duff family appeared a golden Pomeranian named Bentley, a dog of Hilary's sister, Hailey.
Back in 2003, Hilary adopted from a shelter a black Pomeranian named Macy. This dog was blind and deaf and lived with Hilary's mother.
In 2005, Hilary Duff took three dogs of a Chihuahua breed. Those were sisters Coco and Lola, and a dog named Button.
What do we know about Hilary's favourite dog?
Lola was the favorite Hilary's dog. She often appears with her on the photographs in different magazines, as well as at various celebrations. The official actress's website even contains Lola's blog. Lola was born on June 3, 2005. She likes sleeping with Hillary, but she doesn't like when her sleep is disturbed. She often jealous her mistress to the other dogs and gets upset when Hilary leaves the house.
When Hilary comes back, Lola tries to ignore her, but she can stand it no more than 15 minutes. Lola likes toys that make sounds; especially she likes a soft teddy bear. Lola does not like walking on a leash. Hillary said that her dog has a lot of human traits. Hillary taught Lola to stand on its hind legs. The dog often travels with the actress on tours, so it's accustomed to life in the bus. But Lola is not terribly fond of flying in an airplane, it starts to pant and gasp.
In 2006, the creators of the game «The Sims» offered Hilary Duff to make her dog Lola a prototype and a character in the second part of «The Sims 2 Pets». Hilary happily agreed as she spent a lot of time playing in the first part of the simulation.
In 2006 Hilary Duff's friend Joel Madden presented her with a dog of Yorkshire terrier breed that she called Jack.