Big Time Rush is a famous American boy band of a new generation. They also call themselves as BTR. This band consists of four guys Kendall Schmidt, Logan Henderson, James Maslow and Carlos Pena. All the guys are very young (all of them are approximately 24-25 years old), charming and facetious. Boy band Big Time Rush has already achieved worldwide popularity thanks to their talent. Among American teenagers their popularity is evident.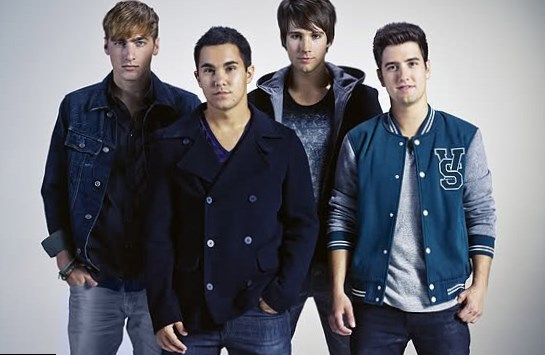 Big Time Rush was created in 2009 and during six years of their career we confidently may say that they made a great contribution into the development of music. This group appeared together with the series Big Time Rush. The name for this group was contrived by the guys because the producers wanted to name the band as Go Big Time. They didn't like this idea and created their own name. Almost at once after the creation they signed a contract with the series Big Time Rush and they may be proud of it because their single 'Big Time Rush (the debuted one) was released in 2009 and became the main song of this serial. The actors who played the main roles were also the participants of this band. Their song Big Time Rush is deemed to be their sartorial statement.
Big Time Rush Big Time Rush live MTV Push
,
Now this band can boast perfect sales of their albums and their songs are loved and appreciated. The subject matter of their songs is close to the hearts of millions of fans around the world.
Except the single that was mentioned above, it is necessary to draw your attention to the song 'Halfway There', which was released in April 2010 after the first run of the series. This dynamic and dancing song about love was on the pinnacle of success and even was included into Billboard Hot 100. This song achieved such popularity also thanks to the series where it was played. It is so hot that even those who don't like dancing hardly would not appreciate it.
Big Time Rush – Halfway There
Sometime later guys created one more song 'Til I Forget About You', which was more for advertisement. But this song conduced to the creation of a first album 'BTR'. During the first week of sale approximately seven thousands of copies were sold. So the beginning of the career was very successful.
Big Time Rush – Til I Forget About You
Still one of the most prominent songs of this young a promising boy band is considered to be 'Boyfriend'. It was released at the beginning of 2011. Thanks to 'Boyfriend' the band was nominated for MTV Music Awards. It's worth noting that it was a real breakthrough in the career of these guys. By the way, it is regarded as their first official single.
Big Time Rush – Boyfriend ft. Snoop Dogg
'Music Sounds Better With You' is a favourite song of millions of their fans. A perfect romantic melody in a combination with delightful video became a hit. It was released in November 2011. This single made debut at Billboard 200 and became number 12 in the list of songs. More than 70 thousand copies of album where this song was included were sold only during the first week after debut.
24/Seven is a tremendous track, the first one in the album 24/seven. It was released on April 2013. The video that was shot especially for this song showed the guy's real way of life. Though this album wasn't so popular as the previous ones, nevertheless it also achieved success in the USA and all over the world.
Big Time Rush – 24/seven
As we can see these guys made meteoric career and it seems to be that they didn't take a break between releasing of every album. But it is not true, they had rest and wrote knew songs. The group received a bulk of various awards and was nominated for World's Best Group at annual World Music Awards. Also these talented guys can boast by their win in the nomination 'Best Live Act' and this is a great achievement. Big Time Rush music is universally acclaimed and their success can be the best example to follow for those who only start their career.
Exclusive Interview with BIG TIME RUSH!