Cobie Smulders is a 33 years old Canadian actress but in her native country and in the USA she is well known as Robin Scherbatsky on the series How I Met Your Mother.

| | |
| --- | --- |
| | |
She was born in Vancouver and was named in the honour of her grandmother but later she shorted her name to Cobie. When she was a teenager she tried to realize herself as a model but this kind of business she didn't like too much. But it had a certain advantage, thanks to her modeling career she travelled all over the world. She achieved success in this sphere and wanted to become an actress. The woman had bright appearance and that's why she thought she would be appraised according to her appearance primarily and her talent would not be noticed. Nevertheless Cobie started her acting career. At first she played mostly secondary roles. A good example is The Long Weekend where Cobie Smulders artistically played the episodic role. One of the most successful roles is considered to be the work in the American superhero film The Avengers where Cobie Smulders was offered a role of a high-ranking agent. Also it worth to be mentioned Cobie Smulders movies and TV shows are always interesting and constantly receive positive comments from the critics and the audience.
Cobie is a woman with perfect, modeling body so she constantly tries to accentuate her beauty by changing looks. She looks greatly on the red carpet and in casual style. A good example which proves this fact is the first run of the film Captain America: The Winter Soldier. The actress chose dark blue asymmetrical dress with low neck. Cobie combed her hair and complemented her look by earrings and silver clutch.
In September 2013 Cobie visited the 65th Emmy Awards. At this even she impressed the audience by her look which was considered to be one of the best. In a bustier dress of tender cream colour she looked like an angel. The long tail added gracefulness to her image. This is a perfect choice for such type of events.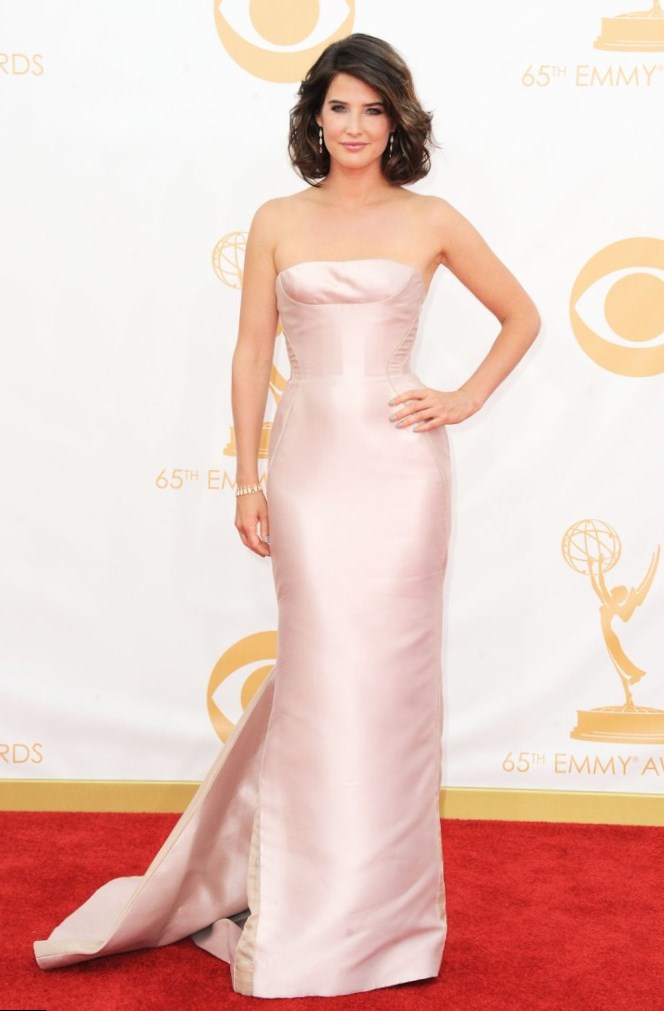 At the 32nd People's Choice Awards Cobie Smulders appeared in a blue clingy dress. This dress accentuated her figure. The woman chose golden toeless high heeled shoes and massive necklace. It was a simple dress but still she looked gorgeous.
On May 15, 2013 Cobie was present at CBS Upfront Presentation at The Tent at Lincoln Center in New York. Her look was perfect and fascinating as usually. The TV star wore a black, V-neck dress in combination with high-heeled shining shoes. Black color unfastened hair and a red lipstick on her lips added glamour to her unchallenged look. Besides, a mounted gem of a black color gloriously fitted in with her image.

Later on July 29, 2013 the actress visited CW, CBS And Showtime 2013 Summer TCA Party in LA. Cobie's look was simple but at the same time breathtaking. The star wore a short white slim-fitted dress with open shoulders. The dress would not look that great without black color high-heeled shoes and a black clutch with white glittering stripes. All these outfits created a superb look of the actress.