Dog Sammy (pooch)
Dog Karma (American Bulldog)
Dog Esther (Yorkshire terrier)
Snake Johnson
Hamster Pac
Monkey Mally
Cat Tuts
Dog Todd – since 2016
There are a lot of jokes connected with Justin's "love" to animals. He is even called a Hollywood Dr. Dolittle.
For the last several years, Justin gave a home for at least three dogs, a monkey, a snake, a cat, and a hamster.
In March 2015 Justin announced about a new puppy. He said that it was rescued from bad people. Though the singer has good intentions, his house can hardly become a shelter for the animals. The main reason is that Justin hasn't grown up yet to take care of those creatures.
Now, let's see what animals Justin Bieber adopted earlier.
His first rescue was a dog Sammy. As we all know, the singer spends much time on the road. For this reason, that tine doggy spent more time in Justin's grandparents' house. However, at the very beginning, these two boys felt comfortable together. Sam left this world in December 2014.
In 2011 Justin appeared on the red carpet of MTV with the snake called Johnson. This trick wasn't understood by the public. The audience thought that Justin just wanted to turn from an ordinary teen to a teen-millionaire. It wasn't long after that event when Justin gave the snake to the charity auction. The snake had a disorder, so these days it lives in the Reptile & Amphibian Discovery Zoo in Owatonna.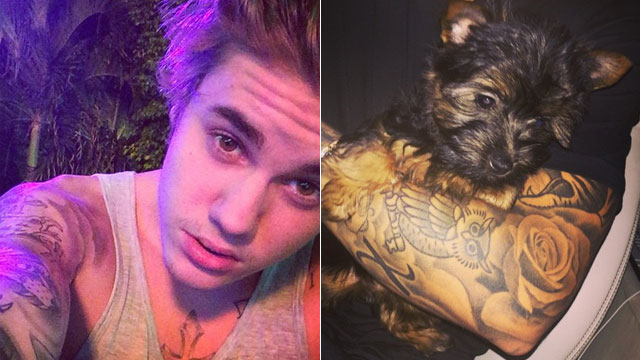 The story with the hamster Pac was rather fast and tragic. Pac lived in Justin's front pocket for a long time, but during one of his concerts, in 2013, the singer presented him to one fan in the first row. It happened that sometime later the poor hamster died. Maybe, it was the impact of the new surrounding.
Have you heard about Tuts? Maybe you follow her on Twitter?
Yes, this cat is the only one Justin's pet which has a personal account. According to the information given there, Tuts hates Mondays, but adores lasagna.
A cute Bulldog Karma was involved into a very unpleasant situation. Once, the puppy had bit Justin's younger brother Jaxon, and as a result, Jeremy threw the dog off the balcony from the second floor into the snow. After that case, Kara lives with her trainer.
This terrifying zoo welcomed a tiny Esther in March 2015. Regarding the circumstances and the previous cases, hopefully this pretty dog will stand some time longer than his predecessors.