Steve Jobs – famous American entrepreneur, who was a pioneer of IT area. He was born on 24 February 1955 in San Francisco and died on 5 October 2011 in Palo Alto. He was one of the founders, CEO and Chairman of the Board of Directors of Apple corporation. Aslo Jobs was one of the founders and CEO in Pixar studio. Long time ago, he and his friend Stephen Wozniak created one of first PC's with great commercial potential. Later they released Apple 2.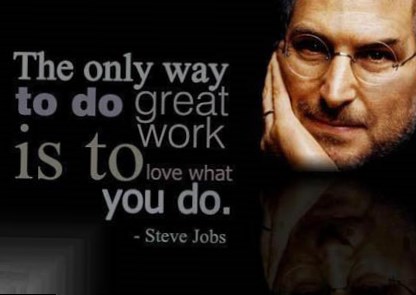 In 1985 Jobs left Apple because of his conflict with the Board of Directors and founded his own IT company called NeXT. In 1986 Steve Jobs bought Lucasfilm studio and transformed it into Pixar. In 2006 Pixar was bought by The Walt Disney Company so he became biggest private shareholder of Disney. In 1996 Apple bought NeXT and Jobs became Apple's advisor. In 1997 he started to control Apple, Jobs later saved company from bancruptcy. In 2011 Apple became the most expensive public company in the world.In 2011 Steve Jobs died from pancreatic cancer.
Jobs was also famous with his great oratorical abilities. One of his famous quotes is:
"My favorite things in life don't cost any money".
Also Jobs said really great speech about creativity:
"Creativity is just connecting things. When you ask creative people how they did something, they feel a little guilty because they didn't really do it, they just saw something. It seemed obvious to them after a while. That's because they were able to connect experiences they've had and synthesize new things."
Other famous quote by Jobs about him leaving Apple was :
"Bottom line is, I didn't return to Apple to make a fortune. I've been very lucky in my life and already have one. When I was 25, my net worth was $100 million or so. I decided then that I wasn't going to let it ruin my life. There's no way you could ever spend it all, and I don't view wealth as something that validates my intelligence."

His another famous quote about design is
"Design is not just what it looks like and feels like. Design is how it works."

"Everyone here has the sense that right now is one of those moments when we are influencing the future." – thats what Steve Jobs said about his inspiration.
One of his greatest quotes about leadership is
"Innovation distinguishes between a leader and a follower."  Steve Jobs also said: "Sometimes when you innovate, you make mistakes. It is best to admit them quickly, and get on with improving your other innovations."

Jobs recommended not to lose faith: "Sometimes life hits you in the head with a brick. Don't lose faith."

"Being the richest man in the cemetery doesn't matter to me. Going to bed at night saying we've done something wonderful, that's what matters to me." thats what Jobs said about matter of life.
Jobs also said his speech about technologies and television :
"I think it's brought the world a lot closer together, and will continue to do that. There are downsides to everything; there are unintended consequences to everything. The most corrosive piece of technology that I've ever seen is called television – but then, again, television, at its best, is magnificent."

Steve Jobs TV interview about iPhone (2007)