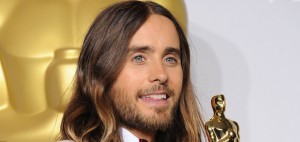 If you want quickly get yourself into shape than use the advice of Hollywood star. Jared Leto lost 30 kg for quite a short period of time. He did it during only seven weeks! A special diet helped him to obtain such a stunning result! Actors either gain weight in order to play a role of a superman or lose it, in order to correspond to a lank personage. All in all the ideal correspondence to a certain role has its prices but very often the celebrities are lack of time and they are made to ask the advice of nutritionists. Just the nutrition specialists work out the diets according to the needs of a certain celebrity.
Jared Leto is a well-known American actor, rock singer and a musician of a rock-group 30 seconds to Mars. He is a director of many musical clips. Jaret Leto movies are very popular and even one of his roles was awarded by Oscar. But how many efforts did he make in order to receive such award?
During seven weeks he achieved amazing results and lost 30 kg! After starring in the film "Chapter 27" where he parted the role of tubby killer, Jared was offered a role in another film where he was made to personate a scraggy young man.
The main role in "Dallas Buyers Club" finally brought the actor the prestigious award. Leto played the role of a transvestite, who suffered from AIDS.
In order to correspond to this role maximally the actor's eyebrows and the other hair of the body was depilated. Jared made practically an impossible thing. He used the most radical diet and it was a liquid diet. It worth to be mentioned, that this diet may be considered to be the most effective. Those who keep to such a diet must refuse practically from all food and consume water, lemon juice, Cayenne pepper and maple syrup. Naturally if you stop eating you will loose weight! If to have a look at Jared Leto pictures one must confess his horrifying changes.
Jared Leto photos Before & After
The results of such a self-abnegation the actor showed on camera. Retracted abdomen and sticked out ribs shocked almost everyone, especially his relatives. In the given interviews Leto commented that it was very difficult for him to drink only water during such a long period. But he added that the most important thing for his was not to lose weight but to convey the personage's character as close as it is possible. And he secured his object!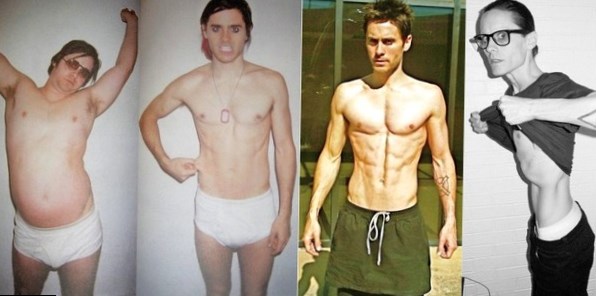 Though the process of starvation was under the care of doctors the actor could not elude the problems with his health. Besides,the problems are quite serious. Unfortunately he started suffering from podagra. Now he should take medicines.
During such transformations Jared also wanted to know what influence this diet will make on him. But he confessed that he felt feeble and fragile. And after shooting he wanted to gain weight as soon as it was possible. Besides he added that his relatives who didn't know the exact reason of his excruciation were shocked and thought that he was ill.
Video: Jaren Leto Discussed his oscar buzz on Ellen