Kate Winslet was born in a family of famous actors, so her profession was predetermined in childhood. She used to walk among the decorations and to watch at made-up actors.
Since childhood Kate had problems with extra weight and was a butt of a joke at school. At the age of eleven she started attending drama courses at Redroofs Theatre School and simultaneously treaded the boards. At first the girl appeared in advertisements.
She was noticed and offered a role in the film Shrinks. The first serious role Kate Winslet played in 1994. Kate was selected among 175 applicants for the role of Juliette in the thriller Heavenly Creatures. In every her work Kate strongly gets into character and this characteristic helps her to achieve success and become a professional.
Romantic disaster film directed by James Cameron, Titanic made Kate Winslet popular all over the world. After Kate's appearance in this film the actress rose to fame over night. Kate Winslet also shot in such popular films as Finding Neverland, The Holiday, Eternal Sunshine of the Spotless Mind and others. Almost all Kate Winslet movies were appreciated by the audience.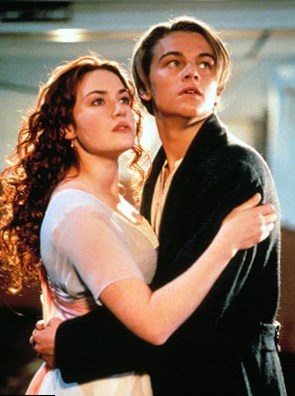 Now she cannot be named as a typical Hollywood actress. Earlier when she had problems with extra weight she preferred clothes that somehow concealed extra weight. At the beginning of her career her looks were not appreciated by critics but later Winslet managed to create her own style.
In 2002 Kate Winslet appeared at the 74th Annual Academy Awards in a red floor-length dress. This dress was decorated by flowers. Her look was appreciated by critics and Kate was considered one of the most elegant women of this event.


There was a period in her life when she preferred trouser suits and at various social events she was seen only wearing suits of various colours.
In 2002 at the first run of the film Road to Perdition in New York Kate Winslet was seen together with her husband Sam Mendes wearing snow-white trouser suit. Celebrity complemented her look by beige high heeled shoes and clutch. Though some critics criticized her choice it worth to be mentioned that such suits feat the actress greatly.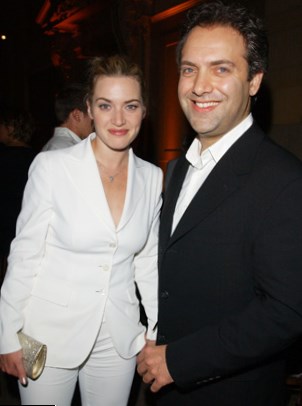 One more very successful look the actress demonstrated at the 77th Annual Academy Awards in Los Angeles in 2005. The actress chose long tank top violet dress. This dress was a perfect choice which perfectly accentuated her sexy breast and good and womanly figure.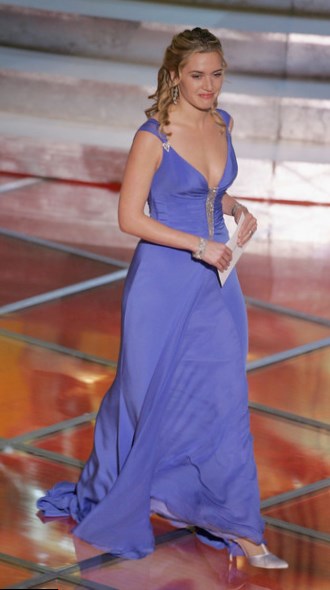 Of course for serious events Kate Winslet prefers dresses and more often long dresses. But for parties the actress prefers more comfortable clothes. In 2009 for the BAFTA Awards season the woman chose great black dress which made her look very elegant.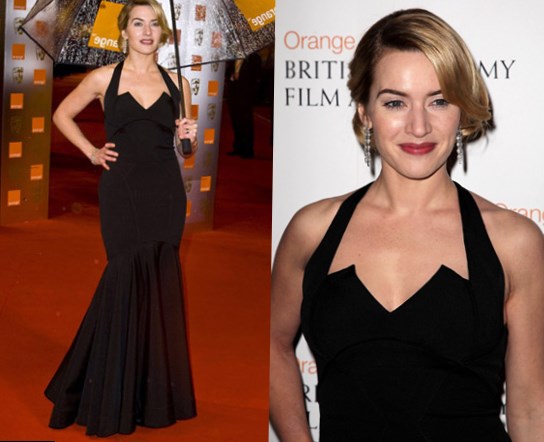 As the years go by Kate Winslet becomes more elegant. In 2009 during the 66th Golden Globe Awards the actress impressed everyone by her long and black dress decorated by elegant belt with bow. The actress doesn't like accessories and always tries to keep to a minimum the usage of them.