Dog Tani (brown bulldog) – since September 2015
Dog Dora (labradoodle) – since November 2015
Liam loves animals as well as his ex-girlfriend Miley Cyrus. It seemed that these two were real friends and got on well together even after they had broken up. As you know, the couple reunited and is going to get married.
Miley is well-known for rescuing animals. Last September due to this young girl, Liam found a lovely dog. Miley brought Liam to the asylum of rescued animals, and as a result a young actor adopted a lovely puppy – Tani.
In addition to one rescued dog, in last November Liam reported about a new addition to his "family". On his Instagram page the star posted a lovely picture of himself together with a new dog – Dora. This puppy was only six month old at that moment, but it was really big.
This trio is really amazing. Judging from the pictures, the dogs have everything they need for long and happy life. In addition, the young actor doesn't miss an opportunity to take pictures of his lovely pets. The three look funny and cute at the same time.
As Liam Hemsworth and Miley Cyrus are both great pet lovers, we can only imagine how their house will look like. They actually can't live without animals. Many animals. They are really great people, because they give a home to neglected animals. It would be amazing if there were more such good people as they are.
The pictures of these happy guys will definitely melt your heart. Miley all the time posts her photos with all her pets. So does Liam. We can't but agree that these young people perfectly appeal to each other.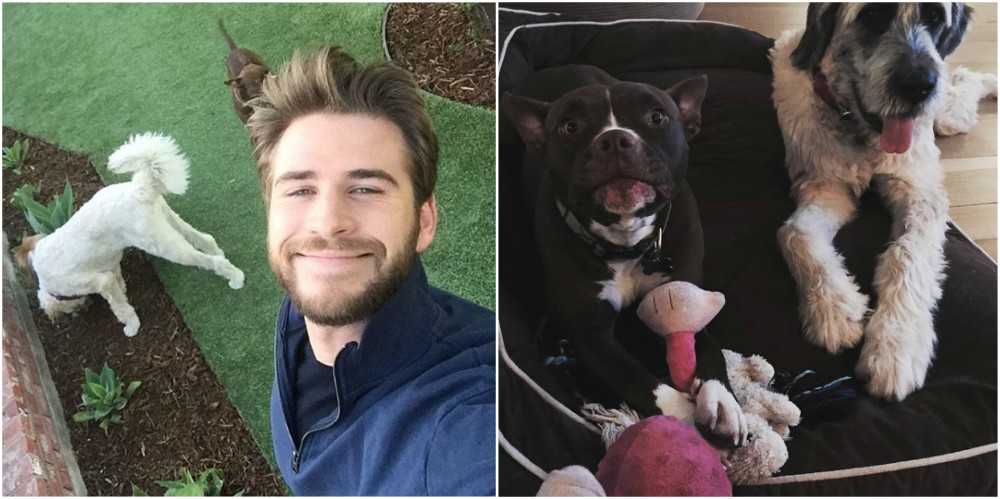 We have nothing to do but to wish them long and happy life together!