Megan Denise Fox was born on May 16, 1986 in Oak Ridge, Tennessee. In her pedigree there are Irish, French and Native American roots. When she was five years old, Fox started to be engaged in dance and participate in the drama circle. In 1999 she received several awards at one of the popular American dance show, which took place in South Carolina.
Megan Fox's career
One of the first roles was held in the movie  Holiday in the Sun in 2001. In 2007, Megan Fox has received a real success, as she took part in the most spectacular motion picture in 2007 – Transformers, where she performed the role of Mikaela Banes. In 2008, she starred as a rising star of the movie in the movie How to Lose Friends & Alienate People.
In 2009, she again played the role of Mikaela Banes in the movie Transformers: Revenge of the Fallen, and also starred in the film Jennifer's Body. In 2010, Megan starred in the clip Eminem feat. Rihanna – «Love The Way You Lie», and in 2014 in the film Teenage Mutant Ninja Turtles, in which she played the role of April O'Neil.
Megan Fox Interview – Transformers
Megan's plastic surgery
And from 2007 to 2012, actress Megan Fox made her way from the magnificent beauty to mediocre cutie. Only the blind will not notice that it really much changed in her appearance and the reason for that is the love of plastic surgery. The girl made more than one or two surgeries, although she is only 25 years old. What is it? The quest for an ideal? Not exactly clear, but under the surgeon's knife she lost much of her beauty and sexuality, which she undoubtedly had prior to surgery.
In 2007, still completely natural Megan Fox was accompanied by her fiance Brian Austin Green at an event, which focused on the television series "Beverly Hills 90210". In this series, Brian played the role of David Silver.
At that time, Megan was virtually unknown, because "Transformers" with her participation is not yet appeared on the big screen, but the piercing eyes and the ideal figure were drawing attention to beauty.
After a brief separation from Green, Megan began to "align" herself. On the photo for 2008 is noticeable that she fixed the nose, increased her lips and breast. At first glance it was very nice. But it is only at first glance, because in the future it has not been able to stop (plastic surgery – it's like a tattoo, make one – want more).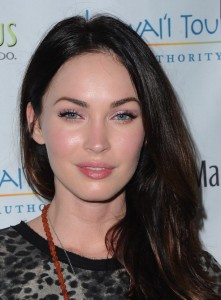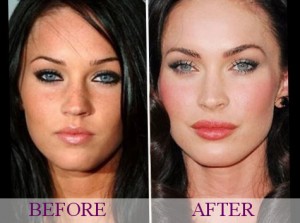 In 2009 on the screen comes the film "Jennifer's Body", in which Megan has played a major role. In the same motion picture starred Amanda Seyfried, which got boring image of the scientist, unlike Fox, played a fatal beauty. At that time, Megan was very beautiful, and everyone thought that she would not make the plastic more.
In 2010, Megan further increased her lips, put in her cheeks fillers, as well as she used Botox. At the premiere of the film "John Hex" we see obvious cosmetically – plastic Megan.
And in 2014, we can see that on the face of Megan Fox lost all facial wrinkles, her cheeks became clearly defined and all her appearance was closer to standard notions of beauty.
Megan Fox interview at Film Premiere of Jonah Hex in Hollywood