Dog Frankie (Yorkshire terrier)
We all need someone to support us when we are alone.
When Miranda divorced Orlando Bloom, she spent all her spare time with her little son. But what does she do when the boy visits his dad and spends days with him?
To make herself a company, Miranda adopted a cute Yorkshire terrier Frankie. Moreover, Frankie not only keeps her a company at home, but also at the shootings. Wherever the model goes, Frankie accompanies her. The dog even appeared on the cover of Italian Vogue with his celeb owner. Moreover, the Frankie starred in many other photo sets for different fashion brands. Frankie always supported Miranda. The dog was with her even through her marriage break out.
Where did the dog disappear?
Though Frankie was the model's constant companion, this spring Miranda showed in a public her new fur friend. Though, the dog wasn't officially introduced to the audience and to Miranda's followers, she appears with the dog everywhere since May. The dog itself looks very happy to take a vacant place of the model's star pet.
But nothing is so simple…
As it appeared, the new dog probably belongs to Miranda's new boyfriend, billionaire and co-founded of Snapchat Evan Spiegel.
It seems that the couple became really close as the dog spends a lot of time with Miranda and her son. The model was even noticed walking with the dog in the park entertaining him with a ball.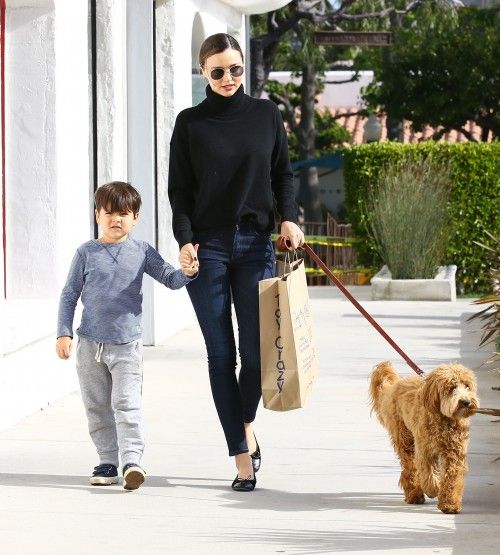 Despite the fact that a new cuddly dog is extremely cute, the fans and the followers of the ex-Angel are worried about Frankie. The public is used to see new pictures of Miranda and Frankie, but now there is no one.
We have nothing to do but only guess what happened to Frankie. Hopefully, it's alright, and we'll soon see new pics of a happy duo.