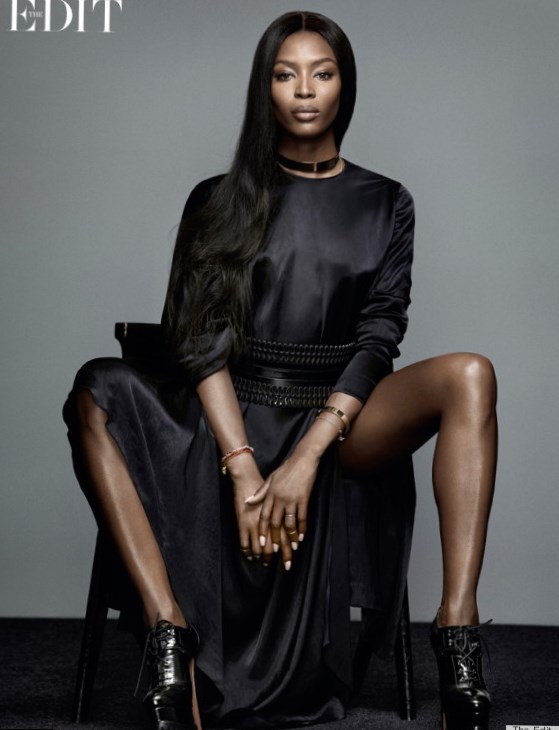 Naomi Campbell is a British model, singer, actress and businesswoman. She was born on 22 of May, 1970 in London, England. She has dark brown hair and eyes. Her measures are: 86 breast, 61 waist, 86 hips. Naomi wears bra of 34B size. She is known mostly for modeling for brands like Ralph Lauren, Prada, Victoria's Secret and others. Campbell has bad reputation because of her past drug addiction and few cases, when she committed violence against different people, starting with her employees and finishing with police officers.
Her favorite food is McDonalds, KFC, Snickers, Mars bars and etc. Naomi's favorite shoes are Louboutin, Alaia, Marc Jacobs. Her favorite designers are Zac Posen, Dolce and Gabbana, Alaia. Naomi has English bulldog named Winston. She likes scuba diving and vintage clothes.
Naomi Campbell dated a lot of music, TV stars and models. Also, there were a lot of rumors about her dates. In year 2001 Naomi dated Enrique Palacios, top model from Venezuela. They met each other in Stromboli islands, where they spent a vacation.
Rumors told that in year 2001 Campbell dated Lars Ulrich, rock star and Metallica band drummer. All the rumors started after they were seen flirting with each other in San Francisco's nightclub.
In year 2002 English model dated with rap singer, producer, entrepreneur and actor Sean Combs, known as Puff Daddy or P. Diddy. Pair stopped their relations in a friendly way without drama.
In year 2004 Campbell dated Luca Orlandi , Italian fashion designer.
In the same year Naomi dated Italian entrepreneur and «Valentino» owner Matteo Marzotto. Pair dated each other for 8 months in year 2004.
In 2004 Naomi had a romance with American musician and drummer, Tommy Lee from March till April. Sean Combs helped them to met each other in a party in Florida.
In the last part of 2004, Naomi and Usher Raymond dated each other. They broke up in December 2014. In one of interviews Usher told, that he was bored with her. It was the reason why he left Naomi.
From 2005 till 2006 Campbell dated business executive from Emirati, Badr Jafar. They were dating each other just for a couple of month. Just for the record, Jafar was 8 years younger than Naomi.
In 2007 Naomi was rumored to date with actor Terrence Howard after they were seen together. But he denied the rumors.
American music, film producer and jazzman Quincy Jones was rumored to have a romance with Naomi from 2007 till 2011. He is more than 37 older than British model. Also, in 2007 were rumors about Naomi dating Scottish actor Gerard Butler and Andre Balasz, Hungarian hotel owner. Andre and Naomi were caught having a dinner in New York.
In 2008 Campbell had a romance with Brazilian businessman Marcus Elias, after they met each other at Vogue Party in Brazil. She was photographed with an engagement ring in two weeks after she met Marcus. They dated and broke their relations from time to time.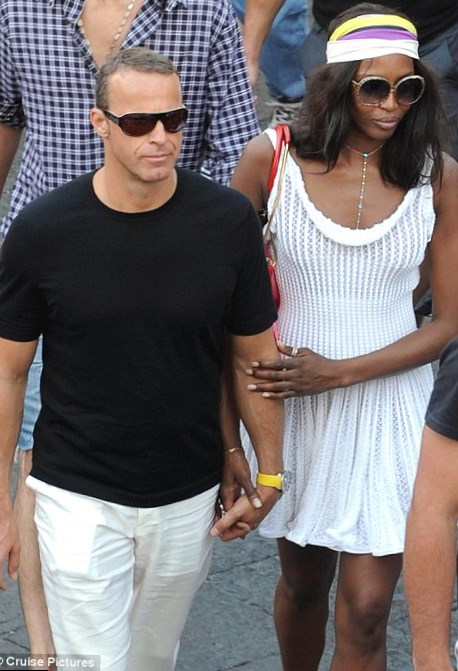 From 2008 till 2013 Naomi dated with Russian businessman Vladislav Doronin. They met each other in Cannes during film festival. After five years of relations they decided to separate in May 2013.
Video: Supermodel Naomi Campbell