Dog Willie (Labrador-retriever mix)
Dog Baylor (Husky)
Dog Wallace (Boxer-Shepard)
Dog Fina (Rhodesian rigeback mix)
Dog Chazz (Puerto Rican breed)
Dog Chip (Corgi mix)
One more dog lover is Selena Gomez. The young girl is a proud mom of six dogs.
All her pets are different, but they are united by one common feature – all of them adopted. Each dog has different origin, but they became one family.
It's not a surprise that Selena became a dog rescuer. She was raised in the area where were a lot of abandoned animals. So she feels like it's her duty to supply them with home.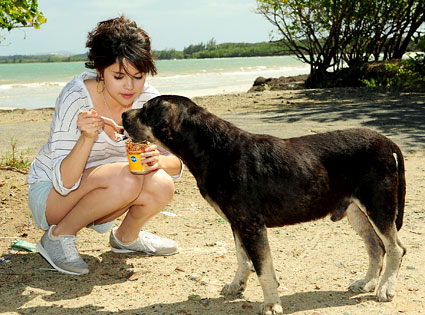 The Willie's story is a common case. His owner left him in the yard when he moved to other house. Actually, it was Selena's stepfather who found the dog and brought it to a pet asylum. But ten days after that it was said that the dog would be euthanized. At the moment the family had no doubt whether adopt the dog or not. As result of such sad story, Willie got a big family that loves him very much.
Another dog, Baylor, was adopted in 2011. Since then, the dog became Selena's greatest joy. Actually, Baylor was adopted during a trip with Justin Bieber. The singer decided to adopt Baylor because she missed her 5 dogs left at home. Now, Baylor feels free in Selena's family.
The dog Wallace was adopted in a shelter when he was ill. But when the dog joined the company, he became active, and now he's fond of playing with a ball.
Fina was found by Selena's mom. When the woman was parking, she saw a skinny poor dog that needed medical help. After a visit to the vet, the dog soon recovered and now feels like a star at home. She is beloved and well-fed. Moreover, the dog that lived on the street, now sleeps only on the pillow and under the blanket.
Selena met Chazz on the shooting in Puerto Rico. The dog was simply sitting on the location and followed everyone who passed through. Some time later, all the staff got used to Chazz and the dog was even allowed to the hotel. Finally, Selena's heart melted and she took a dog to her home.
Chip was also rescued. One rescueorganisation helped Selena Gomez to adopt this dog. According to the singer, Chip is a dog that wants to be loved all thetime. It doesn't matter to him who loved him, he just need someone to be close. We are totally sure that Chip gets everything he needs in Gomez's family.
It's great that due to such people as this family, abandoned dogs get home and love. They will never again return to the life they had on the street. The dogs are real band together and they adore spending time together with their owners.
SUBSCRIBE!