Lady Gaga is one of the most bizarre and flamboyant musician. Her level of creativity is so enormous that it is quite difficult to find someone else similar to her. Almost every song she releases becomes a hit, but people visit her concerts not only to listen, but also to watch, amaze and be surprised.
Her outrageous costumes are made of everything starting from mirrors, white paste, dyes to even muppets, though Lady Gaga is always ready to shock her fans and general public with her appearance, performing and behavior.
Gaga's looks deserve more than hundreds charts, but we give you a chance to see her 10 most shocking looks.
One of them rocked everyone while performing her song "Applause" in the barely bikini of white color and in the form of seashells and some bright flowers as if she has just got out of the pool.
Another nude look was while performing her song "Judas", when her body was covered with a transparent kind of dress and the top of her outfit reminded a nun – a controversial union.
Apart from clothing shock she is a master of visual effects on it. Once in Germany she appeared in the leather body, gloves and boots all in studs, but it was not enough, so it was added with pyrotechnic bra ignited on the stage.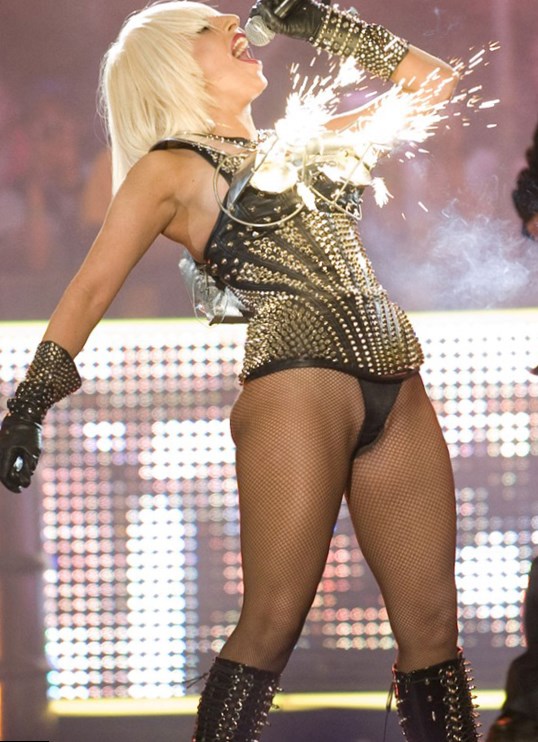 In 2010 at MTV Award she was dressed in an infamous meat dress making everyone drop their chins. This outrageous dress is still displayed at the Rock and Roll Hall of Fame. She managed to rock MTV one more time appearing their with a nest on the head as if she has a fight with that poor bird.
Have you ever had a croacking coat? No? Take a look at Gaga. Once she appeared in a coat made of green muppets and a frog on the head. What imagination she has!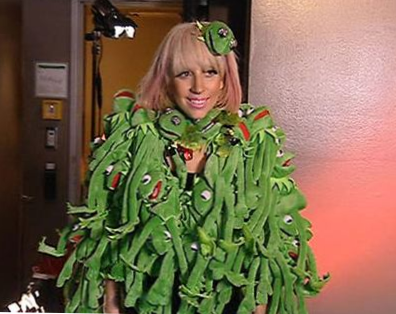 Some her looks will be definitely loved by children, as many of them remind cartoon heroes and even clowns. She shocked everyone with her bubble wrap. But there will be a surprise for everyone – her pale body under the bubbles.
Another shocking variant is a bright and bold suit with the incredibly high platform of her shoes. It was combined with green hair and big glasses.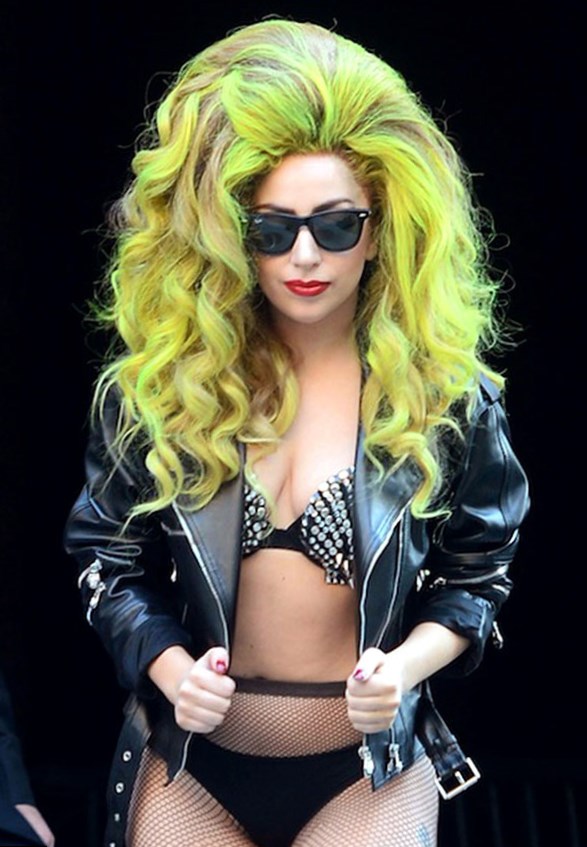 Her unique mini-dresses decorated with diamonds looked marvellous. They produced the impression of just grown out of her. There were three of them: first one was black with glass diamonds, the second was pure white, while the third was leather with yellow cubes.
But a great disappointment and shock for everyone was her photo without any extraordinary make-up or costume. Firstly this photo was spread full-out in the magazine and then by her fans in social networks. And no matter what ugly and disregarding things people say, even without anything on her face she has bright and unique appearance. Lady Gaga is an example of the performer, who shocks everyone either with her outfit or her talent.