Ashley Benson, young American actress, always impresses her admires by a perfect and unimpeachable style. This actress is not only a talented one but also a woman whose style is an example to follow.
Ashley Benson was an active child and at the age of three she started taking lessons in the dance studio and a little bit later started singing. H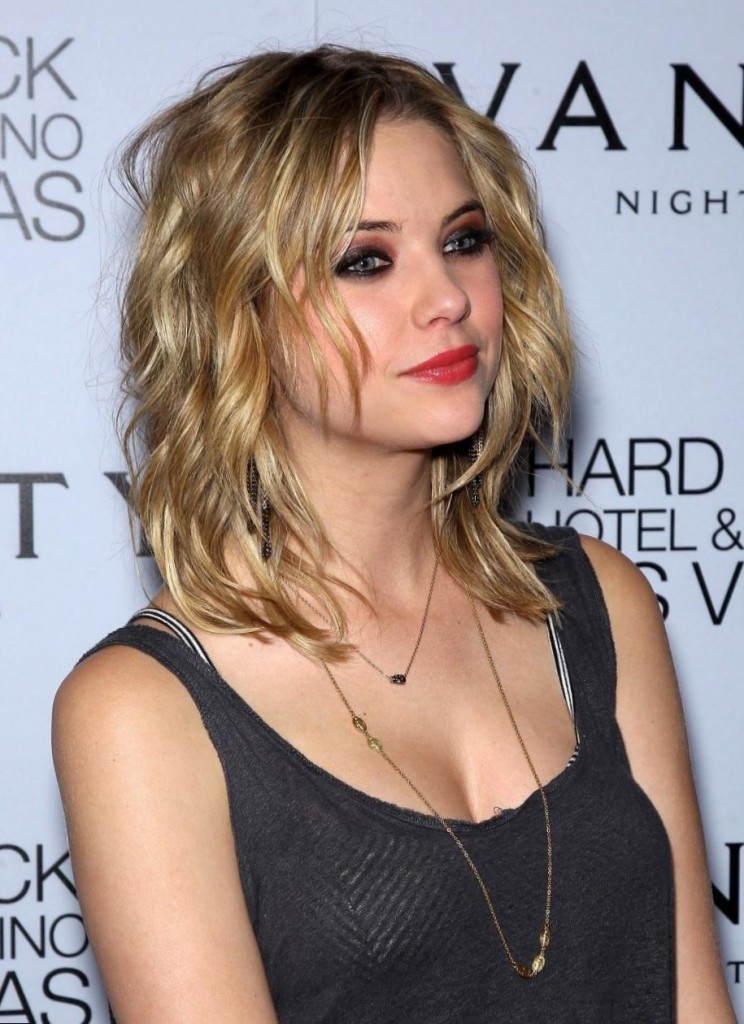 owever she wasn't afraid of public performances; when at the age of four she was invited to sing in the church during the Christmas performance, a young lady agreed and did it greatly. At the age of eight she signed a contract with one of the model agencies and started her career.
Simultaneously with shooting for various advertisements she started attending castings for TV shows. The first success of a promising actress was the role in the series Days of our Lives. This project helped a young lady to pay attention of the producers to her personality. Later she started filming in various episodes in such series as The O.C., Eastwick and Bring It On: In It to Win It. Ashley Benson's role in the series Pretty Little Liars also was highly appreciated by critics.
But Ashley Benson is not such a kind of person who is satisfied with what has already been achieved and later she started filming in various movies. In autumn of 2013 at The Cannes Film Festival there was a first run of the film Spring Breakers. After the role in this film the audience started talking about Ashley as a budding drama actress.
Speaking about the personal life it bears mentioning that she dates Ryan Goods, a famous stylist. The couple still cannot come up with their relationship status. Also there are rumors about the fact that Ashley Benson is pregnant but this are only rumors because a young lady confessed that she is not expecting a child soon.
If to pay attention to the style of this young actress one must confess that she is a delicate woman. She likes to be different and prefer experiments with her manner of clothing. The only thing she doesn't want to change cardinally is her hairstyle. Only Ashley Benson's hair color can change from blonde into brunette for a certain period of time in order to correspond to the role she plays at the moment. Her makeup is also neutral and more natural; sometimes she likes accentuating her eyes.
At any social event she looks perfect and her outfit always impresses the audience as well as Ashley Benson's movies and TV shows. For example, recently she attended TV show AOL Build Speaker Series in New York. Especially for shooting a young actress has chosen longish deep blue vest without sleeves and trousers by Wai Ming of the same color. She complemented her look by court shoes of beige color designed by Bionda Castana. Romantic wavy hair and natural make up made her look ideal.
In February 2015 when she attended the Miu Miu Women's Tales 9th Edition "De Djess" screening Ashley impressed everyone by a perfect combination of simplicity and stylishness. She chose a simple short dress without sleeves and short bouffant skirt. It was a printed multicolored dress. In a combination with dark blue clutch and high heeled shoes she looked amazing.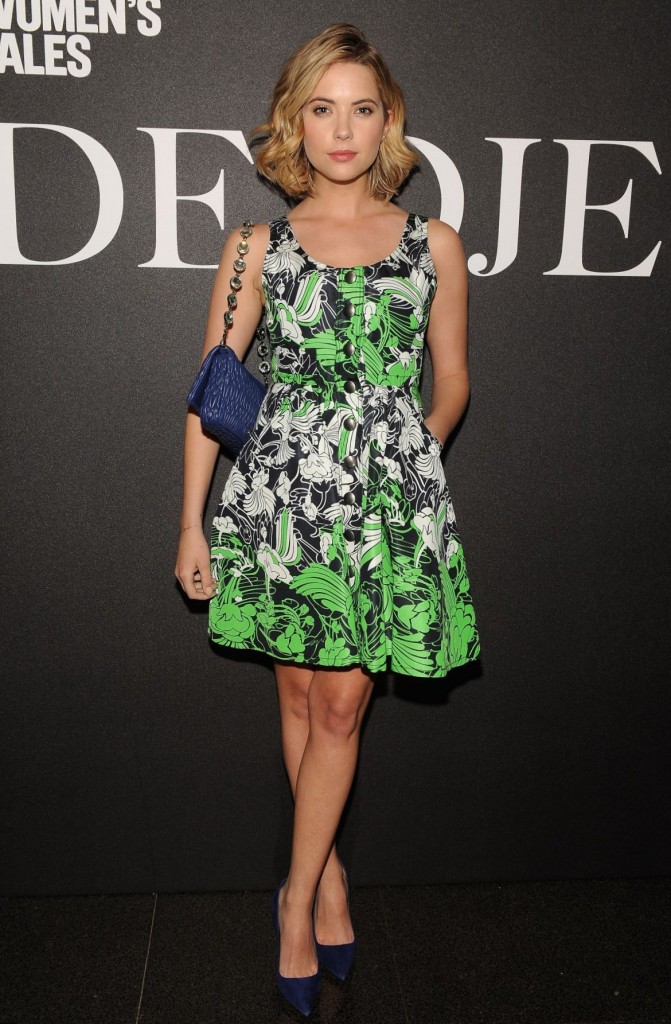 Ashley Benson can impress not only by the delicacy of her outfits but the sexuality too. When she visited the Reem Acra fashion show in February 2015 she showed her sexy figure with the help of her dress. It was a pink dress with low neck and decorated belt. This dress accentuated her sexy breast and she was in the centre of attention.
This is not all the experiments with her looks. In November 2014, during Baby2Baby Gala she proved that she doesn't like sameliness. She wore a long dress with bouffant skirt and black corset. The skirt was decorated by blue prints and décolleté was laced up.
At the beginning of November 2014 Ashley Benson attended the REVOLVE Pop-Up Launch Party and at this event she demonstrated business formal style. She put on a modest but at the same time stylish dress. It was a blue dress with full skirt decorated by black and brown long prints. Her hair was scraped back and high-heeled shoes were a perfect look completion.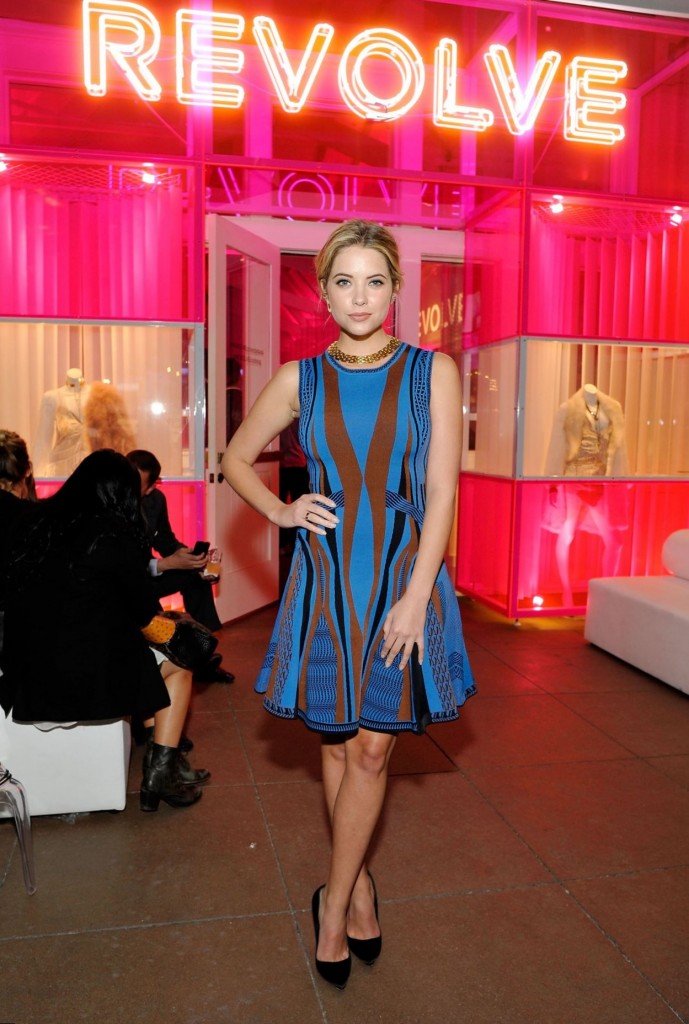 Ashley Benson looks stylish not only during big events, but in everyday life too.