David Beckham 
Parents:
David Edward Alan Beckham (Ted) – father, Sandra Georgina Beckham (mother)
David 
Beckham grandparents:
Joseph West (died in 2009), Peggy West (died in 2013)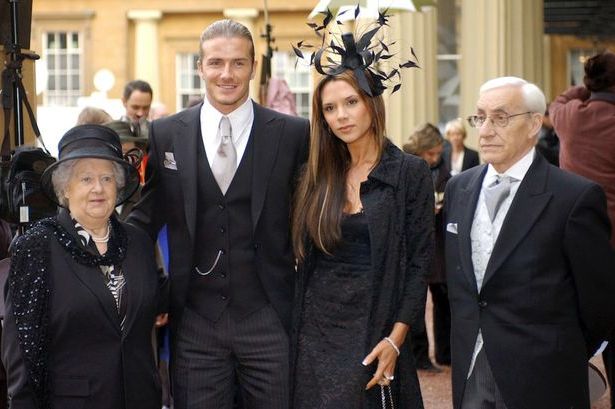 David Beckham s
iblings:
Lynne Georgina (older sister), Joanne Louise (younger sister)
David Beckham
Marital Status:
married
David Beckham 
Wife:
Victoria Beckham (since 1999)
David Beckham 
Children:
1. Brooklyn Joseph Beckham (son with Victoria Beckham)
2. Romeo Beckham (son with Victoria Beckham)
3. Cruz Beckham (son with Victoria Beckham)
4. Harper Seven Beckham (daughter with Victoria Beckham)
Even a star needs a good family life, because for anyone it is necessary to come back into a cozy home after a long working day.
David Beckham can be proud of his family; he is a father of a small sweet daughter and three sons. His wife, a singer and fashion designer Victoria Beckham, loves him to death. Their marriage lasts since 1999 and in spite of divorce rumors and statements of some women that they slept with David, the couple, nicknamed Posh & Becks, remains one of the happiest among celebrities.
David Beckham grew up in a friendly family, which he took as a role model. Although it was rumored that Sandra and Ted Beckham are going to split, the couple used to be ideal for many years. They brought up two daughters (David has two sisters) and a legendary son.
Sandra still is working as a hairdresser and Ted is a gas fitter. They are not rich, but they live at their own expense and do not take money from their famous son.
Sandra and Ted are very happy that David, who made a wonderful career, can boast with a happy personal life as well.
In fact, David Beckham met the main love of his life, Victoria Beckham, in 1997. Then she attended one of his matches together with her colleague from Spice Girls Mel C. They were introduced to each other and David fell in love with a woman; he was impressed so much that couldn't say a word. Later he invited Victoria for a date and thus one of the sweetest love stories in the world started.
They welcomed their first child, Brooklyn Joseph Beckham, on the 5th of March in UK. That very year the couple got married.
Victoria and David's wedding ceremony took place on the 4th of July, 1999. They say it cost £500,000. The ceremony was held in Ireland.
Now David and Victoria are the parents of four children. Brooklyn was born before their marriage and the other children were born after it. Romeo James Beckham was born on the 1st of September, 2002; Cruz Beckham was born on the 20th of February, 2005 and Harper Seven Beckham was born on the 10th of July, 2011.
David Beckham never gets tired to repeat that his family is the main achievement in his life.