Demetria Devonne Lovato, or simply Demi Lovato – is a famous American singer, songwriter and actress. She was born on 20 August, 1992 in Albuquerque, USA. Demi didn`t attend school as she studied at home, in 2009 she finished a high-school programm through homeschooling. Demi has brown color of hair, but she always dyes and changes her hair`s color. She has dark brown eyes and a nice smile. Her measurements are 87 bust-63.5 waist-91.5 hips in cm.
Lovato is best known for roles in "Camp Rock", where she played a role of Mitchie Torres. Also she played Sonny Munroe in another Disney project called "Sonny with a Chance", it was released from 2009 till 2011.
Hir first musical album was released on 23 September, 2008, called Don't Forget. She sold near 513 thousands of copies only in USA. In November, 2009 Lovato released her first live album called Live: Walmart Soundcheck. Demi is one of X Factor`s judges. Lovato has a twitter account, where she left more than 13000 messages and she has more than 28 million followers.
| | |
| --- | --- |
| | |
In 2009 she dated with Trace Cyrus, brother of Miley Cyrus. They had a relationship only from June till July. In May 2010 Lovato dated with Joe Jonas, American singer. But later she wrote on twitter that they broke their relationship. But they continued to be friends. From May 2010 Lovato started dating with Wilmer Valderrama, actor and TV personality. Pair broke their relationships and renewed them few times.
One of Demi`s best songs is Heart Attack, which was released in 2013. Lyrics of this song tells us about a girl, who never fell in love and she didn`t really care about guys. But finally she met a special guy and fell in love. As she said, now she "wanna act like a girl" and that he "Make me so nervous".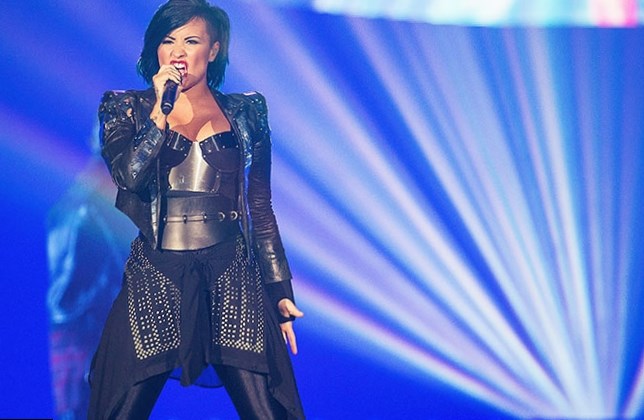 Another great song by Lovato feat. Cher Lloyd is called Really Don`t Care. Lyrics of this song is about broken relations. She says that she is tired of all his lies and they won`t be together again and that she "really don't care", earlier he had a chance, but not anymore.
Demi Lovato – Really Don't Care (Official Video) ft. Cher Lloyd
Another famous song by Lovato from 2013 is Neon Lights. Demi sings that she met a beatiful guy and she felt in love from the first look. They look beatiful and "shining like stars" together. And during all the song she tells that "we'll be burning up like neon lights".
Great song from 2011 is Give Your Heart A Break. The lyrics of this song is about a guy who never fell in love and is scared to do that. But Demi says that "and theres no time to wait", so he shouldn`t think about what is wrong or right and just to love.
Demi Lovato – Give Your Heart a Break (Official Video)
Last song in list of Lovato`s greatest songs is Made in the USA, which was released in 2013. She sings about perfect relations with a guy that she loves. Demi says, that he always understands her, makes her feel hot in a cold weather. And even if something goes wrong, they wont break, because their love was born in the USA. Demi has another great songs, but this list is really her most famous hits that gained popularity.
Exclusive interview with Demi Lovato!