3 Maltese dogs – Boikie
Dog Bumper (Maltese)
Dog Petie
Dog Willie (Maltese)
Dog Miss Polly (Maltese)
Dog Polly
Dog Willie
2 cats
It all started with three Maltese that one day were brought home by Halle's mom. All of them were called Boikie. Her mother just came and stated the fact. That was God knows what, but it was her idea. Those snow-white angels became Halle's first love.
After graduation party, her boyfriend presented her with another Maltese – that time it was her own dog. She called him a Bumper. Comparing with the nickname "Boikie", "Bumper" was a very philosophical and thoughtful name. Its whole face was overgrown with long hair, and that's because he continuously ran across different subjects.
But why such a strange name?
Bumper was very clumsy, like a small car bumper, and because of this, he got that name.
Nevertheless, the dog constantly accompanied Halle to beauty contests, and even in college. The dog was everywhere with the future star, but when her schedule became busy, he felt a bit neglected. In order to entertain Bumper and to find him a companion, Halle took another puppy.
Do you know the story how the new addition joined the family?
Halle didn't was Bumper to feel that he was going to be substituted by the other dog. Thus Halle gave Bumper an opportunity to find the dog itself. She hid a new puppy under the bed, and Bumper took care about that dog as he found it itself.
The new addition was named Petie.
When Halle was already a big girl, she had Willie and Miss Polly – two amazing Maltese – they were the love of her life.
When Halle Berry completed her television work, she received her first and revolutionary role in 1991. During the filming, Bumper and Petit were with the actress every day.
That was before the most tragic moment, when Halle in one moment lost both of them … They were in the yard of her house in Los Angeles. The actress left them, while running around on all kinds of paper cases. Coyote snuck into the yard, and her beloved kids were killed.
Was it the end of friendship with dogs?
Mother helped Halle to go through all that tragedy. Halle was sure that she would never again have dogs. And mother told herthat Halle should have adopted the other two dogs. That's how Polly and Willie appeared in the actress's life.
Halle had fun with them. When they were only 10 months old, theactress didn't look after them on the set and as a result, Polly was pregnant. She gave birth to two adorable puppies. But then Halle realized that she wouldn't have enough time and efforts for all of them. The new owners were found very quickly.
The name of this cute dog we don`t know but he is adorable.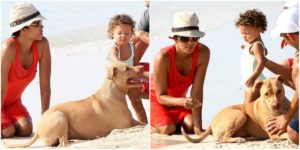 Now, about Halle's relationship with cats.
Holly confessed that before the "Cat Woman" she didn't understand the cats. But then, she adopted two cats and she really adores them. The star admitted that she doesn't know how she used to live without these creatures.