Height:
5 ft 8 in or 173 cm
Weight:
56 kg or 123.5 pounds
Age:
29 years (March 16, 1986)
Alexandra Anna Daddario is an American actress and model. She was born on March,16 1986 in New York, USA. Daddario has Italian and Hungarian roots. Her mother Christina was a lawyer. Her father Richard worked in NYPD. Alexandra studied in Brearley School in her native city. It was a school for girls only. When she was 16, Daddario went to Professional Children's School in New York. After school she joined Marymount Manhattan College, which she graduated later.
Alexandra has blue eyes, which are strikingly bold. He body measurements are 35 bust -27 waist-34 hips in inches or 89 bust -68.5 waist and 86 hips in cm. Her bra size is 32C. Alexandra wanted to become an actress since her childhood, it was her dream. Her movie career started pretty late, only when she was sixteen years old.
Her first appearance in film was in 2005, she had a role of Pretty Girl in drama The Squid and the Whale. Alexandra is widely known for a role of Annabeth Chasein in a movie Percy Jackson & the Olympians: The Lightning Thief, which was released in 2010. In 2012 she appeared in music video of Imagine Dragons called Radioactive. From 2002 till 2003 Daddario took part in 43 episodes of American TV soap opera  All My Children. She had a role of Laurie Lewis.
Her favorite dishes are Grilled Salmon and Omelette. Daddario's favorite TV Shows are Family Guy, South Park, Curb Your Enthusiasm and 30 Rock. Her favorite singers are Lady Gaga, Taylor Swift, Rascal Flatts, Phoenix, Edward Sharpe and the Magnetic Zeros. Alexandra's favorite books are Steve Martin's Born Standing Up: A Comic's Life and his another book The Pleasure Of My Company.
Alexandra was rumored to have a romance with american actor Logan Lerman. From 2006 till 2009 Daddario dated with TV and movie actor Jason Fuchs. In 2011 she were rumored to date with American singer Trey Songz.
Dadario's next starting role after Percy Jackson was in a movie Texas Chainsaw 3D. It was released in 2013. After this movie, she received a role in a Burying The Ex, comedy movie about zombies.
In 2014 she received a role in a series  True Detective. Daddario's role brought her much attention because she appeared in four nude scenes. Her character was a girl Lisa Tragnetti. In 2014 Alexandra got a role in a movie about great earthquake – San Andreas. In a film she played a role of Dwayne Johnson's character's daughter. Filming began in Australia and finished in San Francisco, US.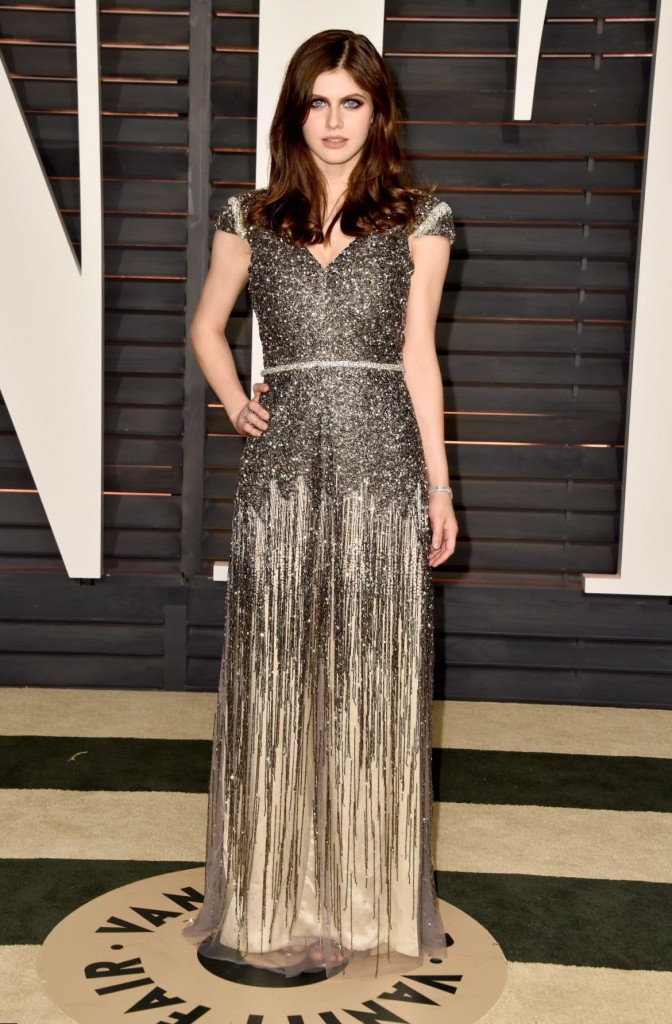 In 2010 Daddario was nominated on Teen Choice Awards as Best Female Breakout in a movie Percy Jackson & the Olympians: The Lightning Thief. In 2013 she was nominated on MTV Movie Awards for Best Scared-As-Shit Performance in a Texas Chainsaw 3D film. In 2015 she will take part in Teen Choice Awards nominations as Choice Movie Actress: Action/Adventure in a movie San Andreas.
Alexandra Daddario Talks About San Andreas and Australia