Heidi Klum is a famous German actress and model. She was born in West German. Her mother was a stylist and father was a representative of a famous cosmetic company. That's why a young lady decided that she would becom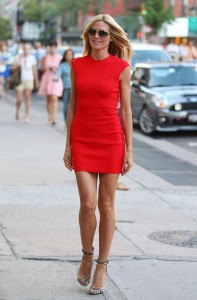 e a model.
The career of a young and pretty girl started from model business. She even dropped out from school. Heidi moved to the USA and started her model career. She appeared on the covers of universal fashion magazines such as Marie Claire, Vogue and Elle. But she received the worldwide acknowledgement after the appearance on the cover of Sports Illustrated. Soon, brand Victoria's Secret offered her multimillion and long contract. Later a famous model started receiving propositions to star in the films. So in such a way Heidi Klum started her acting career. At the beginning she was offered only secondary roles where she mostly played herself but after the film Devil Wears Prada the film directors understood that it was a high time to offer her more prominent roles.
Heidi's Klum personal life also was in full swing as well as her career. In 1997 she married a stylist Ric Pipino and they lived together for five years but they divorced. It is rumoured that they still are good friends.
In a year after her divorce the society pages were full of photos of a famous model together with Flavio Briatore, Italian businessman and Formula 1 team manager. They dated approximately one year and after their split up Heidi told about her pregnancy. She gave birth to her first child, a daughter Leni. Flavio doesn't care about her life.
The longest and most serious relationship was with a singer Seal. He was the only man who could bridle Heidi's temper. They were happy together and during seven years of their happy, family life Heidi gave birth to three children. Seal also adopted her daughter Leni. This couple frequently visited various social events. On Halloween they organized parties where they impressed their guests by various shocking outfits. Everywhere they spoke about their mutual love but recently they announced quite shocking news: they filed for divorce. It was rumoured that the main reason of their divorce was Seal's contentious temper. Some people said the couple had different schedules and couldn't spend more time together but the main reason was more obvious – a new Heidi's boyfriend. She confessed that she fell in love with her bodyguard Martin Kirsten.
| | |
| --- | --- |
| | |
The relationship between Heidi Klum and Martin Kirsten started during family vocation in Sardinia. Though Heidi told that they had serious relationship and she defer to Martin in everything, unfortunately their love story didn't last long and in two years they broke up.
Almost at once after the next scheduled split up, the celebrity started dating Vito Schnabel in February 2014. He was much younger than Heidi. Vito Schnabel is an independent art dealer. From the beginning of their relationship they didn't try to conceal the details of their love story. They hugged and kissed on paparazzo's cameras. They also appeared together during film festival in Cannes.