Date of birth: July 30, 1974 (Age: 42 years)
Height: 5′ 6″ (168 cm)
Weight: 121 pounds (55 kg)
Hilary Swank body measurements:
Chest: 34″ (87 cm)
Waist: 24″ (61 cm)
Hips: 35″ (89 cm)
Bra size: 32B
Shoe size: 9 (US)/ 40 (EU)
Hair color: Light brown
Eye color: Dark brown
Actress Hilary Swank for all her life has enjoyed physical activity. Since childhood doing sport has been an easy task for the actress.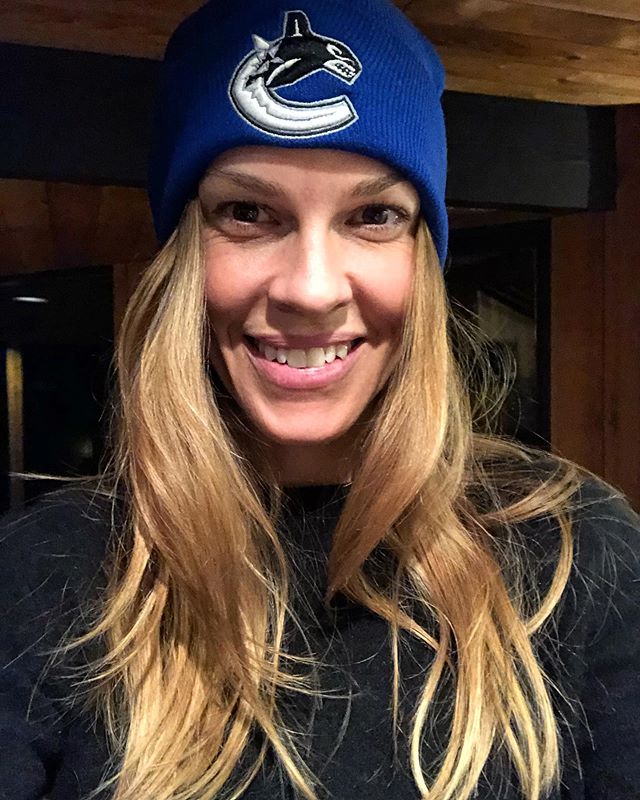 As a child Hilary was engaged into gymnastics and swimming. But despite her love to the sport she has never put it on the first place in her life and made all the efforts to theatrical productions at school. She was accepted into the US youth national team in swimming, but after her parents divorced and with her mother Swank went to Los Angeles and to try to make an artistic career.
The success in the film industry awaited Swank not from the very beginning. There were some roles in serials, frustration and doubt in her acting abilities. The first real success with the Oscar came after the movie Boys Don't Cry in 1999.
When Clint Eastwood invited Swank for her role in Million Dollar Baby, her sport skills were very useful. The film brought Swank another Oscar.
In this film, Hilary Swank plays a waitress who is taught boxing by old coach. Eastwood has set the task before the shooting – to gain at least 5 kilos of "meat".
Training were combined with a diet that contained so much protein that at one time the body could not digest so much. Therefore Swank was fed every 4,5 hours strictly on time, including the night, when she got up on an alarm clock.
The diet included protein shake, egg white and fish. The actress had to sleep for 9 hours a day on a schedule. All the rest of the time Hilary was training. 2,5 hours were given to boxing and at the same time – the power classes.
The coach, who was involved with the actress suggested the use of simple exercises, but their intensity was the maximum possible. The number of sets have been limited by Swank's capacity.
During the training, more attention has been paid to back, legs and the press. According to the Swank's description, sparring was like that as if you were jumping over the rope and at the same time constantly hit in the stomach.
Back muscles Hilary pumped by a pull-up bar – in front of and behind her head. And as an actress had never trained her back before, the first time she could not catch up.
But through perseverance, her back had changed till the time of post edition. To make legs toned, Hilary  dragged "Jeep SUV" in neutral around the lot. Then a jumping rope, a little rest from boxing pear and sparring with jumps.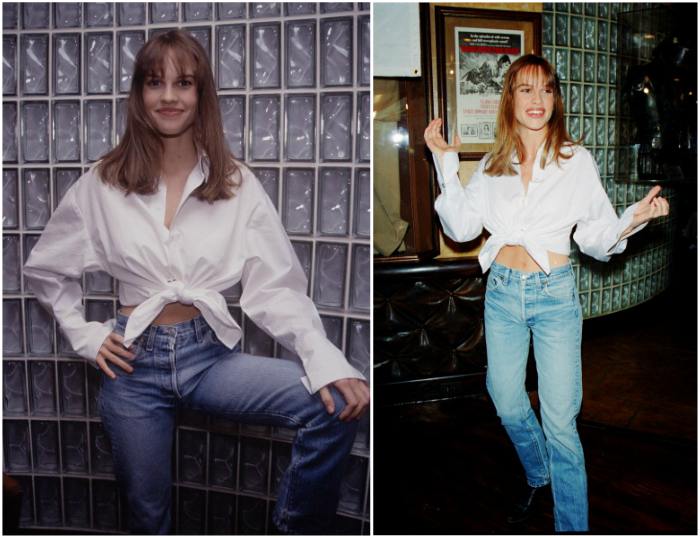 Press was trained in the following way:
First, twist performed with weight of 15 kg and then with  a lighter one.
Swank had a crazy rhythm – 6 days a week for about 5 hours a day. After filming, Hilary Swank course ceased to train so actively and completely abandoned strength exercises. She explained this by the fact that as a result of training her arms were too big.
But, in general, the actress didn't reject physical exercises. Just as before the shooting Swank continued riding a bike, did swimming and took vitamins. Moreover, Hilary enjoys vitamins and nutritional supplement, she takes daily up to 40 positions of different pills. Perhaps this habit helped her to survive with such an active training regime without any problems and injuries.
But Hilary hates not the exercises themselves, but the need of daily intake of large quantities of drinking cocktails, which contained 8-12 egg whites and flax seed oil. It seemed very tasteless.
Another problem is in actress's worldview, which has no pace for such sports as boxing, where people bash each other. At the beginning of workouts she even constantly apologized to sparring partner.