Height:
189 cm
Weight:
84 kg
Age:
55
British actor Hugh Laurie became famous in Great Britain in 80th thanks to the sitcom Blackadder. But he wouldn't be so popular all over the globe but for the role of Doctor House. He became one of the most famous and sought-after doctors and now all the films he stars gather a huge audience of televiewers.
His full name is James Hugh Calum Laurie and he was the youngest child in their family. He was born on June 11, 1959. His father was a good doctor and his mother was a housewife. They were well-to-do family and Hugh studied in prestige private schools. In 1981 he graduated from the University of Cambridge. Being a student he was fully engaged in the activities of amateur theatre Footlights Dramatic Club and later he was elected as the president of this theatre.
The first success he received after he shot in sitcom Blackadder that was transmitting from 1985 to 1999. In this series Laurie played various roles and starred together with Stephen Fry and Rowan Atkinson. Simultaneously with shooting, Hugh with his partners worked on film adaptation of comic novels of P.G. Wodehouse. The serial was called Jeeves and Wooster where Hugh Laurie played the role of the amiable twit Bertie Wooster. Thanks to this role the actor could bring his talent to light. The songs to this serial also were rendered by him.
In the middle of 90th this gifted actor started filming in serious movies. Unfortunately at the beginning he was offered only secondary roles. Also he sounded several audio books.
In 2004 fortune smiled upon Hugh Laurie and he was offered the role of Doctor Gregory House in a famous American serial Dr. House. In order to correspond to this role to the maximum the actor even changed his line of roles. In this serial the actor plays the role of gloomy but witty misanthropic doctor. Thanks to this role he rose to fame over night. It seems to be that this role was created especially for Hugh Laurie. The actor managed to imitate American accent so good that even the main producer was unsuspicious of his British origin. This serial shows various events and stories that happen with Dr. House and his command. Now Dr. House is one of the most popular serials all over the world and won a great number of awards such as two Screen Actors Guild Awards, two Golden Globe Awards and six Emmy nominations.

Dr. House made Hugh Laurie not only the most famous and sought-after actor but one of the highest-paid actors too. For one episode he earns $409,000.
Hugh Laurie tries to realize his potential not only as an actor but as a sportsman and musician too. He likes boat racing and now he is the member of one of the oldest clubs with the name Leander Club. Also he plays guitar, piano.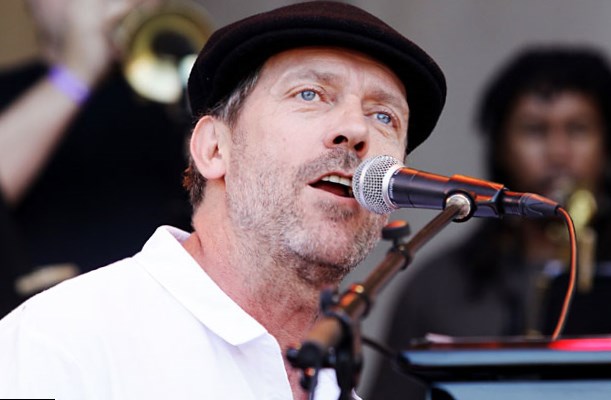 If to speak about his personal life, in 1989 he married Jo Green and they have three children. They are a happy family but unfortunately because of Hugh's meteoric career much time he spends in USA and his family lives in London.
Hugh Laurie – Swanee River (From Let Them Talk : Special Edition)
Hugh Laurie on Craig Ferguson – May 30th 2014 – Full Interview