Jessica Alba is an American actress who is famous not only thanks to her acting career but also thanks to her perfect style. She is a gifted actress, good mom and business woman. Her unerring taste is the example to follow for the majority of women.
Jessica Alba was born on April 28, 1981. In childhood Jessica was a very sickly child and because of this fact she couldn't attend school in a proper way. A lot of time a small girl spent in hospitals and that is why she hadn't free time in order to get to know better her classmates. At the age of five Jessica showed interest to art and later she started attending drama courses. Producers noticed her talent and in 1994 she was offered a first role. It was a small and secondary role in the film Camp Nowhere. Later Jessica also shot in various advertisements.
| | |
| --- | --- |
| | |
A real breakthrough happened in 2000. Jessica Alba was casted among 1200 applicants for the role in the series 'Dark Angel', directed by James Cameron. She played the role of a soldier and in order to correspond to her character Jessica Alba was on a strict died and worked in the gym. But this role made Jessica Alba famous; she was even awarded by Teen Choice Award and Saturn Award. Also a young actress was nominated for Golden Globe Award.
The audience also knows this actress thanks to her roles in the films 'Sin City', 'Fantastic Four' and 'Good Luck Chuck'. Once and again this actress was included into the list of the sexiest women from all over the world. Nevertheless Jessica is a good example to follow, especially if to speak about her manner of dressing. She always looks perfect and always ready to photo sessions. It doesn't matter where he is, either she visits some social meetings or just on the way to the airport.
A good example of her true taste Jessica showed last year at Baby2Baby Gala. The actress chose a gorgeous floor length dress which accentuated her slim figure. The upper part of her gown was a golden corset. The lower part was a bouffant skirt of snow-white colour. Having chosen this dress Jessica was in the centre of attention and looked like an angel who came down to earth.
In 2014 on the red carpet of a sport ceremony The ESPYS Jessica Alba looked very chicly. For this event the woman chose a golden asymmetric dress by Elie Saab. This dress was designed in 2006, which proves the fact that Jessica can find perfect dresses not only from the recent collections. In order to complement her look a young woman chose high-heeled toeless shoes of the same colour.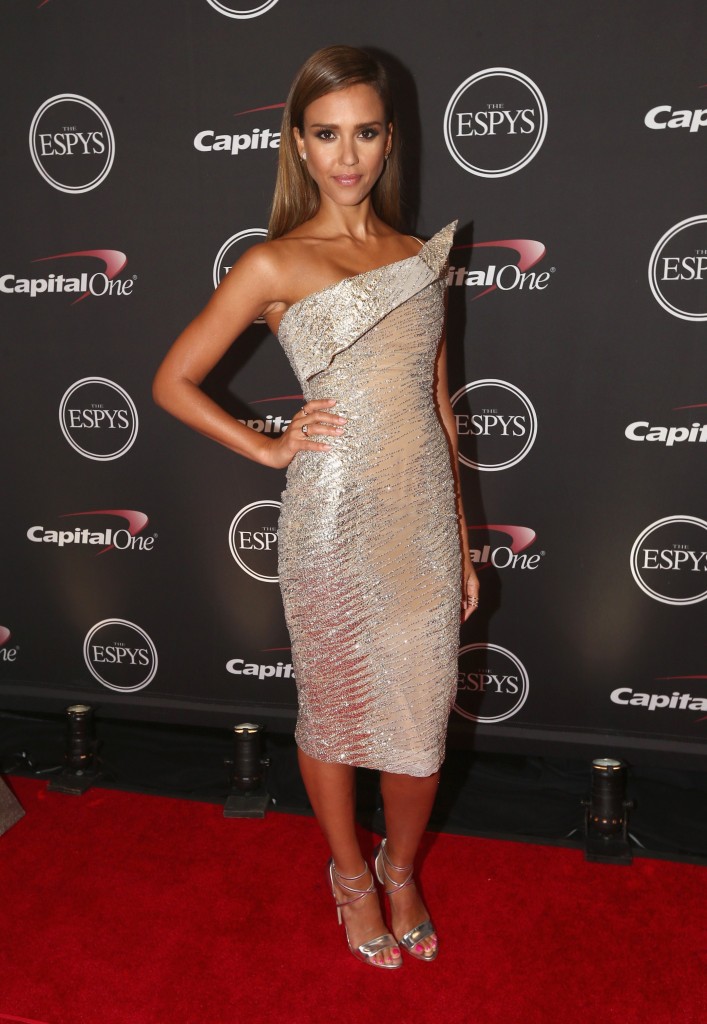 Especially for the world premiere of 'Sin City: A Dame to Kill For' in 2014 Jessica Alba put on a blue bustier dress with the length a little bit lower her kneels. Impeccable fit, perfectly chosen accessories and shoes made her look complete. Jessica Alba captured the attention of everyone.
Met Gala Festival is considered to be one of the most important events of the year, so the celebrities make preparations in advance. Jessica also visited this event in 2014 and chose a long floor-grazing dress of champaign colour. This dress was designed by Diane von Furstenberg. It had a low neck, which accentuated her breast. Alba complemented her look by golden clutch and earrings.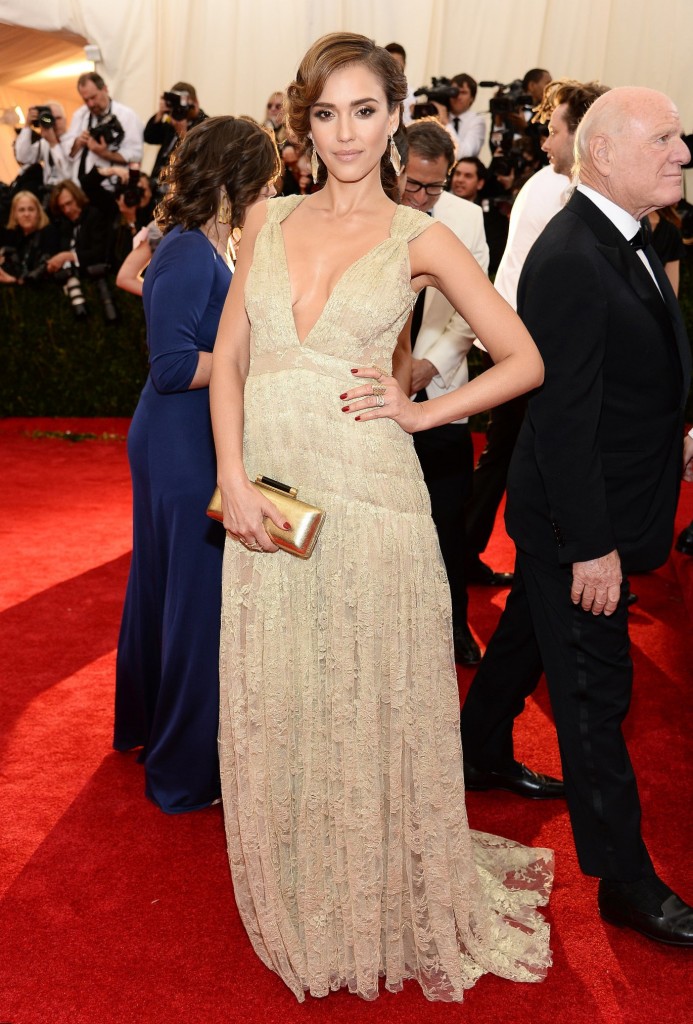 At the ceremony Magnum Golden Butterfly Awards last year Jessica Alba impressed everyone by her slim and perfect figure which was accentuated by her dress. The dress, the actress put on, was gorgeous. It was a golden and clingy dress, which had a magnificent train. This dress, designed by Romona Keveza, looked great. White clutch designed by Jenny Packham and earrings complemented the actress's look.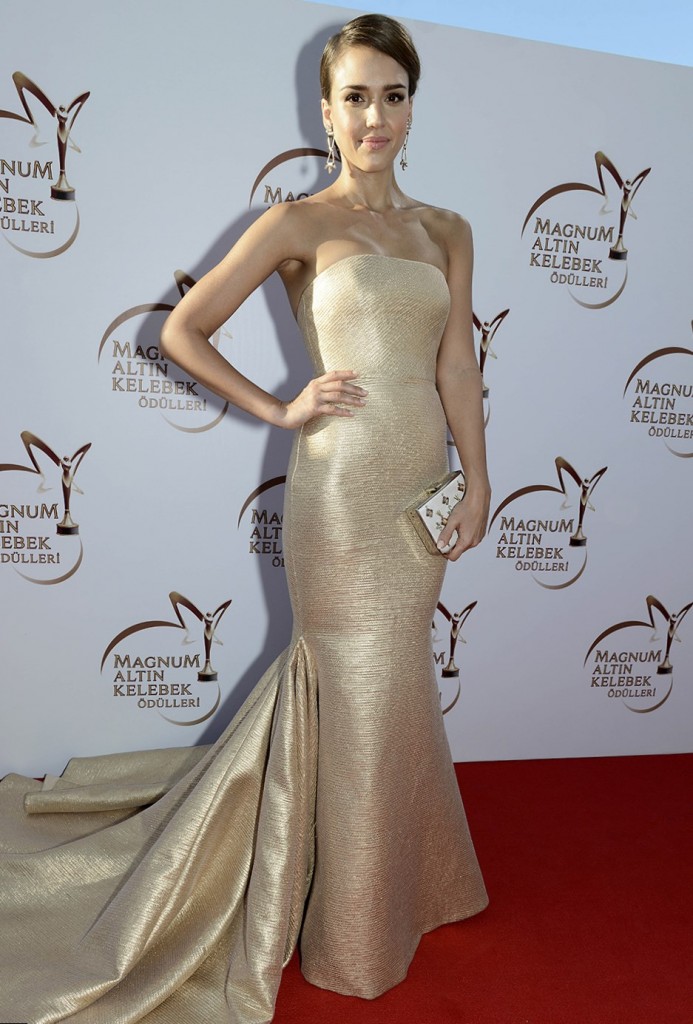 Jessica Alba is a chic woman in chic clothes. It is very difficult to find shortcomings in her looks. In her casual style Jessica likes jeans and shoes without high heels. This woman prefers pastel shades though sometimes she likes to experiment with neon colours. Almost always she wears glasses and various hats.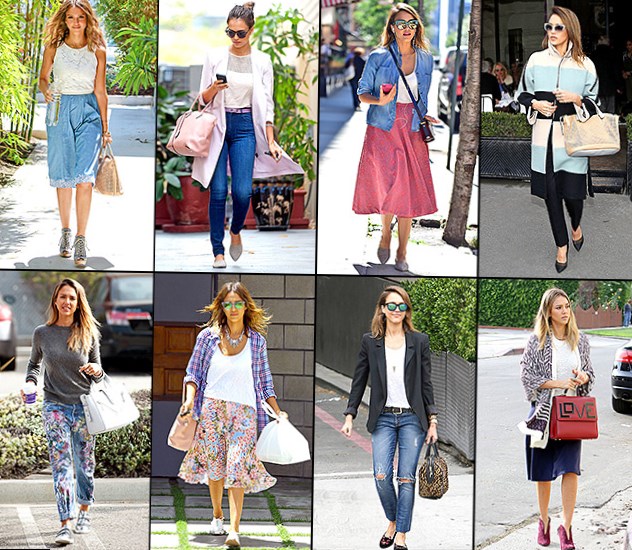 Jessica Alba on Her Children