Kaley Cuoco, who became famous thanks to the series The Big Bang Theory, continues the experiments with her hair. She is a pretty blonde and at the age of 28 she even has her own star at the Walk of Fame in Hollywood.
Her acting career started too early. At the age of eight months she shot in advertisement. In childhood she liked tennis and played very well. Sometimes she even wanted to become a professional tennis player but didn't forget to attend drama courses. Her first roles in the cinema were secondary and not successful. In 2002 she was offered a role in the series 8 Simple Rules for Dating My Teenage Daughter. Thanks to this true sign of faith the actress immediately became famous. From then onward various film directors started offering her main roles. But one of the most remarkable roles she played in the series The Big Bang Theory. Up to now the actress continues shooting in this series.
Recently Kaley Cuoco shocked her admirers by her drastic hair changes.  At the beginning of her career Kaley had long and blond hair. All the time she dyed her hair blond in order to make it brighter. Almost always she had her hair either waved or straightened. Her admirers liked Kaley's hairstyle and got used to it.
But a year ago, it seems to be she was inspired by the other celebrities and cut her hair. First she permitted her hair dresser to cut a few inches. In such a way the actress said good bye her long hair and debuted a tousled bob. It was very difficult for the actress to venture on such changes because during twenty years she didn't cut her hair shortly. But in fact the Kaley was ready for a change, she needed to reinvent herself and a new hairstyle was what she needed.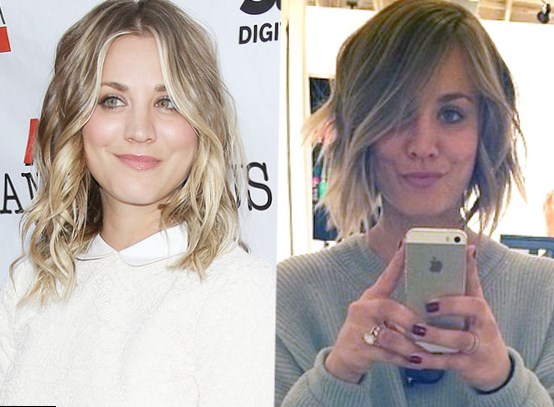 Having done a new hair cut Kaley frequently combed her hair off her face, slicked it back or moussed up. But bob hair cut wasn't enough for sexy Kaley Cuoco. Just in two months she decided to continue experiments with her hairstyle. Having changed her look once she cut her hair more and debuted ultra-short pixie cut. No one knows what was the reason of such changes. Probably it was her marriage. In March the actress showed a new tattoo with the date of her marriage. It was made on the upper part of her back. Now, thanks to new hair cut everyone can see her tattoo.
She shared photos with a new hair style in Instagram. The actress commented that with new look she feels like Peter Pan. Even with a new hair style the actress looks sexy and womanly. By the way, Kalye Cuoco was included into the list of the sexiest women. Kaley Cuoco height is 170 cm and sometimes she even works as a model.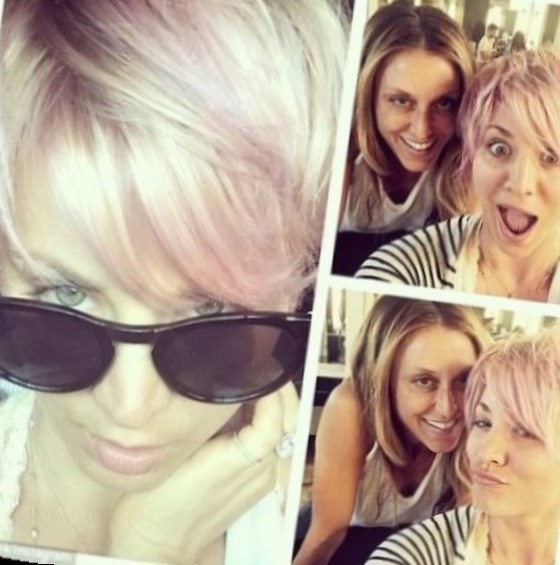 Nevertheless, after short pixie cut Kaley Cuoco continued experiments, this time with her hair hue. She followed a popular trend in Hollywood and dyed her hair pink. Her husband appreciated and liked it very much. But recently the actress said that she would like to grow out her hair again and bring back her long blond locks.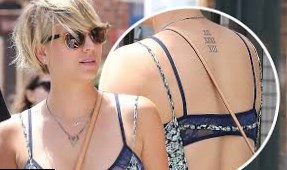 Kaley Cuoco-Sweeting on Her Husband's Birthday