Katy Perry's passion
In the life of one of the most talented and popular singers of our time – Katy Perry, in addition to music, there is another unquenchable passion – it's beauty-experiments. With such enthusiasm to the choice of her own style and hairstyles, perhaps, is not suitable any other celebrity.
Red, blue, dark blue, purple … It seems that creative singer dreams to collect all the colors of the rainbow on her hair, and, admittedly, left her quite a bit. In addition to various shades Katy is also trying all possible stacking – locks in the style of the 50s, elegant hairstyle in the style of the 20s, high ponytail, a variety of beams and greased back hair, long hair and short, with bangs and without.
Here you can see color options of her hair:
Let's start with the natural color – it's blonde.
It's hard to remember when Katy repainted a brunette, but she still had it in 2004 and 16 June 2011. During this time the singer has not changed radically hair color, only in 2010 at the VMA ceremony she added to her black hair colored strands, and then cut it briefly.
Video: 2010 VMAs Katy Perry Interview
July 24, 2011 Katy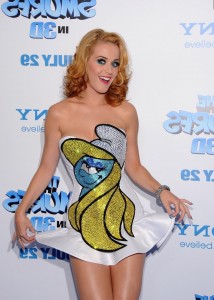 has already demonstrated a new hair color. At the premiere of The Smurfs she was blond.But it did not stay long.August 1, 2011 Katy showed a bright pink color, which has long wanted. Some critisized her, but Katie is not the first who painted the hair in this color,there were Pink and Kelly Osborne.
December 3, 2011 at an event Katie appeared with a new hair color. It was a warm blond with pink strands. The correct name of this color is Blonde Bombshell. December 14, 2011 the singer was painted again. It was already blond with blue strands. It is demonstrated on the presentation of the perfume.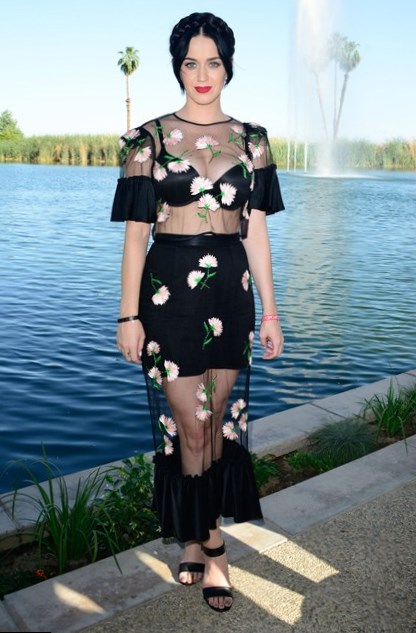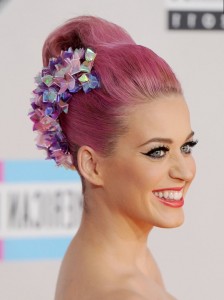 In 2013, she took a short break in painting, putting hair curls in the style of bygone years. Then in March of the same year she appeared with shorter hair up to the collarbone.
For the ceremony, "Grammy-2014" the singer decided to experiment : she chose a romantic style. Katy chose lip pale pink, matte lipstick and eye – subtle shade of beige and black voluminous mascara. Excellent completion image Katy Perry was the high hair styling in the spirit of the '60s.
In autumn 2014 Katy published in Instagram her photo where she was Hero "The Muppet Show". Teen idol likes to experiment with color and hair length. Singer shorn her luxurious black locks and dyed them red, leaving only the dark roots. Katy Perry, as recognized by the idol of teenagers can afford any change of image and will still continue to delight her fans.
Katy Perry's hair styles:
It's no secret that Katy is always at the forefront of fashion trends and tendencies. She is not afraid to look weird, didn't hesitate and doesn't get upset when critics pounce on her bold bows for bad taste and even vulgarity. Perhaps that is why we remember the many interesting things in her ever-changing styles.
Now she has short black hair. But for how long?
Katy Perry Dogs: Butters and Nugget