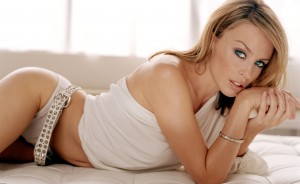 Kylie Minogue is a popular Australian actress and singer. The woman started building her career when she was only eleven years old. Kylie screened in such child serials as Skyways, The Sullivans and The Henderson Kids but unfortunately she didn't achieve success. At an early age her younger sister was even more popular than Kylie.
As her acting career wasn't as successful as it was expected to be, Kylie started her musical career. And in 1988 she recorded her debut album «I Should Be So Lucky». Practically immediately the girl attained success and became the idol of a young generation of Great Britain. As the result Kylie became one of the most popular singers in 1990th.
The personal life of the singer spread before the eyes of the society, but hardly anyone knows what is going on in her soul. Celebrity had a long list of admirers and some of them even offered a marriage to her. However Kylie waited for a real love. At this period of time Minogue started dating with Michael Hutchence, who was the leader of INXS. Because of their romantic relationship, Kylie's name frequently was mentioned by various tabloids. Unfortunately they broke up their relationship in 1991 but stayed good friends till his death.
Later the woman started dating with Lenny Kravitz and they were considered to be one of the most beautiful couples in Hollywood at the end of 1991. But their relationship wasn't long-lasting and they part their ways but they still continue to stay good friends.
In 1991 Kylie was invited to Monaco as a personal guest at "World Music Award". It was even rumoured that Kylie even had fling with Prince Albert.
If to believe the tabloids Kylie had a great number of admirers. She had brief affairs with Nick Cave, Evan Dando, Jean-Claude Van Damme, Pauly Shore and Tim Jeffries.
With James Gooding Kylie was even engaged but three years of their dating practically lead Kylie to nervous collapse. He was an unpredictable man and Kylie wasn't sure in their future. During the period of their dating James constantly had relations with the other women, because he wanted some changes. After their breakup Kylie even wanted to leave show business and went home, to Australia.
Fortunately she continued her career as a singer but she lost confidence to men. It seemed to Kylie that she would never trust men but she was mistaken. During Grammy Awards the woman got acquainted with a famous French actor Olivier Martinez. They were happy together and her admirers even supposed they would get marry but unfortunately Kylie dispelled the rumours. Minogue added that she was not going to marry in the very near future.
Five years long relationship with Andres Velencoso Segura also came to an end and they broke up. In spite of the fact that they left good friends this break up was hard for Kylie. In one of her interviews Kyle said that she was going to adopt a child. She still desires to create a real family and hopes that it will work out very well.
Video: Kylie Minogue interview Australia 2014