Matt Damon – charismatic Hollywood actor, talented screenwriter and producer was born on October, 30, 1970. Several times he got "Oscar" and "Golden Globe" awards for his starring if the movies which were called among the best films on 20th and 21th century. Matt was sincerely surprised when he was called the Sexiest Man Alive in 2007. He still does not understand why women love him so much. Matt never thought of himself like about the best womanizer: the person who is loved by girls and women.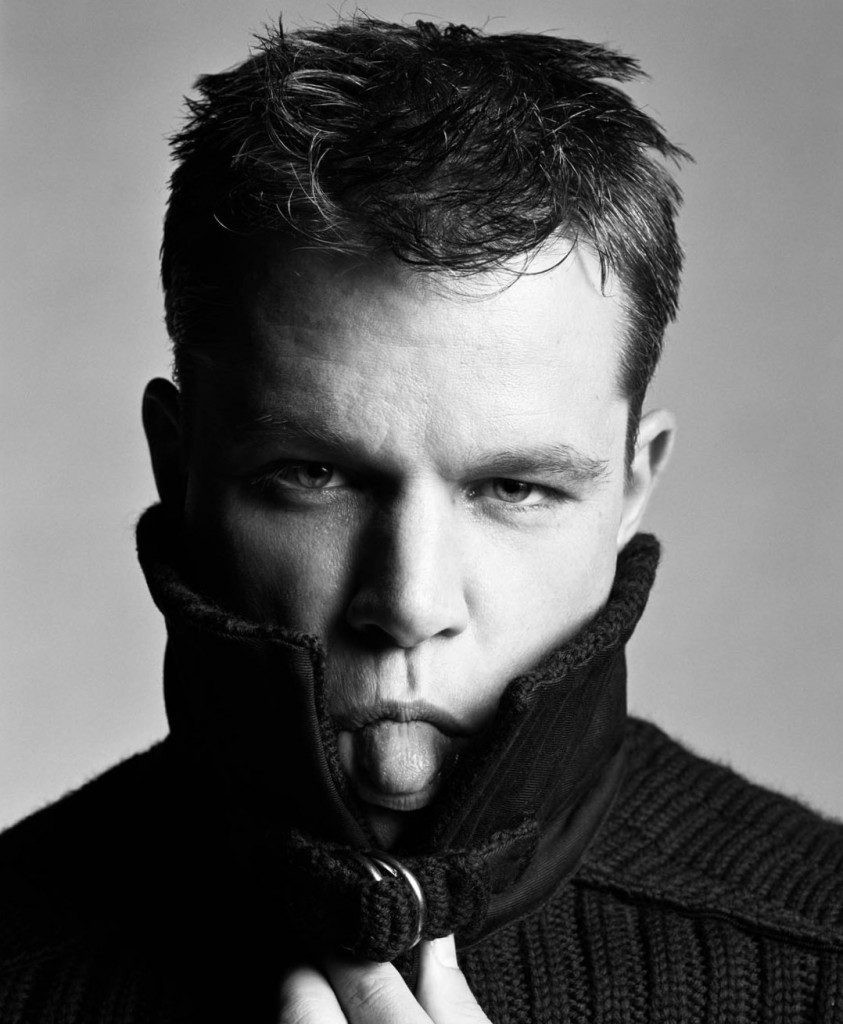 • How it started
Small Matt was born in Cambridge, Massachusetts in the family of a stock broker and a college teacher. When the boy was two, his parents divorced. Matt was growing a very stubborn guy. When he was 6 he told his dad he would play basketball. The boy forgot about his wishes soon, more over he got acquainted with his neighbour – Ben Affleck. They become the best friends, and later professional partners. Once they went to New York secretly to try their luck in Mickey Mouse Show.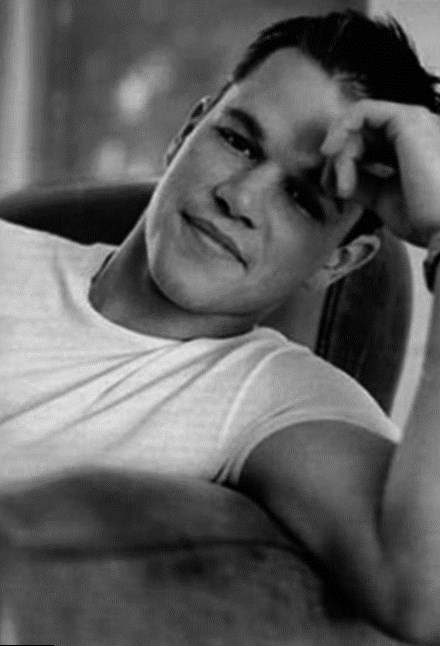 Both boys lost and had to return home. At 16, Matt realized he wanted to be an actor. The ambitious young man told his parents he's going to get to New York casting agency. Matt Damon family agreed with this decisions on certain terms : the boy had to pay for his road himself. Young Damon managed to get $ 200 and he really came to the city of Big Apple. 1986 was theyear when he first appeared in the TJ Maxx commercial.
• First movies
At age 18, when he was a student of Harvard University, he made his debut in "Mystic Pizza". During this timehe was dating with Skylar Satenstein, the doctor. The fact he worked together with Brian Dennehy in "Rising Son" (TNT) in 1990, Damon has helped Matt to get the main role"School ties", 1992. It was the first movie when he starred together with his friend Benn Affleck, Chris O'Donnell and Brendan Fraser.
Inspired by such a success, Matt gave up education in Harvard University to devote himself to acting. The earliest Matt Damon films are "Geronimo: An American Legend", 1993. Next he got the main role in the movie "Good old boys" (TNT, 1995). His co-star was a friend of Harvard Tommy Lee Jones, who was also the movie director.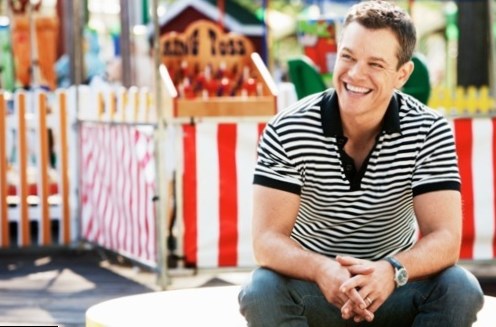 • First serious romantic relationship
Despite his friendship with Affleck (he spent much time with his friend), Damon did not forget about his personal life. His love affair with Kara Sands – the elite model stopped as Matt met his new movie ("Rainmaker") partner – Claire Danes. Basing on this experience – "the new film = the new woman" – Damonhas found his new girlfriend Minnie Driver ("Good Will Hunting" movie). Their affair lasted more than a year (1996 – 1997).
For two years he was in relationship with Winona Ryder (1997 – 2000 affair), first wife of Johnny Depp. They say Penelope Cruz was also involved into the love affair with Matt Damon.
• "Doomed" to success movies
The next film "Saving Private Ryan", released in 1998 had a stunning success. Later, in 1999 "Dogma" was released. There Matt Damon starred together with Ben Affleck. "The Talented Mr. Ripley" with Gwyneth Paltrow and Jude Law became a shock in the world of movies. It was an unreal success. With the budget $40million, movie Box office was $128,798,265! Now everybody understood: each film with Matt Damon is "doomed" to success. Matt has become one of the most "expensive" actors. In 2001 "Ocean's 11"- the amazing crime comedy and drama where Matt worked together with the "starred" crew – George Clooney, Brad Pitt, Don Cheadle and other prominent actors appeared, followed by "Ocean's Twelve" (2004) and "Ocean's Thirteen" (2007). The same period he got the main role in "The Bourne Identity" (2002), "The Bourne Supremacy" (2004) and The "Bourne Ultimatum" (2007). Matt Damon Bourne has become an iconic role of Damon. Recently "Bourne 5" was announced. We will see the actor in this movie again in 2016.
• Husband and father
Two yeas of his life – 2001 2003 Matt was in romantic relationship with Odessa Whitmire, his personal assistant. After they parted the actor dated Rhona Mitra (2003). His longest relationship Matt found in marriage with Luciana Barroso Damon. They started to date in 2003 and in September 2005 they got engaged. Their marriage on December, 9 2005 has given an excellent "result". The pair has three own children, and Matt has become a stepfather of his wife's daughter. In 2013 Matt married again….the same woman – his wife, and the mother of his children. He was not sure he's a good father and husband, so that hedecided to "repeat" everything from the very beginning, becoming the better spouse. This time Matt decided to make the better marriage  ceremony than that one which they had in New York.
Almost all fans want to know his addresses, which are 331 W 57th St. #199, New York, NY 10019;
6020 N Bay Rd, Miami Beach, FL 33140
But latest news say that he moved.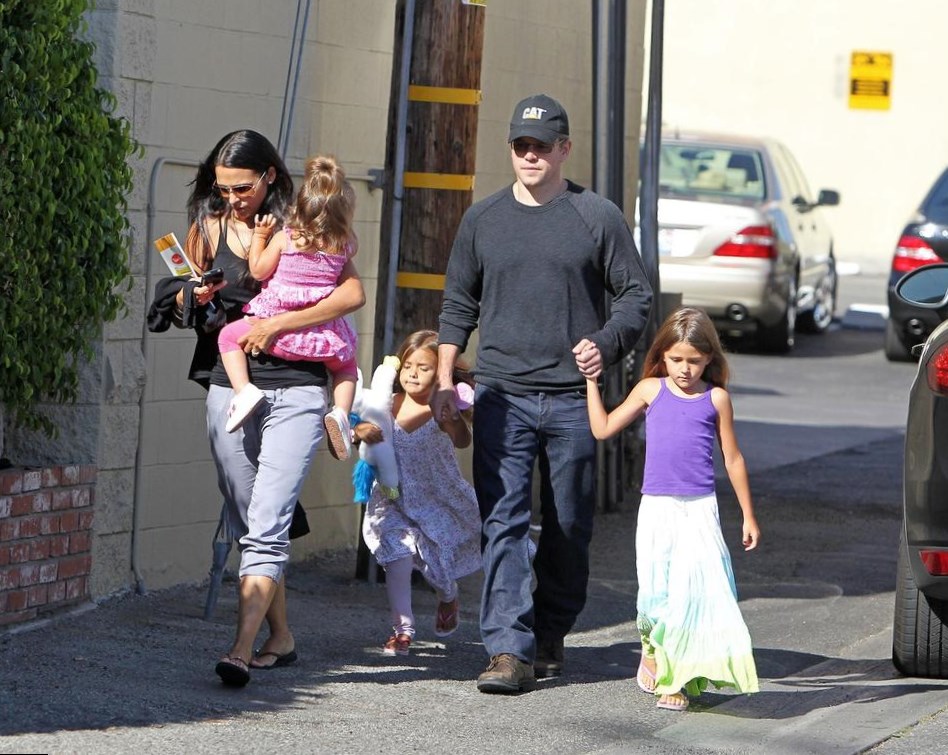 Video: Matt Damon on David Letterman