Margot Robbie is an Australian actress and a budding star in Hollywood, who impressed the audience not only by her acting talent but also by her beauty.
| | |
| --- | --- |
| | |
She was born in Australia in 1990 and her childhood she spent on the farm of her grandparents. But stealthily a girl dreamt about cinema. When she was studying at school she started working in order to raise money for drama courses. At the age of ten a young girl moved to Melbourne and started attending drama courses. Life in this city was very complicated because Margot was made to study, earn her living and attend castings. The first success she achieved thanks to the role of bisexual in the series 'Neighbours' and even won two prestigious awards. Later Margot made a decision to move to Los Angeles. Starting from secondary roles a young actress achieved the pinnacle of success thanks to the film 'The Wolf of Wall Street' where she played the role of the second wife of the main hero. Margot Robbie worked together with Leonardo DiCaprio and it was a great experience for her. Margot Robbie movies always receive positive remarks.
Thanks to 'The Wolf of Wall Street' Margot Robbie became famous all over the world and she was frequently seen on red carpets. The actress very often demonstrates looks that are difficult to objurgate. Her makeup is always natural, though sometimes she accentuates her lips with the help of red lipstick. She always prefers designer's dresses or outfits.
Recently, when Margot was invited to 'The Tonight Show Starring Jimmy Fallon' for promoting her film 'Focus', she chose Peter Pilotto outfit. This blue outfit was decorated by embroidery and the actress's look created a hypnotic effect. Black high heeled shoes made her look more elegant.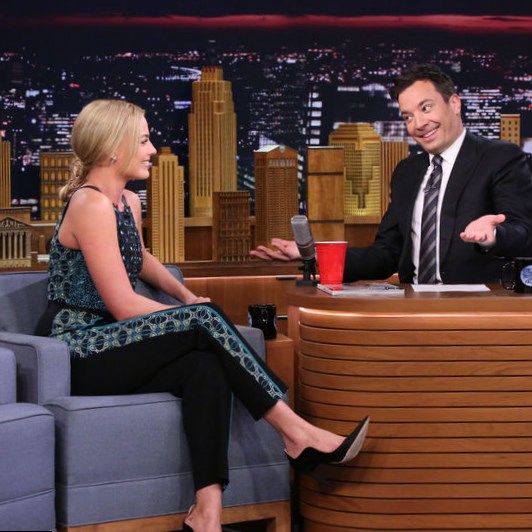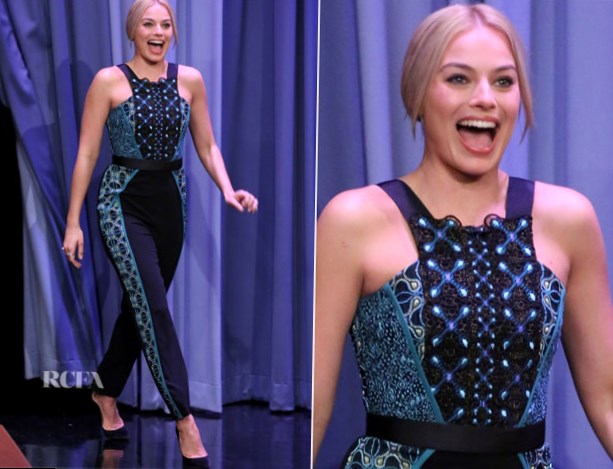 This winter on the Oscar red carpet, Margot Robbie was in the center of attention. Despite a perfect dress she demonstrated a new hair dress – sharp bob hairstyle. Especially for this remarkable even she chose black dress by Yves Saint Laurent. It was a long dress with low neck and long sleeves. In order to complement her look a young actress chose a necklace designed by Van Cleef & Arpels.
At the first run of the most successful film in her career 'The Wolf of Wall Street' in New York Margot chose a long white gown in a Greek style. It was a one-shoulder dress with a black, shining panel on her slim waist. By the way, her accessories also were perfect and interesting. Her earrings were in the form of a spider.
At the premier of the same film in UK Margot and Leonardo looked gorgeous. The actress chose a mulett red dress with long sleeves. High heeled red shoes complemented her look. Despite of the fact that her figure is perfect for this event she chose modest and at the same time elegant dress. Having chosen this kind of outfit the woman embodied the personage she played in this film.