Pig – Princess Pigelette
Sugar glider – Brigitte Bardot
Pony – Lady Coco Chanel
Dog Tinkerbell (Chihuahua)  – died in 2015
Dog Dollar
Dog Marilyn Monroe (Pomeranian dog)
Dog Peter Pan (Chihuahua)
Dog Princess
Dog Prince Baby Bear
Cat Annabelle
Dog Harajuku Bitch
Dog Dolce
Dog Prada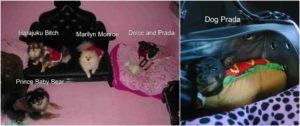 There are a lot of things that can be said a bout Paris Hilton. She is a person who has a lot of images: she is a TV star, a DJ, a model, and even a fashion designer. But despite all her hobbies, her real personality is an animal lover.
This eccentric woman seems really crazy. If you follow her life, you definitely know that she turned her luxurious mansion into a real zoo. Paris has a pig – Princess Pigelette, a sugar glider – Brigitte Bardot, and even a little pony-Lady Coco Chanel.
Moreover, Paris calls all her animals her children.
Where does this crazy love come from?
In an interview Paris confessed that her huge love to animals she got from her father who grew up among different exotic creatures.
Paris said that she feels great when she thinks that she saved lives to her dogs. That's because she adopted some of them from the pet asylum. Though she makes good deeds, her heart is broken every time when she visits a shelter. The reason is that Paris is aware of how many animals die every day and how many of them are killed.
Frankly speaking, the rescued dogs live like in Paradise. They have everything. You'll be surprised to know that Paris's four-legged friends live in their own house. Yes, it's not a joke. It doesn't look like a common primitive dog's house. It's just a smaller copy of the luxury mansion in Beverly Hills. In the house there is everything that not every human's house has. Starting with central heating and up to air conditioning.
Paris doesn't have any favourite animal. Each her pet is special for her. They all are very important and essential. However, having so many pets means always be in risk of losing one of them.
The huge loss occured to Paris and her fans in 2015 when the dog Tinkerbelle left this world. It wasn't an accident, it was just a natural death. The dog accompanied Paris for 14 years, so it was very hard for the star to cope with that tragic event.
The super-star says that if she could take more animals she would do it. Her heart cries when she thinks about all those abandoned creatures. To her mind, every pet deserves a warm home and kind owners.
Paris admits that she feels like it's her duty to provide home for every poor animal. She said that if she has such an opportunity, she will do this!
The woman adores all her pets so much that she doesn't like leaving home. When she's away she can't take all her pets with her. Thus she's often upset.
If there were more such kind people like Paris, the world would be better.