Dog Juelz (French Bulldog) – adopted in January 2015
11 more dogs of different breeds
2 cats Frank Sinatra and Miles Dabus (Siamese)
We got used that in our minds Snoop Dogg is always inseparable with dogs. The rapper built his singing career on the background of the doggy theme. The combination of the rap and dogs' images is a success.
But do you know why dogs and no other animals are connected with Snoop Dogg's performance?
You'll be surprised, but this rough man on the screen is very kind dog-lover in the real life.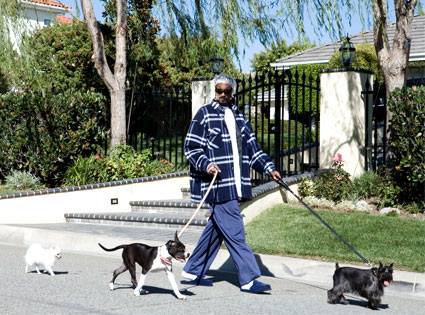 Snoop Dogg is a happy owner of 11 dogs. We can't exactly say what breeds they are, but Snoop says they're all different. In addition, not only he, but also his wife and children adore these four-legged members of the family. They spend a lot of time together. His wife as well as kids has her own dogs.
All of them are of different size, character, and attitude, but they all are equally loved.
A French Bulldog, Juelz, is probably the most famous among all celeb pets.
The reason is that Juelz has it's own Instagram account. There his celeb dad shares funny pictures.
The picture show that the dog lives the life that every man would envy. This grey-furred guy is often surrounded by long-legged beauties sitting in a luxury place.
The little cutie was adopted around January 2015.
You'll be shocked getting to know that according to Kreayshawn, Snoop Dogg has two cats. They are extremely cute and they want to attract attention all the time.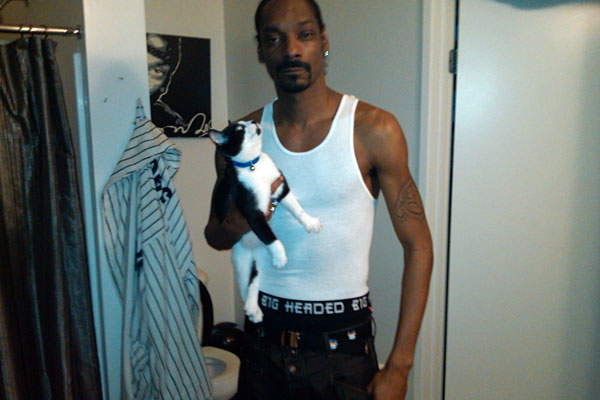 Finally, it's worth saying that Snoop Dogg cares not only about his own pets, but about dogs in general. In addition to the role of dog clothing designer, Snoop Dogg initiated the creation of dog's food. The system should work in a very interesting way. The bag with products is created for both humans and animals. So whenever you buy such food package, the same one is sent to the dogs' asylum. In such a way Snoop Dogg wants to feed those dogs who need it.
As you see, this man has a lot of secrets yet. Maybe, he owns some more pets that we don't know yet. Nevertheless, all his beloved creatures live a happy life.