Dog Meatball (Bulldog) – 2000-2004
Dog Matzoball (Bulldog) – since 2004
The world of show business is terribly hypocritical. Artificial eyelashes, wigs, silicone busts and buttocks, porcelain teeth, slimming underwear and colored lenses. Fake people, fake relationship.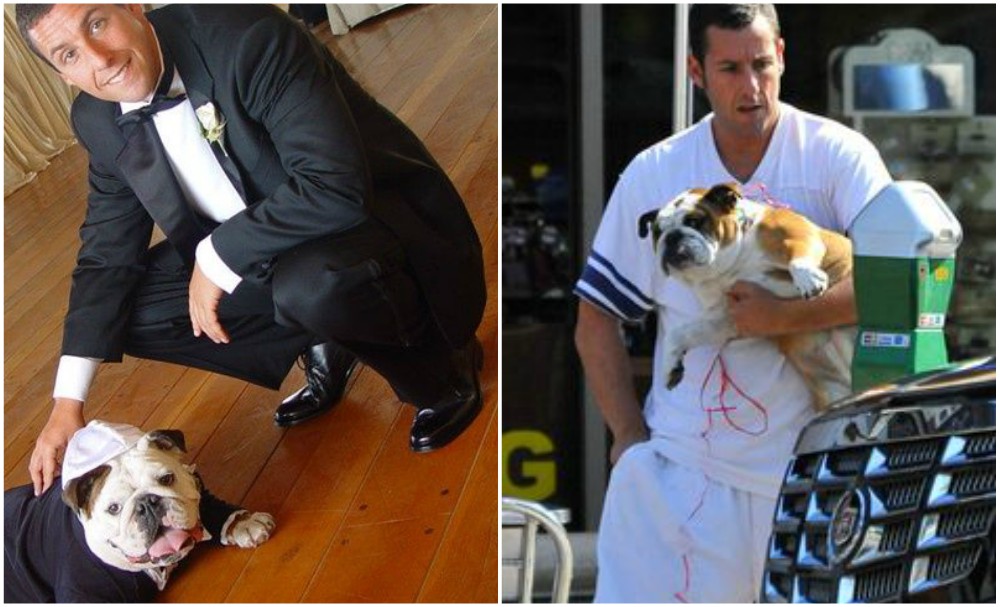 The rich and famous get attention because of their status and the amount of money on the accounts.
But who is a true friend in their situation?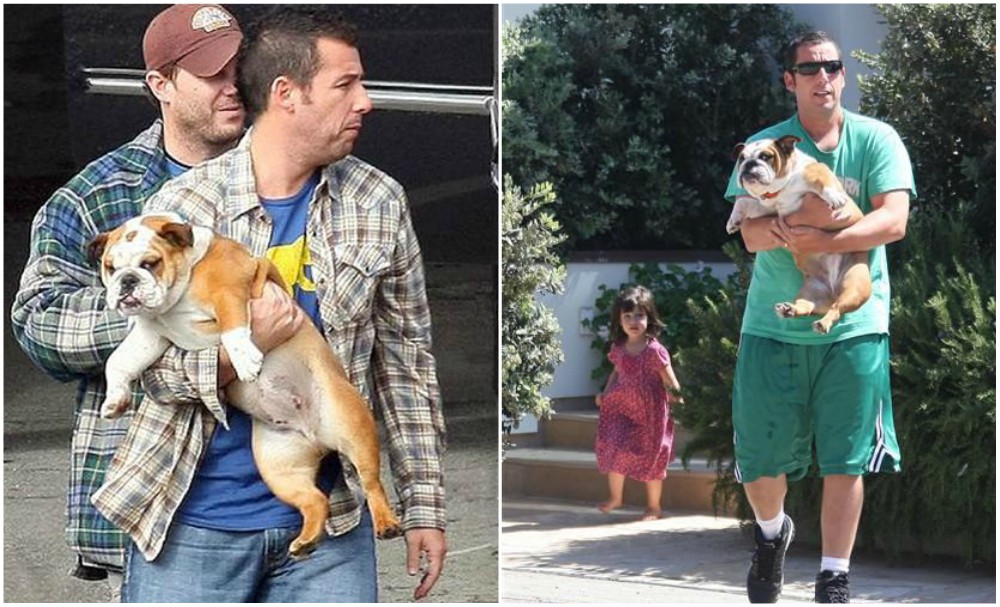 Animals can't be selfish. They do not care how many zeros your checkbook holds and how many times you are mentioned in Vogue, just come and hug!
Few people can love dogs as Adam Sandler loves Meatball, his faithful companion – a bulldog. How many people can say that their favorite pet was their best man on the wedding?
Meatball was! At the wedding of Sandler and Janet Teton.
Meatball was dressed in a black tuxedo; on his head there was a skull cap. The dog was carrying the newlyweds' wedding rings and was the guest of honor after parents and close friends.
Unfortunately, the dog died in 2004 of heart attack. Adam was very upset; he organized a memorial service in his home in Malibu, where came more than 100 people. All guests received a T-shirt with the image of Meatball.
Adam also shot videos with him and his dog in the leading roles. Meatball was very famous among Adam Sandler's fans. Meatball even starred with Adam in the movie "Nikki, the devil, Jr.," where it was the dog of the protagonist Nikki, played by Sandler.
Many celebrities have dogs in a house, but the history of the bulldog, which lived with Adam Sandler, was special as you see.
This dog lived with Adam for four years. When Meatball died, Sandler adopted other bulldog, giving him the nickname, which in translation sounds like "meatball with matzo".
The actor called his new dog Matzoball. Matzo is unleavened Jewish bread. Adam Sandler is Jewish and grew up in a typical Jewish family. His wife, Jackie, took Judaism before the wedding.
Now, Adam Sandler is preoccupied with Matzoball.
White with red spots Bulldog everywhere accompanies his master, and often appears on television. They also participated in David Letterman show. David was not able to lead the show for personal reasons, and had to go home. Adam Sandler was asked to substitute him. Funny dog Matzoball and Adam Sandler, in the absence of David Letterman, greatly amused the audience, as well as other guests of the show.