Nowadays not only Hollywood celebrities are style icons as we used to think. Except acting, singing, dancing and the other activities there is another way to become famous and to stay the example to follow. Bethany Mota is a star to follow but she is known as an American video blogger.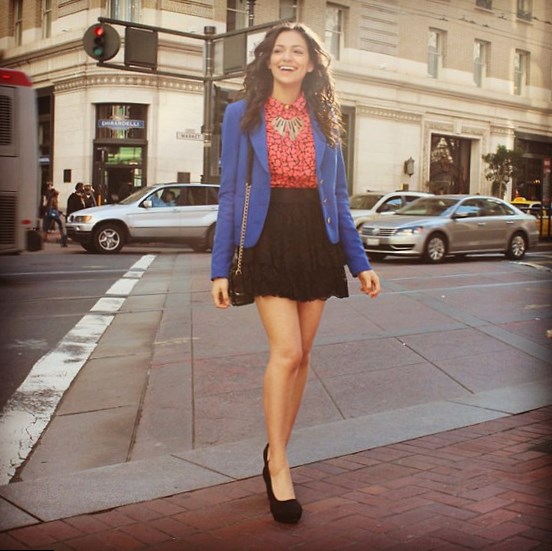 In June 2009, at the age of thirteen a young lady created her own YouTube channel where she uploaded videos about makeup, hair dresses, new purchases, about everything, teenagers were interested in. She just shared creative advices about fashion and beauty. Her nickname was MacBarbie07. Five years later her channel could boast by five million of subscribers. Her path to success was wonderful; at the beginning of her career she shot videos at her bedroom but now Bethony Mota's fashion collections are popular all over the world.
Bethany Mota's channel became popular thanks to the main aims that a young girl had and always tried to follow:
• to share her interests with YouTube users,
• to communicate with her fans,
• to enlarge the quantity of subscribers during the watching of the video.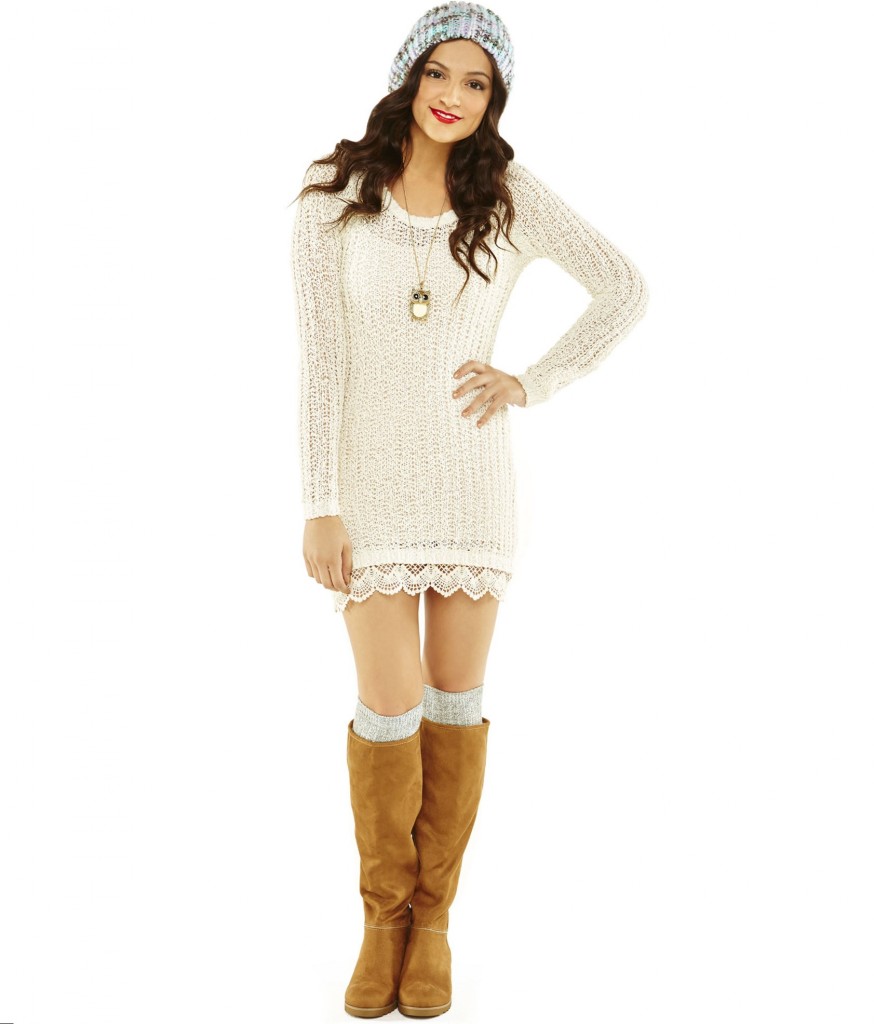 Bethany tried to create content which was interesting for teenagers and was in fashion. She constantly worked on her channel and systematically loaded videos that corresponded to the season. The first video which had more than one thousand views was the one about Selena Gomez's make up. She always tried to be like her fans, and loaded videos about simple teenager's problems. In such a way in summer 2012 Bethany's Mota Youtube channel had more than 36 million views.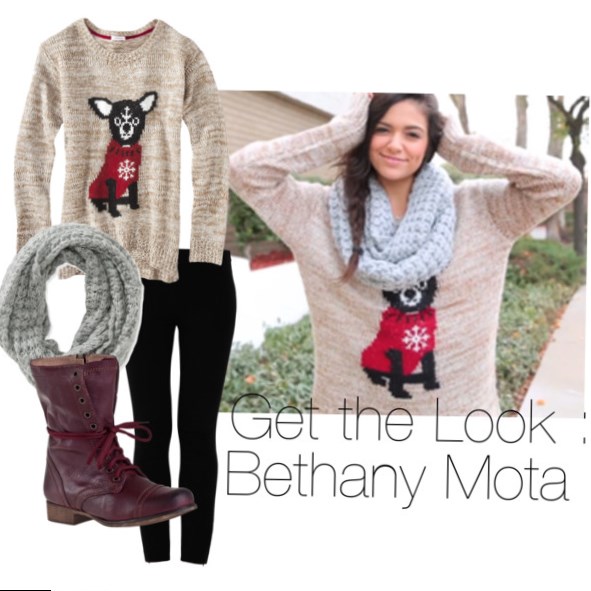 Gradually Bethany became famous but she didn't forget to communicate with her fans. During the years of channel existing she is communicating with them constantly, in video or comments to the video. From time to time she even calls them!
Now Bethany Mota is a popular blogger and designer. She has her own line of clothes. In 2013 together with Aeropostale the first collection was created. Her looks are the example to follow for a bulk of girls from all over the world.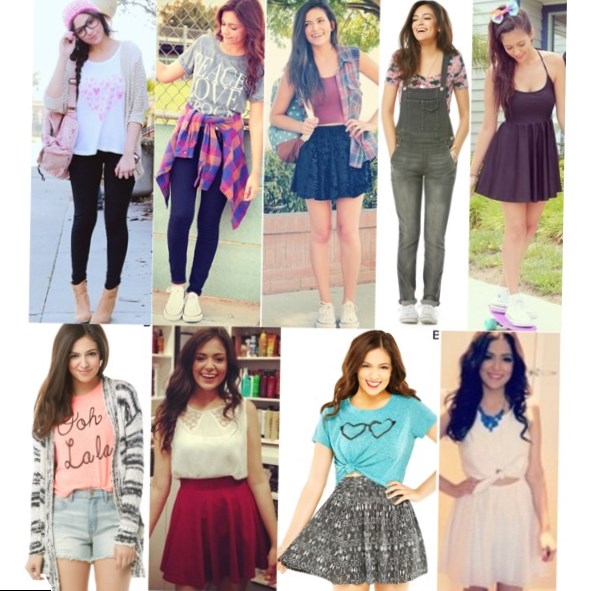 In February 2015 this young lady visited the 2nd Annual unite4: humanity Presented By ALCATEL ONETOUCH. Though she is not a woman who can boast by perfect figure but her look was nice and tender. She chose blue cocktail dress decorated with prints. It was without sleeves but perfectly accentuated her waist. Bethany complemented her look with beige high heeled shoes. Unfastened, wavy hair added charm to her look.

In August 2015 Bethany became the winner of Teen Choice Awards. In the press room she poses in a bright yellow dress. It was a tank top dress, yellow in front and black from back side. A young lady scraped back her hair into a ponytail. She refused from accessories and looked like a shining lady. As she was one of the winners her look corresponded to her status.
In the middle of July 2015 Christina Hendricks hosted Confidential 'Women of Influence' Celebration in Los Angeles. Well known beauty blogger also was invited. If to have a look at her image we can see that she doesn't like sameness. Her looks are never repeated. Especially for this event a young lady chose khaki gown. It was a short chunky outfit with low neck. It wasn't bright, from the first glance it seemed to be even more casual.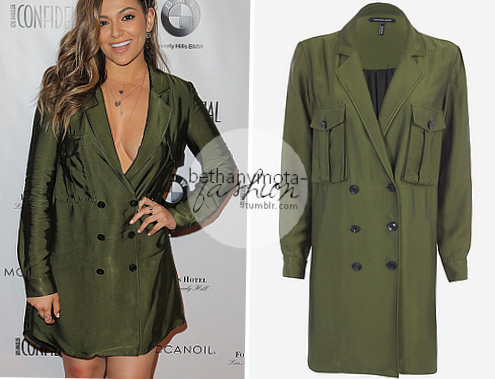 As we can judge from her style for more serious events Bethany Mota choose more serious and delicate dresses. When a young socialite visited the 101st Annual White House Correspondents' Association Dinner in April 2015, she chose incredible white dress. Critics appreciated her look and her fans said that Bethony looked like an angel. It was a long dress decorated with beadwork. Plunging neckline made her look sexy.
One more dress which surely worths attention is the one the woman chose especially for Time and People's Annual Cocktail Party on White House in April 2015. It was a dark navy cocktail dress, which was short and the upper part of the dress was a corset. This dress was shaped exactly to her figure. Beige open toe shoes complemented the look of the most popular beauty blogger from all over the world.