Bruno Mars is an American singer and record producer. The main peculiarity of this singer is that he writes the songs. Also Bruno Mars is a stylish singer whose look is always irreproachable.
Bruno Mars was born in Honolulu in 1986 and was one of six children in their family. By the way, Bruno Mars is his stage-name; his real name is Peter Hernandez. All the members of his family liked music and his parents encouraged his talent. He can play the guitar, the drums and the piano.
Before he became a prosperous singer he worked as a record producer with quite famous singers. By the way Bruno Mars is deemed to be one of the authors of the football championship 2010 hymn Waving' Flag.
Not only his talent made him so popular. All the celebrities are in the public eye every day and their mode of dressing becomes the main topic for discussion. In his mode of dressing he tries to keep to rock'n'roll style, which makes him so popular among girls. A wide range of admirers want to follow him and his style in clothes.
Bruno Mars likes accessories because with the help of them he accentuates his individuality. He constantly wears a wide range of various bracelets and chains.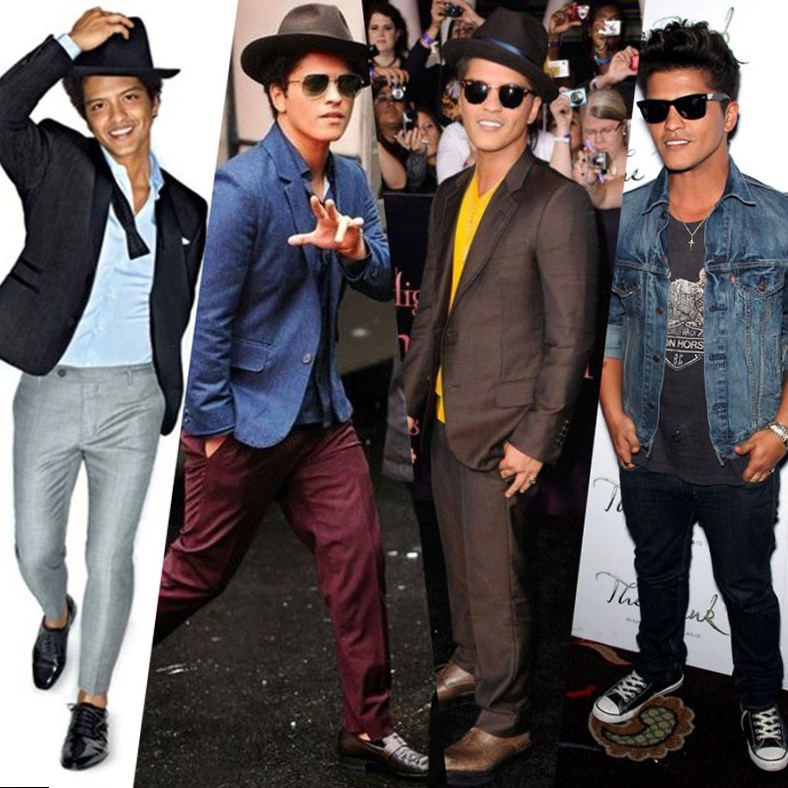 Speaking about his style it ought to be mentioned that it is impossible to see him without head-dress. More often it is Fedora. This type of head-dress adds to his image a personal charm and zeitgeist look.
During the Super Bowl Bruno sang together with the Red Hot Chili Peppers and especially for this event he chose a costume made by Saint Laurent. It was gold slim fitting blazers and black trousers. This look fits the singer perfectly and during the conference of the Super Bowl he again preferred costume but this time it was black one. Nice Saint Laurent bolo tie complemented his look. Having chosen this attire Bruno looked modern and chic. He scaled back the number of accessories and put on only one ring.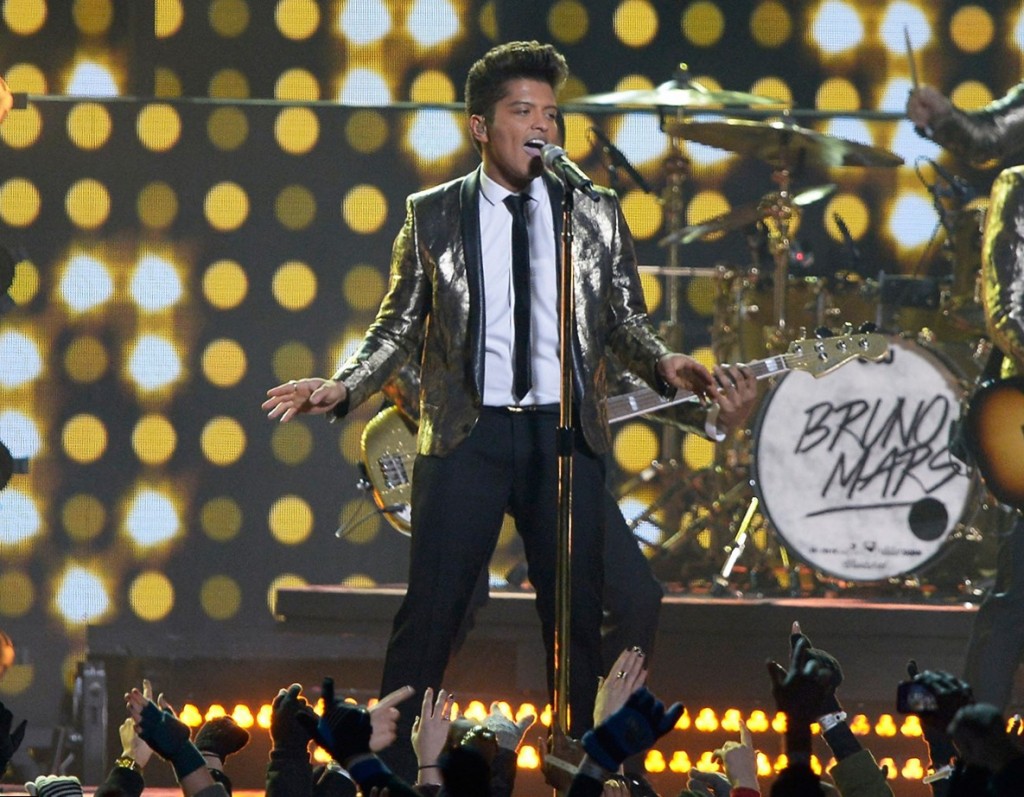 Nevertheless our celebrity likes more casual style. Costumes he chooses for serious events. In everyday life Bruno likes to wear jeans and various shirts and surely compliments his look by Fedora. Speaking about his shoes he likes canvas and jogging shoes. All the clothes he wears surely are of well known and famous brands. The singer prefers expensive clothes and doesn't want to save money on his look.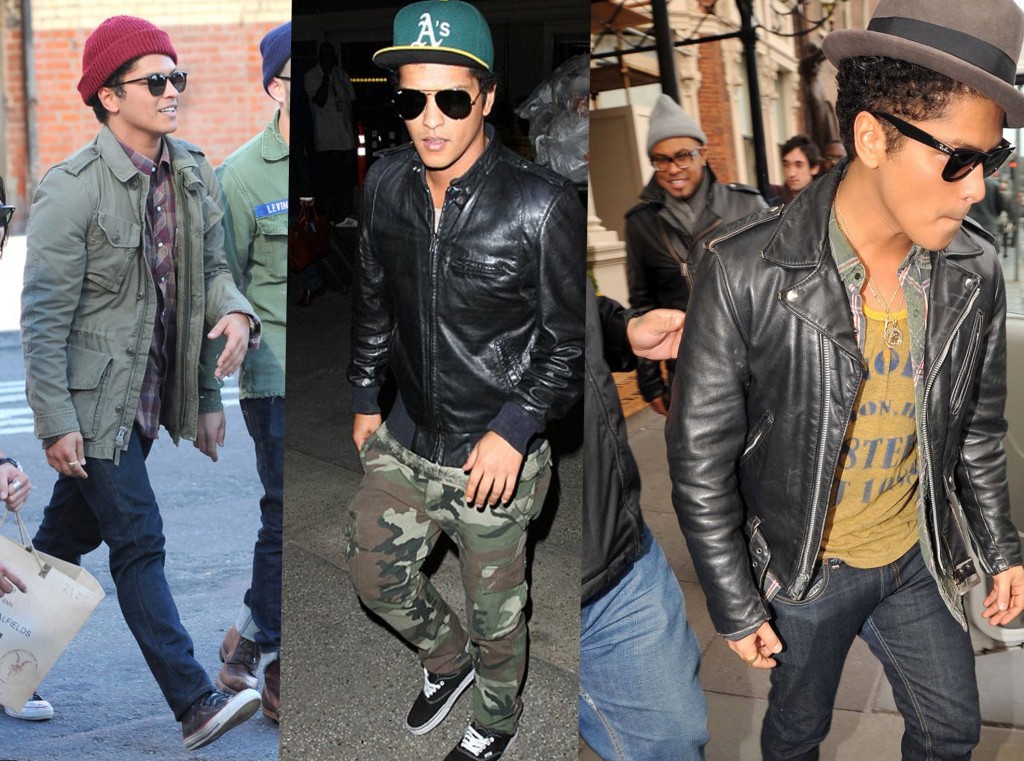 One more must have in Bruno' wardrobe is a leather jacket. He has a wide range of them but prefers more black jackets. In a combination with light jeans and T-shirts he looks stylish.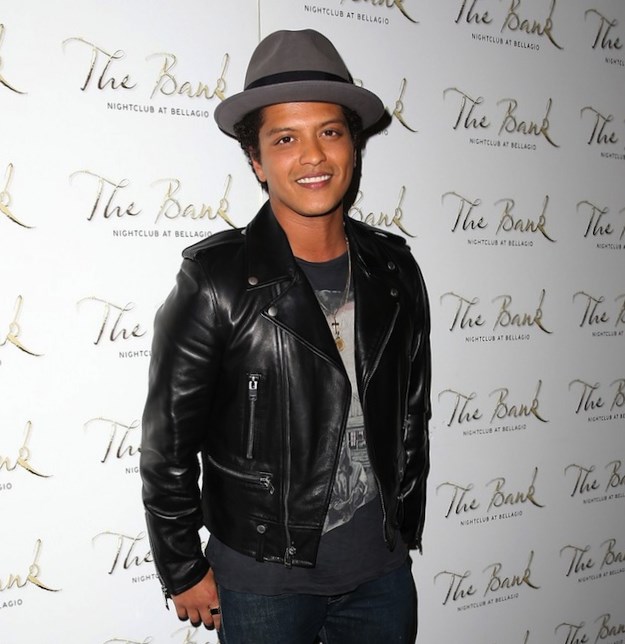 Bruno Mars likes surprising his admirers and not only by his talent and artistic impression onstage. In the video to the song Uptown Funk Mark Ronson featuring Bruno Mars, our celebrity had chosen impressive but trendy outfit. It was a pink jacket, white T-shirt and black trousers. Certainly light Fedora completed the look of a singer. Also he used some chains and bracelets; it is impossible to see Bruno without these accessories. Nevertheless this look is regarded as one of the most successful the celebrity had ever had.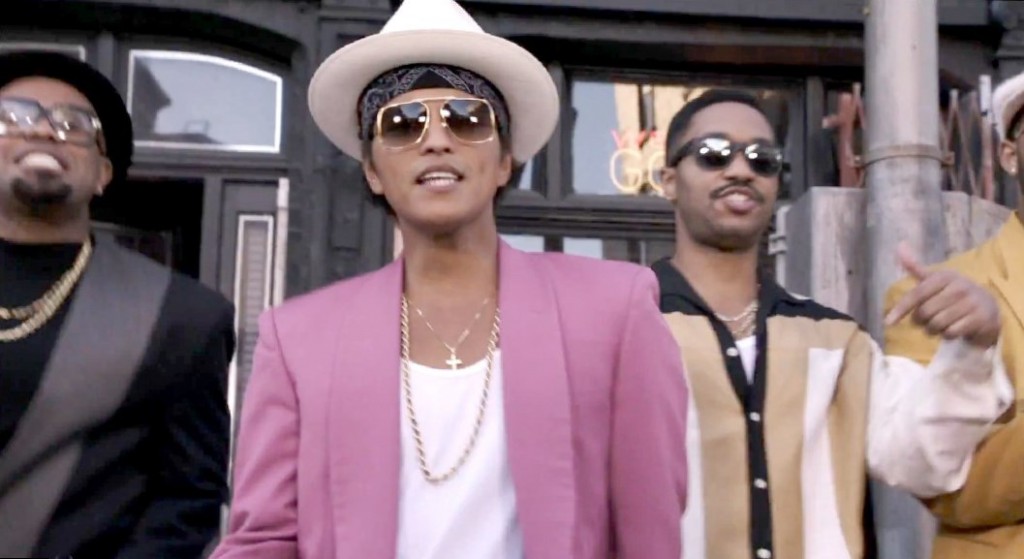 Bruno Mars' Inspiring Speech