Denim used to be and is still on trend, especially if it is double one. It has been around for many decades and if being done right, it looks amazing.
Denim on denim is worn by many celebrities, models and bloggers and it is favored both by men and women. It is a must have for all trend lovers, but pay attention to items you choose. You can pair dark on top while light ones should be lower, as dark colours create the illusion of slimness. Another rule is to check, whether it fits you or not. Clothes must improve your look, so choose the clothes of your size. Designers consider that denim on denim including baggy jeans and not fitted top, should not exist. Double denim involves only skinny or slim jeans or skirts and fitted shirts, jackets. Though women have a greater variety of combinations including wonderful dresses, vests over the dresses, skirts and tied shirts around the waist etc.
Denim on denim also likes accessories and combinations with other fabrics and things. The most impressive combinations are with printed sweaters, bold shoes, big bags, sunglasses, blazers or hats. All these combinations are incredibly popular among celebrities. They adore double denim trend regarding it stylish. The greatest lovers of double denim are Jeniffer Lopez, who is wearing fitting jeans and shirts together with silver jewelry, Kim Kardashian – opting her look with nude high heels, Katie Holmes teaming her jacket with dark grey jeans and Adidas Stan Smith shoes.
Also denim on denim is worn by Kate Hudson, who teamed double denim combo with simple pumps and a neutral tote, David Beckham combining a light denim shirt and distressed jeans, Kate Bosworth wearing various shades of blue or dip dye shirts. Many celebrities also have their casual denim looks. So Jessica Alba is sometimes dressed in distressed jeans, a blue shirt and white pointy stilettos. Ashley Greene prefers classic looks combining a white T-shirt with denim and suede ankle boots. Pixie Lott impressed everyone with her double denim co-ord suit, while Olivia Palermo and Rihanna had an awesome look in the denim skirts and shirts.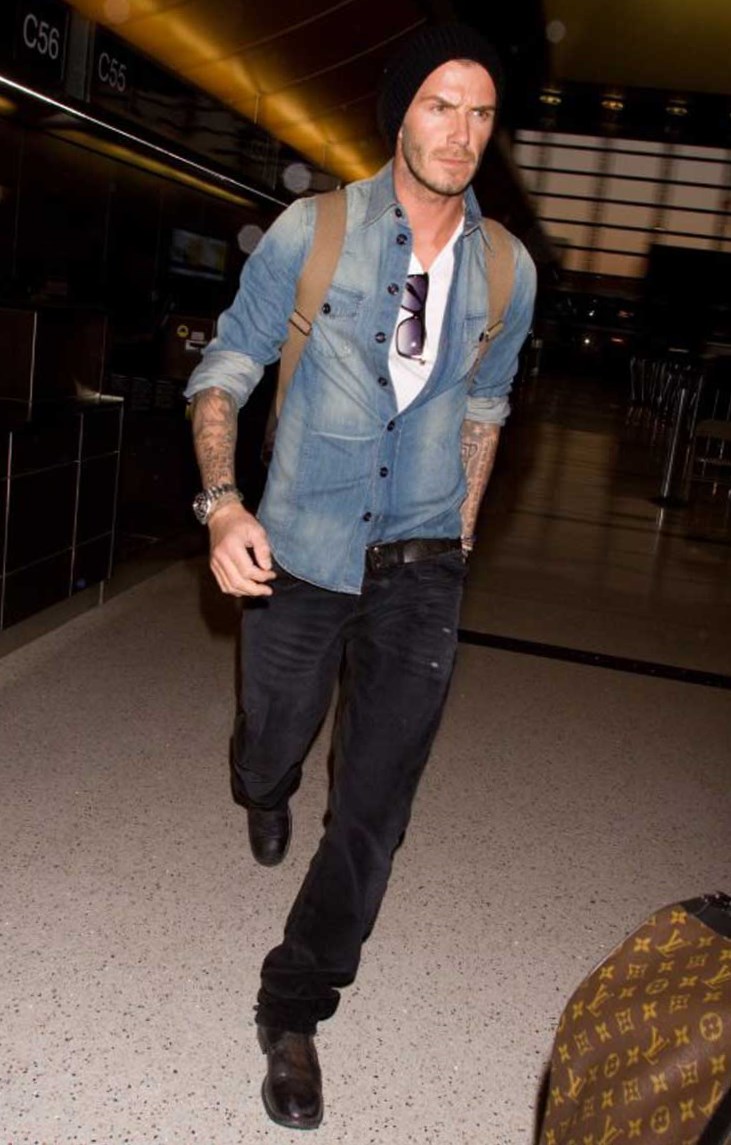 Though there are famous people enjoying rather traditional looks, many still want to impress with denim-on-denim. A good slouchy denim jumpsuit or a mini skirt create contradictory impressions. A good cuff is wonderful for adding a visual interest to unwashed denim. A tonal print makes denim fresh and a little playful.
All these peculiarities can be often met both in women's looks and men's ones. Usually they are worn to attract attention of surrounding people and paparazzi, but there are famous lovers of everything unusual. Denim on denim is perfect for those celebrities, who prefer traditional combinations, as well as those, who can't live without extravagancy. It is very popular and many ordinary people copy the looks containing double denim.