Worldwide renowned football player, model and designer David Beckham and his wife Victoria are considered to be the most stylish couple in Hollywood. The admirers of the former footballer, who played for Manchester United, Preston North End, Real Madrid, Milan, LA Galaxy, Paris Saint-Germain and the England national team, always look perfect in any style.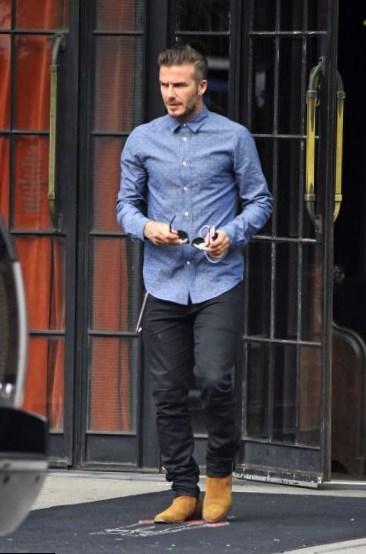 Thanks to successfully chosen clothes and his dazzling smile it is difficult to believe that David Beckham is already 40 years old. Though Beckham has already finished his football career, he doesn't want to keep in the background.
David and Victoria have their own business in fashion industry. Victoria time after time announces that her husband's success partially belongs to her. Affectionate wife chooses for her famous husband some clothes and accessories that constantly help David to stay one of the most stylish men in the world.
Related: David Beckham`s body measurements
David is not the adherent of one style. For various occasions he chooses quite different looks. On a walk with his wife and children he was frequently seen in a modern casual style. On everyday walks or shopping David likes to wear light jeans and shirt combined with vest. By the way, in one of his interviews Beckham confessed that the cheapest jeans he had ever had cost $600. He prefers to combine them with T-shirts, camisoles and cardigans.
| | |
| --- | --- |
| | |
Behind the scenes of show business David Beckham is regarded as a perfect gentleman. He constantly visits a wide range of various events, parties and ceremonies.  Under the double-breasted coat one can see well-matched tie or bowtie. Former football player pays great attention to the choice of the most matching bowties. He has a lot of them and ties perfectly harmonize with his shirts and jackets. In more informal setting under his jacket one can see light shirt with the upper button fastened. Of course David pays attention to his shoes. He has several dozens of brand shoes but prefers more low shoes.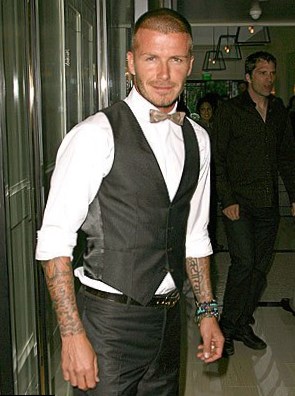 David Beckham also likes shirts and in some of his interviews he confessed that he doesn't know how much shirts he has. At the airport he is seen wearing shirt in a combination with jeans. It can be light denim blue shirts or some other self or multi-coloured shirts. On the road he usually uses the bags by Louis Vuitton.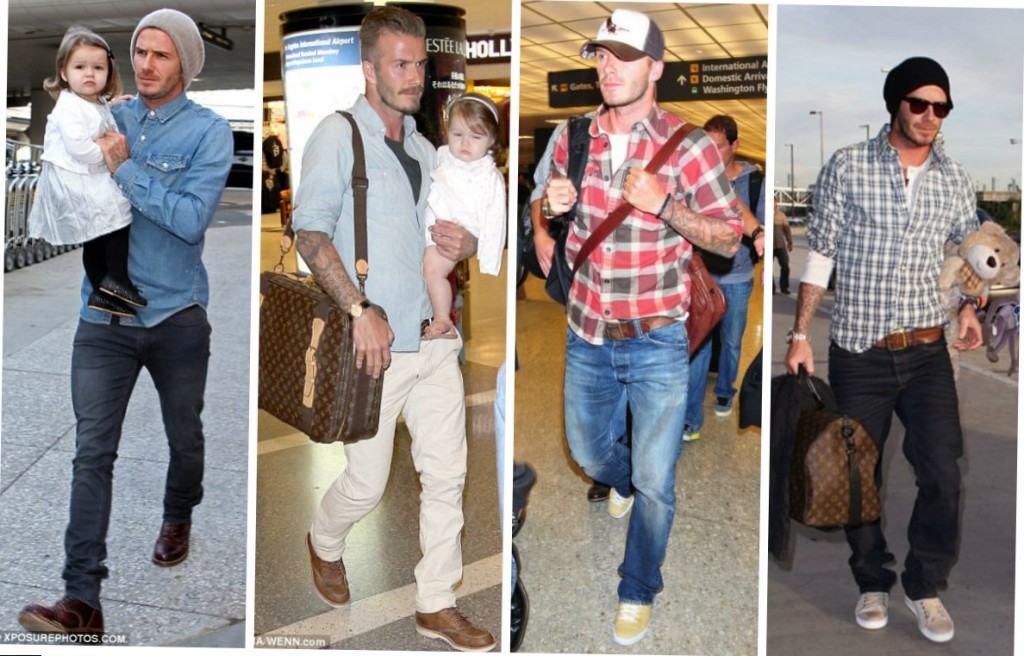 The Beckhams rarely can be seen without glasses that are considered to be one of the most important accessories they wear. It doesn't even depend on the style of their clothes.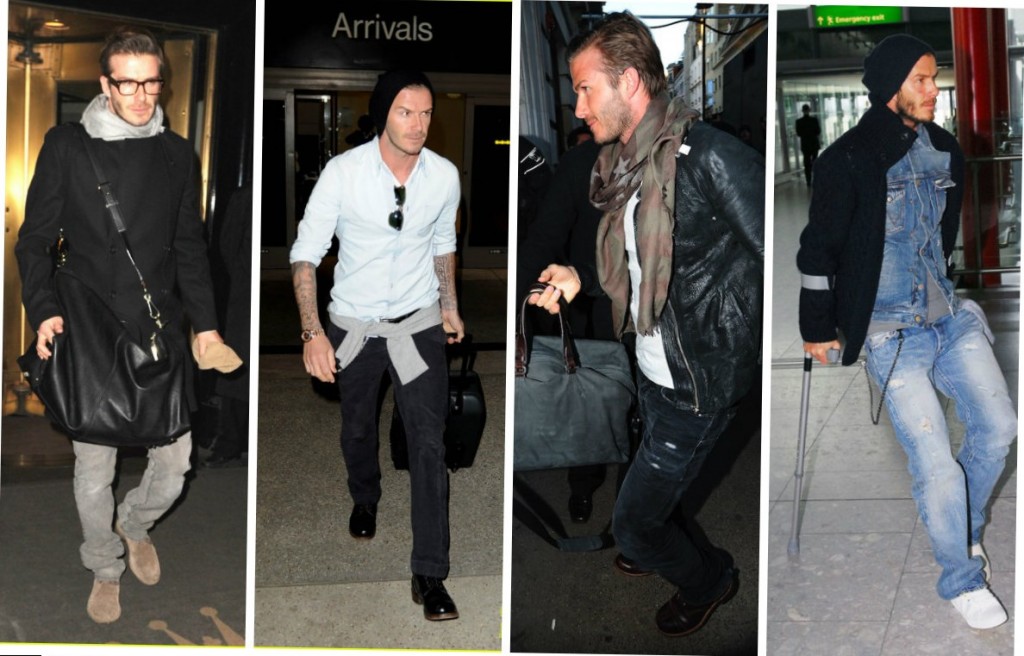 This celebrity can be seen in various looks but it worth to be mentioned that it doesn't matter how he combines clothes, he constantly stays irreproachable. Self-confidence and a little bit of imagination make David look perfect. One of the most favourite looks of his admirers is when Beckham wears jeans with a shirt, from the one side the shirt tail is tucked in and from the other side is let out.
Related: David Beckham`s family
David Beckham's style may be characterized as the combination of classic and eclectic style, and the second one prevails.