Harry Styles is the most charismatic and youngerst of the five members of the British music band "One Direction". The future star was born in Great Britain. Harry Styles birthday is on February, 1, 1994. The guy has got a sister. The town of Holmes Chapel, where Harry graduated from high school was the place where he started to sing….at home. He performed mostly Elvis Presley compositions.
For a short period Harry was a frontman of the White Eskimo group. His team-mates were Morris Hyde (rhythm guitar), Nick Clough (bass) and Will Sweeney (drums). Together they gathered to take part in the competition " The Battle of the Bands". The band won the contest, and this victory helped Harry in his further career.
In 2010, when Harry was16 years old, he got to the show "X-Factor". He wanted to gain experience , as his mother told him one day that he is a very good singer. Before his audition, Harry said he would like to sing always. He was sure music is for him. After participating in the show Harry was taken into the group "One Direction", which signed a contract with Syco Music. Soon theyreleased their first album – Up All Night.

The young musician is a very stylish guy. Harry Styles tattoos has become a special separate topic in many blogs, on forums and discussions. For today the guy has over 30 small tattoos on his body.
Despite Harry Styles age ( he is 21 only) he has got a pretty tough private live and rich experience in love.
Caroline Flack
Harry met this English television presenter at "X-Factor" show. The great difference in their age -15 years and the fact that Harry was a teen did not stop the pair from relationship. However, for a long time both rejected the fact of their love affair. Soon Caroline started to get a huge number of messages with death threats from fans of Harry. On January 26, 2012 Harry announced about the end of the relationship in his Twitter account. However he and Caroline are still good friends.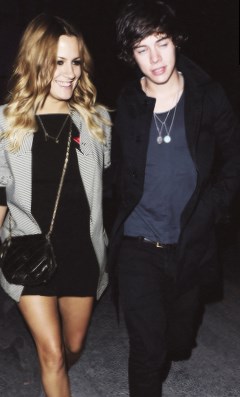 Harry and Taylor were seen together in New York. The media suggested that they meet. Later, both confirmed the relationship that began with a mutual passion for art. They broke up in early January, after the spent New Year together.
The young man with sweet voice has been listed as the sexiest teen – though as Harry stated, too much attention from fans and the media prevents to build normal relations with girls.
However, it did not stop him from a romance relationship with Kendall Jenne. They had dinner together at a restaurant in Hollywood.
Another one from Kardashian, young Kendall can compete in popularity with her older sisters – she regularly appears in the pages of fashionable magazines and she is engaged in modeling career. A "typical" Harry Styles girlfriend is a very attractive and popular girl. So Kendall and Harry affair could be not only a gossip.
The rumors about serious relationship of his British model with Harry Styles turned to be…rumors.
The same gossips about the artist romantic love to Lou Teasdale, Ariana Grande, Katy Perry were also rejected by the girls and the young artist.
The handsome star is so popular among girls, that even a special movement ( or Art- as you like) started. Harry Styles fanfiction are numerous stories and poems devoted to the idol of young generation. Social nets are full of these short ( and sometimes – very long) stories where the main Hero is Harry Styles. As a rule, Harry there is a noble talented guy who finds a usual girl and falls in love with her.
Everybody understands that Harry will grow up and will find the love of his life, but today the young playboy is free.
One Direction Fourplay: Harry Styles and Liam Payne answer your questions