Kristen Stewartis an American actress born in 1990 in Los Angeles, California. Her father is a producer and stage manager who had worked for Fox. Kristen has grown in entertainment industry that's why no wonder she became an actress. When girl was 8 years old agent had noticed her in her school Christmas play. It was the beginning of her trip to Hollywood. In a year Stewart has played her first role in "The Thirteenth Year". In 2002 she auditioned for the role of diabetic girl in "Panic Room" with Jodie Foster and was nominated for Young Artist Award. For this award Kristen was nominated for 3 times (movies "Panic Room", "Cold Creek Manor" and "Undertow").
Stewart has got international success after her performance in "Twilight" in 2008. She played main character Bella Swan. Kristen has become known all over the world due "The Twilight Saga" which 3 part were filmed in 2009-2012.
Young actress has different images in all her movies. She likes to change her appearance and haircut but stay attractive and sophisticated young lady.
Kristen Stewart hair changes
For "Panic Room" performance Kristen wore center parted bob of natural color.
For "Cold Creek Manor" in 2003 actress had long and straight hair. She looked much more grown up with such haircut.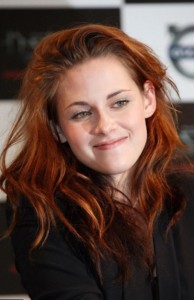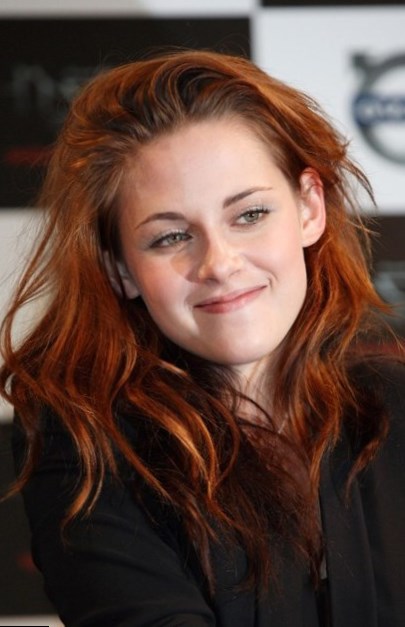 In 2005 Stewart participated in New York's Tribeca Film Festival. She wore loose curls of attractive blond hue.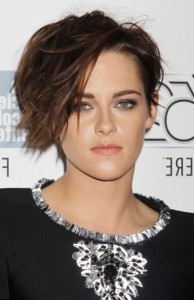 In 2007 for "In The Land of Woman" premier Kristen preferred tousled bleach blonde waves.
In the end of 2007 actress decided to back to straight black hair. She was very elegant and nice with her loose hair on the Breakthrough of the Year Awards.
For press conference of "Twilight" in Japan, 2009 Stewart colored in vibrant red hue. She looked seductive and sensitive with this bright color.
Elegant dark up-do and sexy pink lipstick was the ideal variant for "Adventure land" premier in Los Angeles.
In November 2009 Kristen decided to cut her hair for short shaggy style.
Significant up-do with slicked back hair and quiff-like fringe was showed on premiere of "The Runaways".
Stewart chose masculine tailoring of her clothes and messy up-do for "Huntsman" premiere.
Cascading loose curls and fuchsia lips looked very playful on "Twilight Saga: Breaking Dawn Part 2" presentation in Los Angeles.
Kristin looked very cute with messy fishtail plait on Nickelodeon Kids' Choice Awards in 2013.
For "Camp X-Ray" premier in 2014 Stewart made fresh short up-do with chick edgy strands.
In 2015 actress prefers short sleek style of chestnut hue. Now she looks embarrassingly with simple and elegant up-dos. She cares about her hair and uses special macadamia oil which is very useful for colored hair.